Product Page
Product Page
Product Page
When you want to showcase a product, we want to highlight the benefits of the product while showing the users how to use it and finish of with an actionable task.
Introduction and benefits
The first thing that the user should be met with is an introduction to the
product and three quick descriptors of its benefits.
FedEx offers the flexibility, convenience, and security you need.
It's now easier to redirect your FedEx Express or FedEx Ground packages to a growing number of FedEx retail location near where you live, work or shop at no extra charge.*
Flexibility
Take control of your delivery experience by picking up your FedEx Express and FedEx Ground packages when it best fits your schedule.
Convenience
Discover the convenience of redirecting your packaging to a participating FedEx retail location for pickup while they are still in transit.
Security
Enjoy peace of mind knowing your packages are in a safe and secure location rather than sitting unattended.
Introduction header + sub copy
To introduce the product we recommend having a punchy yet informative header with 1-2 sentence of sub copy.
Three Column benefits
Just below the introduction we recommend to highlight the three most important benefits of the product. This both intrigues the user and gives them a good overview.
---
Step-by-step guide
Next up you want to give the user a step-by-step guide on how to use this
product and achieve a successful results. Steps can vary, but should be
between 3-5 steps to keep it consistent and not too lengthy.
How do I redirect my packages?
1. Enter your Tracking ID
2. Locate and click Manage Delivery and then Hold at Location on the tracking results page.
3. Enter the original delivery address for authentication
4. View and select from the list of available location then click Submit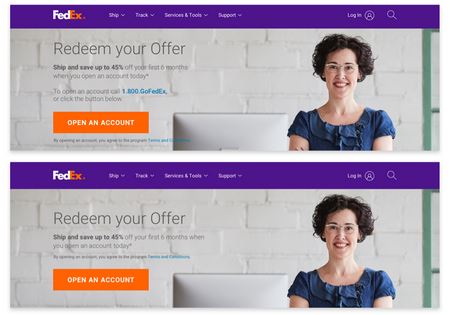 Number icon
To indicate how many steps there are we recommend using the icons seen above. They are large enough to catch the users attention and avoid any confusion.
Image
Images used here can be a screenshot of the actual process, or a lifestyle image that the user can relate to.
Describing copy
When describing each step you want to be to the point. Try combining multiple actions into one step to minimize amount of steps viewed by the user. They can easily be overwhelmed when met with 5+ steps.
Mobile vs. Desktop copy
Note that you can show different copy, CTAs between desktop and mobile/tablet. This is especially effect when using a phone number.

---
Action
At the end of the page we recommend you have some sort of actionable task,
such as a link to the next step or able to perform that action on the same page.
For example below the user is prompted to use the tracking tool that has been
embedded on this product page.