Video Player (Ooyala)
Video Player (Ooyala)
Video Player (Ooyala)
To get access to the repository, login to Ooyala with your FedEx credentials. Once signed in, you can find the desired video.
Access to all videos
Browse the centralized video repository to find and embed any existing video content asset that has been created and approved for viewing.
Quick sharing
Using an embedded link, you can place your video anywhere on the FedEx domain to get maximum exposure.
New Content Creation
Not finding what you're looking for? Submit an idea for a new video to get created for the global marketing team.
How to upload a video
1. To create a video
Fill out the brief below explaining why you need the video uploaded. Once the brief is filled out, it will be reviewed by the committee
2. Reviewed by the committee
The committee reviews the submitted brief explaining why you need the video uploaded. If your brief is approved by the committee, it will be uploaded to the desired medium
3. Repository
The video will then live in the repository for future viewing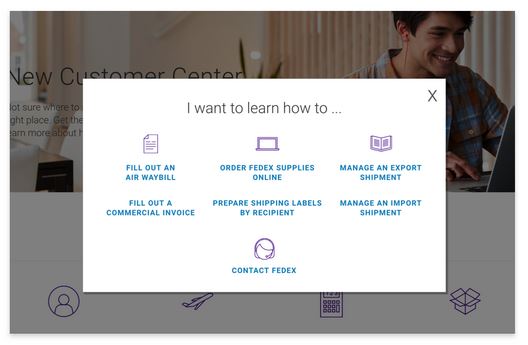 Section
Tips & Example(s)
Video Title

100 characters max

Video Description
500 characters max
FedEx Region (pick one)

US
LAC
APAC
Canada
Europe
MEISA

Internal Search Meta tags

(additional SEO keywords)

Brand Approval Code

(if none put NA)

Legal Approval Code

(if none put NA)

FedEx Business Unit

(choose one only)

FedEx
FedEx Corporation FedEx Custom Critical FedEx Express FedEx Freight
FedEx Home Delivery FedEx MultiModal FedEx Office
FedEx Services FedEx SmartPost FedEx SupplyChain FedEx TechConnect
FedEx Trade Networks FedEx Truckload Brokerage SenseAware

Video Requires Talent Rights
Requested Upload Date

Provide the requested upload date in the following format (mm/dd/yyyy)

Expiration Date
Provide the date of expiration in the following format (mm/dd/yyyy)

Review Date
Provide the date by which it has the be reviewed
FedEx Video Owner Name
Provide first name and last name
Department
Provide the department of the FedEx video owner
Email
Provide the email of the FedEx video owner
Phone Number
Provide your phone number in the following format (xxx-xxx-xxxx)

Production Company

(if none put NA)

Company Name
Contact Name
Contact Email
Contact Phone Number

Please provide the following

Video File* (.mp4 format)
TTML closed caption file*
Default Thumbnail image - jpeg no more than 100kb - 727x463 or larger*
Download Ooyala Forms
Before downloading, filling out and sending of the form to Trigger, make sure to review the guidelines on how to fill out the document.