Personalization Tool - Test and Target
Personalization Tool - Test and Target
Personalization Tool (Adobe Target)
Know what your customers want and give them that experience, every single time.
Omnichannel personalization for your customers
The best experiences are consistently personal. Use a unified profile for the best experience through every channel.
Implement A/B testing successfully
Easily test everything through every channel every time to improve customer journey from home page to product page.
Automate and improve every customer touchpoint
Test and personalize to every visitor, applying automate tools that swaps out content with a single click.
Successful campaigns in 3 steps with Adobe Target
1. Set up goals and hypothesis
These two should be closely linked to ensure the success of the campaign
2. Measure and track outcomes
See the results of your campaign and how it aligns with your hypothesis & goals
3. Iterate
Incorporate learnings and adjust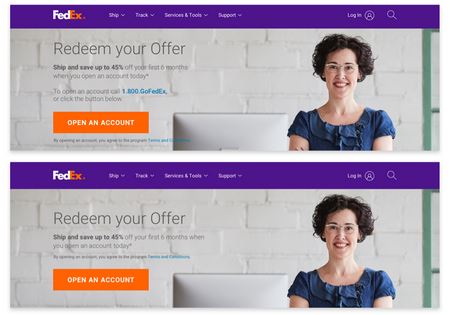 Section
Example(s)
SnP Rule Name

Format

FedEx CA_testnumber_Date to Start_Language_Tracking_Campaign_Component_testtype

"FedExCA_00001_08-10-18_EN_Tracking_RTH_FOC_ABCD"
"FedExCA_00004_09-15-18_FR_Tracking_ InternationalShipping_HERO_AB"

Date

Include both start and end dates, if known.

Audience

Who are we targeting?

"All traffic"
"Everyone who has visited the tracking page"
"Everyone who has logged in at any time"

Goal

Conversion or other analytic metric? And what metric will we use determine a test winner

"Clicks on FOC button"
"Targeted visitor follows funnel to a particular page/set of pages"
"File downloads"

Supporting Metrics
What, if anything, will supplement the analytics for this test
Methodology

What will we use to test the objective?

50/50 split, 25/25/25/25, If/then statement.

"Show 50/50 split of creative to all visitors."
"Show 25/25/25/25 split of 4 creative."

URL

What page(s) are we running this test on?

"https://www.fedex.com/en-ca/home.html"
"https://www.fedex.com/en-ca/tracking.html"

Creative

Images or description of creative. Please attach image, if possible. If images do not fit, submit by email with completed form.
Download Adobe Target Forms
Before downloading, filling out and sending of the form to Trigger, make sure to review the guidelines on how to fill out the document.