Acre75.ca
Acre75.ca
Milverton, Ontario
2019 Silver Prize Winner
Milverton, Ontario
2019 Silver Prize Winner
Small Town Hero Wins Silver for Acre75.ca
Virginia Ehrlich is the quintessential small-town girl with big dreams. Her upbringing, rooted in community and support, is the basis for her online business, Acre75.ca. In fact, Virginia named it after the 75-acre farm she grew up on outside of Mildmay, Ontario. Now owned and operated in Milverton, an hour south of her farm, her site is dedicated to showcasing handcrafted gifts and goods from small Canadian towns, just like hers.
Before creating Acre75.ca, Virginia worked as a marketing coordinator in both corporate and not-for-profit sectors. She began her entrepreneurial journey in April 2017, while she was on maternity leave with her daughter Evelyn. With some soul-searching, Virginia realized that she wanted a career that allowed her to live a more flexible lifestyle and encompassed her small-town identity. Acre75.ca lets Virginia use her established marketing and branding skills to give local companies the recognition and exposure they deserve.
When Virginia started her small business, she wanted to create an online store with a more personal touch by connecting customers to the makers of the products they're looking to purchase. She's found that her customers really like knowing where a product is made in Canada and by whom. "I want my customers to have an all-Canadian online shopping experience, which ultimately puts money back into local Canadian economies," shared Virginia.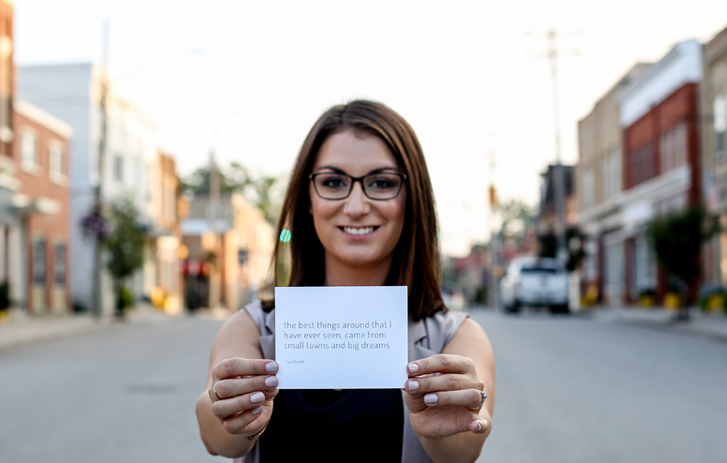 She started her roster of goods with handcrafted wooden vases made near her hometown and slowly found other quality products throughout the country to add to her online store. With the help of visiting craft shows, she soon had a full store comprised of gourmet pancake mix, handmade reusable beeswax food wraps, intricate tile coasters and so much more. Virginia has now found innovative ways to streamline the business. For example, she now provides vendors with online applications to get their product housed on Acre75.ca.
Virginia was incredibly grateful to win the silver prize for the Small Business Grant Contest. "I'm looking forward to using the grant towards further marketing Acre75.ca to increase traffic to my site, as well as sourcing additional products and supporting even more Canadian makers. I never imagined my love of small towns would lead to something like this," she exclaimed.  
LEARNINGS
Running a small business from home while managing a family comes with its unique set of challenges. Drawing from her journey of building Acre75.ca, here are Virginia's top pieces of advice for small business owners:
 
Be your boss

Virginia knows that running her business means showing up isn't optional. She makes sure that even though she doesn't have a boss, she shows up for herself and the business through focus, discipline and accountability.

"There are times I feel unmotivated and the last thing I want to do is go downstairs to my office and work. It's in these moments that I have learned to be disciplined", she explained. "I also ask myself, 'If I was in a corporate setting and had a boss, would it be an option to not go to work?'"      


Connect with other entrepreneurs

The road to entrepreneurship is a lonely one, but Virginia makes it a priority to connect with other entrepreneurs for both expanding her business and aiding her mental health.

"I wasn't prepared for how lonely entrepreneurship was going to be, especially as someone who is a people-person. I make sure to connect with other entrepreneurs because it's important to find people who understand your ups and downs. This also gives me an excuse to get out of the office. Connecting with others has been the best thing for my mental health and business", Virginia explained.


Just go for it.

Virginia advocates for just starting and not stalling when it comes to your small business.

"It's so easy to overthink every detail in your business. I'm a very calculated person, but I've learned over the past two years that sometimes you just have to go for it – without fully knowing the answer. Planning is stalling. It'll either work out or it won't, but no matter which outcome, you won't regret it as long as you adopt a growth mindset and learn from your failures", she explained.."