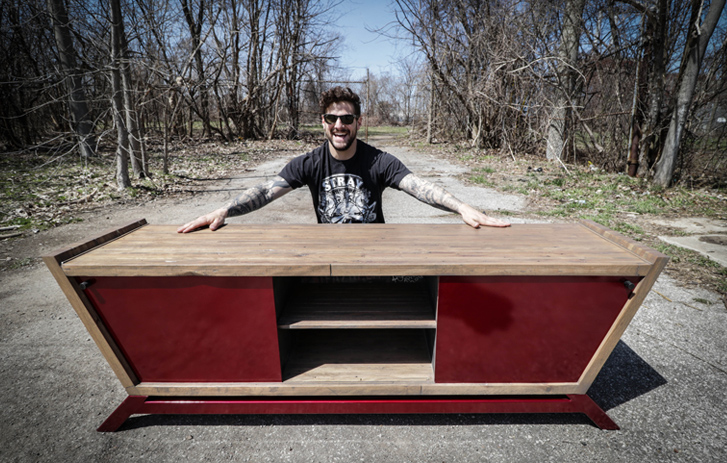 Michael Difazio Reclaim Artistry
Michael Difazio Reclaim Artistry
Windsor, Ontario
2019 Bronze Prize Winner

 
Windsor, Ontario
2019 Bronze Prize Winner

 
Michael Difazio Reclaim Artistry turns historic pieces into a bronze prize in the 2019 FedEx Small Business Grant Contest
It's said that one man's trash is another man's treasure. This is certainly true for the Windsor, Ontario-based reclaim artist and small business owner, Michael Difazio of Michael Difazio Reclaim Artistry. As a result of his creative passion and unique artistic ability, Michael turns 'garbage' into beautiful, quality furniture and art for clients.
Michael grew up knowing the importance of sustainability and became passionate about recycling. While taking woodworking courses in high school, he realized his strong passion for transforming used materials into new, beautiful pieces. His business came to fruition as he found a way to marry his passion for recycling and sustainability, artistic talents and woodworking abilities into a business.
"I started out 'alley surfing' by myself, finding anything I could that I could potentially turn into a piece of art," Michael said when asked about how he started his business. His first piece began as a long four-paned window that he subsequently turned into a mirror.
"It was a lot of experimenting back then. Just testing out what worked," he said. "There was a lot to learn outside of the classroom that I had to teach myself," he continued.
From humble beginnings 'alley surfing' and selling at art shows, Michael built a reclaimed art and furniture business from the ground up.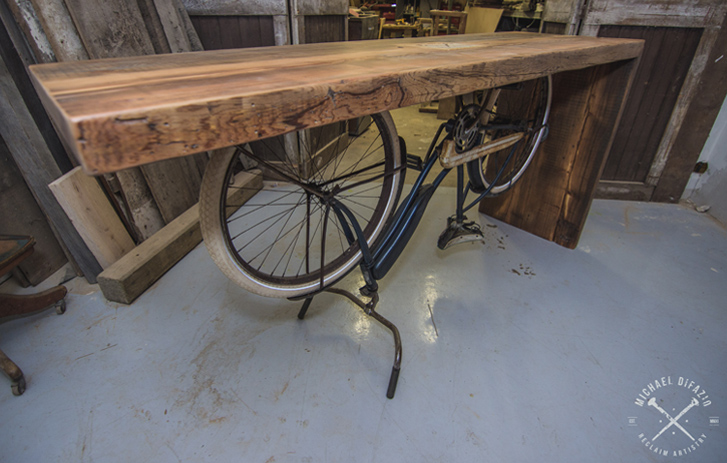 Michael is also passionate about finding the story behind the materials he works with. "I really like that each piece of material I transform has a story behind it. We are literally creating something out of nothing. Something that most people would consider to be garbage," he said.
As his business grew, Michael began sourcing materials from all over Ontario and the US. In order to support the growing demand for his work, it was critical that he was able to source materials that were built to last – sometimes working with materials up to 80 years old.
"I look for materials with an interesting story that challenge me to be creative while also preserving its original integrity," he said. "I also love making really cool stuff with a team that comes to work focused on our mission and who are excited to be there." In speaking about his approach to managing his team, Michael finds it important to not be the only one taking credit for the work. "I like keeping my team in the spotlight, giving everyone the opportunity to do what they are passionate about and creating their best work," Michael said.
Building Michael Difazio Reclaim Artistry and the team that stands behind the business has not always been a straightforward path for Michael. As a business owner in charge of all aspects of the business - from design to budgeting to sourcing materials, Michael found one of the major roadblocks to creating and executing projects was communication. "I found that after I designed a project in my head, it was hard to communicate my vision to the team and that really slowed down the production process," he said. "I needed to find a solution."
Winning the Bronze Prize in FedEx's 2019 Small Business Grant Contest will help Michael solve communications challenges in the creative process. With the $5,000 prize, Michael is able to purchase a computer as well as 3D modeling software to better illustrate his creative vision and direction to his team. "The software will be super helpful getting what's inside my head out to my team," he said. "This prize money will help me not only improve our output, but it will also give me more time to invest in growing the business and taking on more projects."
At Michael Difazio Reclaim Artistry, nearly 90% of the pieces that are created are custom made for each client, taking on average two months to complete from sourcing to finished product. In 2018, Michael and his team created 140 large scale projects. With a team of four, this is a large feat. "With the new software we will be able to drive huge efficiencies, reduce communication challenges within the design process and also hire more team members," he said.
Eventually, as his business grows, Michael is hoping to develop relationships with demolition companies in order to reclaim materials from old houses and other buildings – this will give him access to some unique materials from different time periods, all with a different story to tell.  
LEARNINGS
After building a business out of what many would call 'garbage', Michael learned important lessons along the way- through both challenges and successes. As his business continues to grow, Michael shares the following advice to other small business owners:
 
Explore every business idea that inspires you.

"I went from sifting through garbage in alleyways to attending inspiring art shows with my team. Anything is possible if you are passionate about it."


Stay committed.

"Remain dedicated and committed to your idea and passion, even if people tell you that it won't work."


Inspire your team to do their best work.

"I want people to come to work every day and be excited about their work. I strive to help them feel empowered to do what comes naturally to them as it helps them produce their best, and most creative, work."