Fern & Moon
Fern & Moon
Vancouver, British Columbia
2019 Bronze Prize Winner
Vancouver, British Columbia
2019 Bronze Prize Winner
Sustainable Style Duo Win Bronze for Fern & Moon
To be fair, starting a business isn't ever an easy endeavor- let alone starting one with your best friend. Keira Danniels and Karen Merrifield somehow make it look easy. Together, they built Fern & Moon, an eco-friendly bridal line hailing from Vancouver, B.C.
The name Fern & Moon comes from the notion of two separate elements working together to create something beautiful. Like marriage, the company offers soon-to-be brides with modern and elegant bridal separates that are beautiful apart but better together. The separates can be mixed and matched to create a complete look or worn on their own- making for an endless array of options.
Before starting Fern & Moon, the pair also had a history of working together on their branding and web design studio- Polychrome Creative, which they still run to this day. It's no wonder that during Merrifield's wedding in 2015, Keira tagged along and crashed the honeymoon in Rome. This is where the dynamic duo parlayed over wine and pasta, on the frustrations that Merrifield felt while choosing her wedding dress. "I felt incredibly limited in terms of pricing, design, and values- nothing checked all of the boxes for me," explained Merrifield. The two took their conversations a step further and created the basis of their business to simplify the wedding dress process for other brides - knowing well that others shared the same sentiment.
The two are also very attuned to body positivity and diversity, thus advocating a line that caters to all different shapes and sizes and even providing options for the bride that wants a pantsuit or wedding shorts for their big day. Most importantly, the line is firmly grounded in making sure a wedding dress isn't worn once and stashed away in a closet for oblivion. Fern & Moon's pieces are meant to be enjoyed long after the special day ends.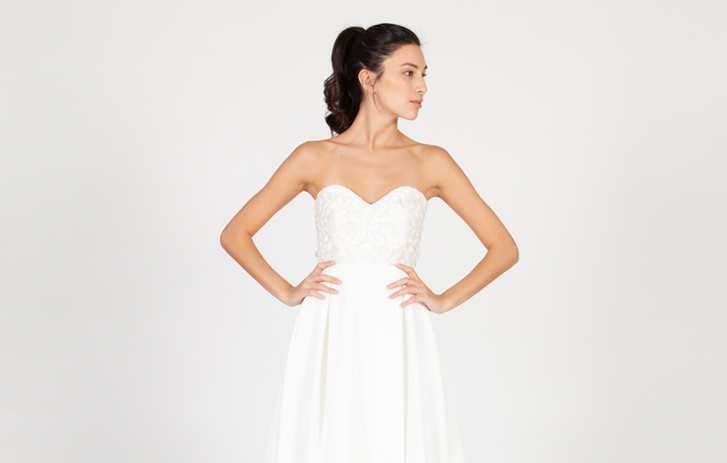 The Fern & Moon bride is one who's looking for a worry-free and positive wedding dress shopping experience while also being a conscious consumer. The business offers built-in cups for its bodysuits, seamless shapewear bottoms, and wrinkle-resistant skirts with built-in lining to make sure a bride is comfortable for her big day while also reducing the number of purchases made. These details are especially important, as Fern & Moon is a waste-free line which means all fabric offcuts from the line are used in future design pieces. Furthermore, Danniels and Merrifield are also proud to make every piece locally in Vancouver.
"We're passionate about our impact, from how we treat the environment to how we treat our community. We want to contribute positively, so it was very important for us to create a waste-free line. The fashion industry is already responsible for 92 million tonnes of waste a year so transitioning to options that can be worn again is particularly valid when it comes to bridal and reducing fashion waste", explained Danniels.
Danniels and Merrifield were both ecstatic to win the business grant. "We're so excited! This grant means a lot to us and gives us the resources to better develop Fern & Moon," they exclaimed. With the business grant, the two look forward to curating an eco-friendly second season which will include more options for different identities, a lingerie line, and getting more ethically sourced fabrics from Europe - that are a tad bit more expensive. Fern & Moon is also looking to use the grant to expand its business reach by providing non-Vancouver brides with a try-on-at-home sample box. The best part is that the sample box allows brides to make a day of it and unbox the bridal separates among friends and family or on their own with a glass of bubbly.  
LEARNINGS
Running a small business with your best friend isn't easy, but Karen and Keira have created a model that works perfectly for them. Pulling from their experience of creating Fern & Moon from scratch, here are their top pieces of advice for small business owners:
 
Strive for progress over perfection

It's clear that both Danniels and Merrifield were quick to start Fern & Moon, and it stems from the notion of believing in progress and constant growth instead of being entrenched in fine-tuning each detail.

"Grind through your business and make sure you strive for progress over perfection. Despite us both being perfectionists, when it comes to entrepreneurship there's no room to stall. It's important to truly believe in simply getting things done and learning as you go. This is much more valuable than having everything perfectly neat from day one".      


Prioritize your health

Danniels and Merrifield feel deeply about always making sure that their minds and bodies stay healthy throughout their small business journey.

"It's so important to stay balanced and maintaining energy when running a business. We did this by prioritizing our health and being disciplined with our time. We made certain to schedule our downtime the same way we schedule our time for work. We both believe that discipline equals freedom. Making time to unplug from the business is especially important as women- because we tend to self-sacrifice a lot".


Have a business partner who cares

As best friends and business partners, Danniels and Merrifield know a lot about spending a lot of time together and continuing to cultivate a business alongside a deep friendship. 

"A good rule of thumb is to get into business with people who tell you to go to bed because its 11:00 pm and you've been working non-stop. I'm so lucky to have a business partner who's in my corner every moment and cares about me and my well-being as much as they do for the business". ;