Honeybee Hub Inc.
Honeybee Hub Inc.
Toronto, Ontario
2019 Bronze Prize Winner
Toronto, Ontario
2019 Bronze Prize Winner
Honeybee's vision for the future of research earns a bronze in the 2019 FedEx Small Business Grant Contest
Yes. There is an app for that. Honeybee Hub Inc., a Toronto-based business is taking innovative steps to revolutionize local research studies. Catherine Chan, co-founder and CEO of Honeybee Hub Inc. designed a platform that makes posting and participating in local research studies easier and more affordable than ever. As a student researcher in academia, hospitals, corporations and government, Chan, like many of her peers, noticed that research recruitment and participation were the biggest barriers to conducting studies. Chan's goal for Honeybee Hub Inc. is to get people excited about discovering and participating in research.
While completing her Master's degree in nutritional sciences at the University of Toronto, Chan conducted a study on high-protein pasta, where she had first-hand experience with the challenges associated with research.
"I almost had to delay my graduation because finding participants was challenging and expensive," said Chan. "We paid a lot of money for advertisement space on transit lines and we only got half of the required participants."
After the study finished, some participants expressed interest in getting paid for more studies and asked if there was an app to make discovering studies easier. This sparked Chan's idea to create an online and application-based platform to do just that.
"After I finished in the lab I would go home and start mapping out the framework for the app," she said. "Before I graduated, I did an accelerator course at the University of Toronto, while I was defending my thesis. After I graduated, I had my idea ready to go, started building the platform and my team. Soon after, it became my full-time job."
Chan's shift from academic research to entrepreneurship was not a big surprise, rather, she made a carefully calculated and informed decision to pursue her passion to advance research. She knew that a lot of other researchers experience these challenges every day, but Chan was determined and decided to solve it.
"During my Master's degree, my professor mentored me and helped me find the courage to start my own business," she said. "I still go to him for consulting because he has a lot of experience and is always happy to help."
With the continued support from her mentors and co-founder, she worked to grow the business and now has a small team, plus summer students to help drive the business forward. Although Honeybee Hub is still in its early stages and only available in Canada, Chan is gaining international support and interest to grow her company .
"I get messages from people saying, 'can I participate in my region?' and 'how do I post my study?'" said Chan. "I've been through a lot of struggles financially with this business and when I get local and international interest like that, it really motivates me to keep going."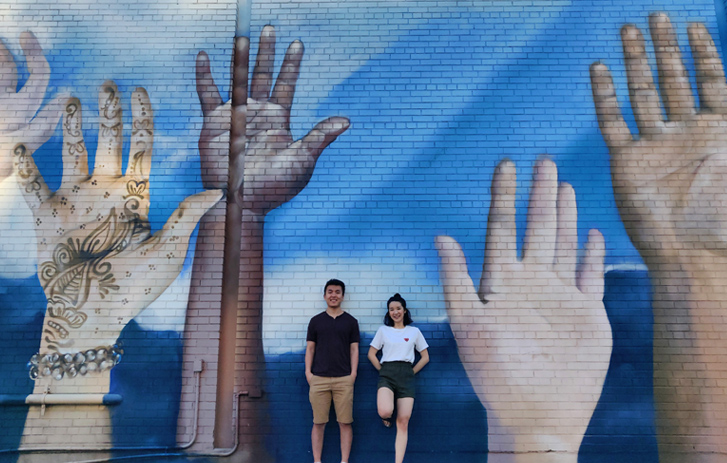 When Chan got the call that she won a Bronze Prize in the FedEx Small Business Grant Contest, she was very thankful and excited. She plans on using the prize money to hire a software engineering student from one of the top schools in Ontario for a fall co-op program. She also wants to use a portion of the prize for marketing efforts to educate people about research participation.
Although Honeybee Hub Inc. is in its early stages, the company has already connected many participants with researchers in the GTA. As the business grows, Chan wants to expand the platform and go global to get people excited about participating in research studies. "We have a lot of interest internationally and we'll get there eventually, but we have to stay focused and work hard now," said Chan. "This grant gives us opportunity to do some really great work and get creative with some really talented engineers."  
LEARNINGS
Building an innovative app and cultivating an online community from the ground up is no small task. Along the way, Chan has learned a lot of lessons and offers this advice to other small business owners:
 
Follow your passions.

Owning an online-based business is challenging and Chan thinks that the key to success is to follow your passions and remember what inspires you.

"I wouldn't be where I am today if I wasn't passionate about advancing research. I think about how big of an impact Honeybee Hub Inc.'s platform will have on formal research studies and that is what inspires me."      


Know your limits and ask for help when you need it.

Before starting Honeybee Hub Inc., Chan was a student and reached out to her professor and other experts for help.

"I want to be a part of every aspect of the business, even if it is unfamiliar to me. I initially tried to do everything myself, even learning how to code, but I quickly realized that in order to be successful, I needed to find experts to help me too."


Do not underestimate the power of social media.

Chan's app gained an international following and she was amazed with the attention Honeybee Hub Inc. was getting, so she created her company's Instagram page so stakeholders all over the world could keep up with its activities. 

"Throughout this process, even with the smallest bit of media coverage, people wanted to reach out and learn more. We had to create social media pages so audiences from researchers to potential participants could join the conversation and our community."