Okanagan Lavender & Herb Farm
Okanagan Lavender & Herb Farm
Kelowna, British Columbia
2019 Bronze Prize Winner
Kelowna, British Columbia
2019 Bronze Prize Winner
Big Wins Come in Small Batches for Okanagan Lavender & Herb Farm
Andrea McFadden knows how to make good things come in small packages. Based out of Kelowna, British Columbia, McFadden's family creates handcrafted skincare and culinary products parcelled in unique, eco-friendly packaging. Coming from a long line of pioneering horticulturists, McFadden runs a vertically integrated farm comprised of growing, harvesting, distilling and infusing plants and herbs directly from her farm to bring natural products to the market.
Before creating her small business 20 years ago, McFadden was a special education teacher. However, she wanted a career that reminded her of the time she spent growing up on an orchard. For example, one of McFadden's fondest childhood memories is picking and pouring hot water on violets to create perfumes for her mom.
"It's a wonderful privilege to grow up having plants as an intimate part of your life. Today I get to share this with the world by capturing our garden's invisible aromas and creating products with them", shared McFadden.
The company has a rich family history. McFadden's grandfather, who owned a plant nursery, purchased the land and the original business in the 1950s. It wasn't until 2008 that McFadden built upon the legacy by gathering a team made up of her husband Dave, children Keely and Liam and daughter-in-law Alyssa. Together the family members each take responsibility to manage every aspect of the business, from operations to marketing to social media. The key to Okanagan Lavender & Herb Farm's success boils down to strong family ties and creating quality products that are handmade, locally grown and made in small batches.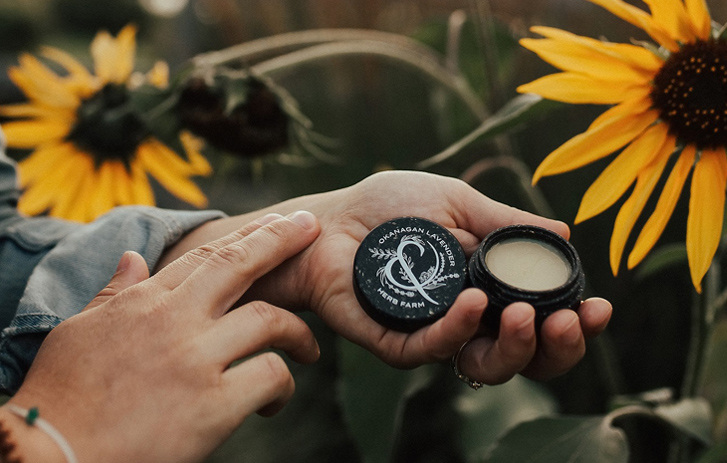 What sets Okanagan Lavender & Herb Farm apart is their dedication to using eco-friendly packaging and eliminating plastics. The company first packaged its soaps, teas, jams and body products in glass and aluminum but began shifting towards more sustainable options.
"While attending trade shows in the U.S. we noticed the number of products packaged in plastic. We took it upon ourselves to be socially and environmentally responsible as a retailer. We see Okanagan Lavender & Herb Farm's packaging as an example for other businesses to emulate", shared McFadden.
The company is one of the first in North America to use fully biodegradable and microplastic-free woodchip containers for its products. The cosmetic pots for the oil-based products are created by a Finnish company, Sulapac and are formulated to degrade completely within 24 months.
The eight-acre farm takes sustainability a step further by producing all the herbs without harmful sprays and uses no machines to farm and harvest, effectively reducing the company's carbon footprint. Additionally, Okanagan Lavender & Herb Farm uses sustainably sourced organic and fair-trade oils, butters and essential oils for accented ingredients in its line of products.
McFadden was incredibly excited to win the bronze prize for the Small Business Grant Contest. "I'm looking forward to using the grant towards hiring a local marketing firm to improve the company's online presence. I also want to increase our e-commerce sales and create compelling digital assets to improve our website and social media presence", she explained.
LEARNINGS
While running a small family business on a farm, McFadden has learned to navigate her unique business journey. Drawing from her experience of building Okanagan Lavender & Herb Farm, here are McFadden's top pieces of advice for small business owners:
 
Understand your weaknesses

The farming business is completely dependent on weather and luck. McFadden believes understanding your weaknesses allows you to prepare for worst-case scenarios and adapt your business in advance.

"Running a farm often means our plants are susceptible to the elements like winter damage or forest fires. This puts particular pressure on us. We also realized that 80 per cent of our sales happen during a two-month period. We had to adapt and invest in our online store so that customers can purchase our products year-round", explained McFadden.       


Accommodate your employee's strengths

McFadden puts immense importance in curating a fulfilling work environment that speaks to each family member's strengths and passions.

"It's amazing that I can employ three of my children, but I make sure that each family member has a place in the business that speaks to their interests. My daughter writes all the content, my daughter-in-law is our production manager and my son does all of the distilling and works in finance, as well as the back-end of the website. This division of tasks allows me to focus on taking care of the plants!" she said.


Believe in your passion

McFadden could've been discouraged by others saying that her small business wouldn't do well, but she believed in her passion and pushed through.  

"There were many people who didn't believe that the vertically integrated farm model could be economically viable. Someone told me I should only focus on growing apples because I would get the highest tonnage per acre, but this didn't factor in my passion and vision. If you believe in and understand the essence of your business – and work at it – you'll find a way to make it thrive", shared McFadden.