Toni Marlow
Toni Marlow
Toronto, Ontario
2019 Bronze Prize Winner
Toronto, Ontario
2019 Bronze Prize Winner
Determination earns Toni Marlow's gender-inclusive underwear a bronze place finish in the 2019 FedEx Small Business Grant Contest
There is nothing like the feeling of putting on a piece of clothing that feels like it was made just for you. Unfortunately, for many in the LGBTQ+ community, finding clothing that makes them feel comfortable can be challenging and an uncomfortable experience. Toni Marlow, the Toronto-based underwear company founded by Jalisa Luces-Mendes, brings unique LGBTQ+ representation to the fashion industry by creating gender-inclusive underwear, specifically for those who defy gender norms.
"I was physically uncomfortable in my boxers," Luces-Mendes said. As a teenager, Luces-Mendes faced many personal struggles, one of which was not being able to find underwear in a style that allowed her to feel like herself.
"After 10 years of feeling uncomfortable, I decided to do my research and launch a survey to see if there was a need for the type of product I was looking for. Turns out, there was." Armed with this knowledge and a passion for addressing this huge gap in the market, Luces-Mendes created the T.O.M. (time of the month) Boxer Briefs. The T.O.M. Boxer Brief line was specifically designed to fit the female anatomy with an extra lining to fit a pad with wings or panty liners, but with a classic boxer brief design.
"When people discover our products and how they work they say, 'this is going to change my life,' and 'I have needed this forever,'- that is what keeps me going," Luces-Mendes said. "On the days when work is frustrating and I want to quit, I think about those moments and feel energized knowing I'm making a difference in peoples' lives."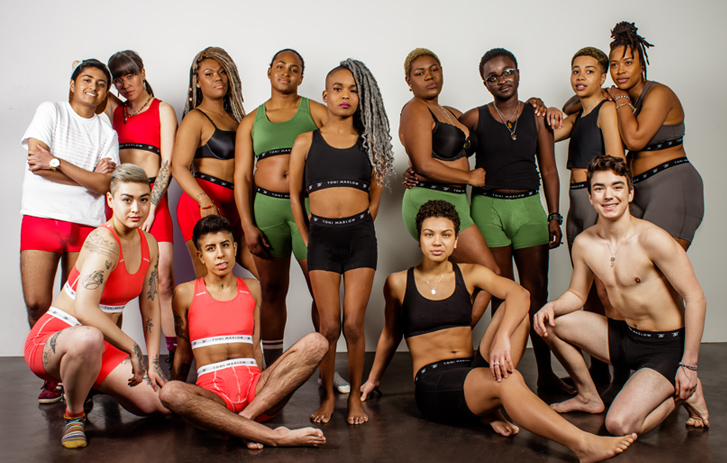 Luces-Mendes' intention for Toni Marlow is to have a fit and size for every body type - comfort and style should be essential - no longer just a privilege. The company's foundation is built on challenging stereotypes and building a positive, powerful and progressive future.
In the early days of Toni Marlow, Luces-Mendes experienced personal struggles that affected her emotionally, her mental health and the business more broadly. Her business partner left, and her mother became extremely ill, all in a very short time period.
"During some of my harder times, I found strength in my mentors and surrounding myself with friends and family," Luces-Mendes said. "I also continue to remember the people who need Toni Marlow's products and how it made a difference in their lives. Never losing sight of these things brought me strength."
When Luces-Mendes got the call that Toni Marlow won the Bronze Prize in the 2019 FedEx Small Business Grant Contest, she cried. "I was having a really hard day and it was just the thing I needed to get up and keep going. I was in shock, overwhelmed, excited and grateful." Luces-Mendes said. "When I got the news that we had won, I knew exactly what I was going to do with the grant."
"With the additional funds, we will be able to place larger inventory orders and we will be able to afford larger scale manufacturing to keep up with demand." This opportunity will also help her to invest in marketing to reach more people who need Toni Marlow products.
"Right now, we are not able to meet the demands of consumers - this grant money will definitely help with that," said Luces-Mendes.
As the business grows, Luces-Mendes already has big dreams for expanding Toni Marlow. "In a year, I want to see Toni Marlow in some big retail locations. We are currently working on some deals to get our gender inclusive products in the hands of the people who need it," said Luces-Mendes.
After building a business, facing intense hardships and using her position to help others, Luces-Mendes shares some advice to other small business owners and members of the LGBTQ+ Community.  
LEARNINGS
Listen to your customers.

"We send out surveys regularly to see if our customers trust and have faith in us. It helps us assess if we are providing the best products and services that we can."       


Focus on long-term business objective.

"Every time I faced a hardship, I told myself, 'this will pass,' and kept focused on where I wanted my business to be. After persevering through everything life could throw at me, I won this grant and now we are one step closer to our next big milestone, bringing Toni Marlow to retail stores."


Keep a supportive circle of friends and family around you.

"My family and friends are my biggest supporters and I think it's very important for people to reach out. That's why we host Trans Allyship workshops, where we educate people and help them understand the unique challenges that being transgender and gender non-conforming has on a person."