Veille Sur Toi
Veille Sur Toi
Laval, Quebec
2019 Bronze Prize Winner
Laval, Quebec
2019 Bronze Prize Winner
Veille sur toi: A reassuring and playful world for toddlers
Karine Foisy, founder of Veille sur toi, decided to trust her intuition by entering the 2019 FedEx Small Business Grant Contest, after seeing an ad on the Internet. "You can often be pleasantly surprised by trying contests like this one," she pointed out. She was delighted to learn that her intuition hadn't failed her when FedEx informed her by phone that she was a Bronze Winner of the Contest.
Karine embarked on the Veille sur toi adventure in 2013 by applying her creativity to serve her passion. "As a teacher, the colourful, playful and gentle world of children has always been important in my life. That's why I created a childhood-related business."
Inspired by the innovative blogs and Instagram accounts of the children's decorating industry, based in Germany, France and the Scandinavian countries, Veille sur toi took its first steps on Facebook and Etsy to extend the reach of its nightlights for children (the company's flagship products), which have been remarkably successful over the years. In 2016, the appearance of one of these products in the film Southpaw (La rage au ventre), was a source of motivation and pride for Karine, pushing her to go farther.
In 2018, with her mentor's support, she therefore moved production of her merchandise from her basement to her first workshop-boutique in Laval, Québec. "When I started in 2013, it was just me," the CEO remembers. "At present, Veille sur toi counts on 7 employees, does business with over 150 retailers across Canada and is also a dealer for European and American shops for children ages 0 to 5." The relocation came at the right time, because she thrives on contact with her customers."I Iove the relationships and contact with the customers. It makes me extremely proud."
Faithful to the mission of creating a benevolent world for toddlers, Veille sur toi offers a line of quality products hand-made with materials purchased exclusively in Québec. Although the company offers a variety of original products, including comforters, accessories, other toys and stuffed animals, it concentrates on its children's nightlights, which feature characters Karine creates and designs herself.
Concerned about current environmental issues, Karine also gives her business an ecological dimension. From the choice of manufacturing material to the packaging, she undertakes to offer a finished product integrating sustainable development criteria. "I have important family values that I try to convey through my business: gentleness, everything related to the idea of reassuring and supporting the child, ecological values with a sustainable material like glass, which will last a very long time and is also safe for the child, contrary to plastic, which melts and conducts heat."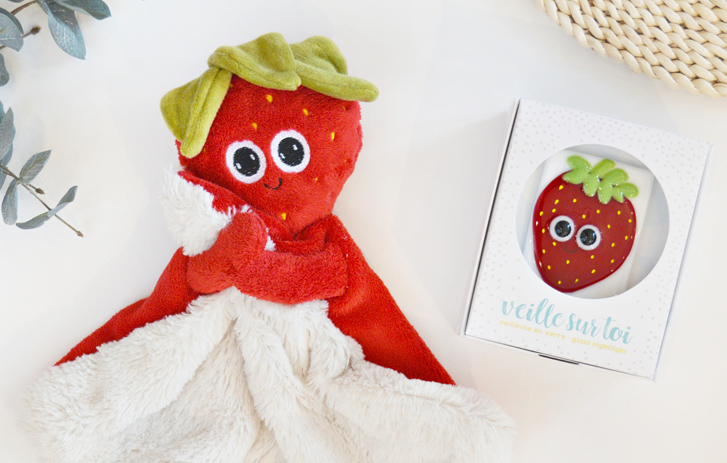 To meet the increased demand of her 150 retailers and her special customers, Karine needed higher performance equipment to produce the embroidery on the comforters in the new line launched recently. Thanks to the $5,000 granted by FedEx, Veille sur toi was able to acquire a machine capable of doing industrial embroidery with a fine clean rendering. "We needed it, because the old machine wasn't adequate for the quantity we produce. It cost $5,500, so the prize really helped us."
Karine is also enthusiastic about the Canada-wide visibility the FedEx Contest offered Veille sur toi, galvanizing the process of developing an English adaptation of the company's name, which began a few months ago. The boost from FedEx will also help Karine extend her points of sale in the months ahead to serve all of Canada, a project dear to her heart.
Lessons Learned
According to Karine, running a small business requires resilience and solid values. Although she agrees that several aspects contribute to a company's a success, she proposes factors she considers essential to succeed in entrepreneurship:
 
Delegate to experts

Instead of taking everything under her wing and controlling everything, Karine learned to delegate from the first days of Veille sur toi.

"When you have your own business, you always want to control everything, keep everything or look at every aspect of production or marketing, but you have to delegate to the right people. I'm not an expert in marketing, retailing or photography, etc. It's important to surround yourself with the right people who are experienced in their field."      


Don't lose sight of personal fulfillment

According to Karine, when you manage a business, it's important to remember why you get up in the morning and why you are dedicated to your business. Above all, she emphasizes maintaining a balance between her professional and family life, so that she doesn't jeopardize either one.

"Despite the stress, the responsibilities and the growth of the business, you mustn't lose sight of your personal fulfillment and especially reconciliation of work and personal life, family happiness," she points out.


Mentoring

Every good entrepreneur should find an experienced counterpart, who can coach in the growth of the business, share ideas and, above all, help keep your feet on the ground.

"I started in 2017 with the Réseau Mentorat du Québec, which found me an entrepreneur, a coach, during the growth of the business. I meet my mentor once a month to discuss all kinds of subjects: stress, challenges, etc. It's important to keep your feet on the ground."