Wabanaki Maple
Wabanaki Maple
Negotkuk (Tobique First Nation), New Brunswick
2019 Grand Prize Winner
Negotkuk (Tobique First Nation), New Brunswick
2019 Grand Prize Winner
Sweet Success for Grant Prize Winner Wabanaki Maple
Jolene Laskey's life changed the moment she found out her small business, Wabanaki Maple, had won the grand prize in the 2019 FedEx Small Business Grant Contest. Hailing from a quaint reserve in Tobique First Nation, N.B., Laskey is slowly getting used to the newfound attention and praise she's received since her big win.
Wabanaki Maple produces premium barrel-aged maple syrup infused with flavours like bourbon, whiskey and toasted oak. As a female, Indigenous owned business, Laskey takes immense pride in bringing Canada's most well-known sweet syrup to the world, offering others a chance to taste a piece of Indigenous culture.
Prior to starting Wabanaki Maple, Laskey had a full-time career in construction as a contractor alongside her husband. However, her passion to be reconnected to her Indigenous roots and nurture the environment around her remained unfulfilled. Laskey explained that due to a life of constant relocation and travel, she had spent 20 years away from her home in Tobique First Nation. Wabanaki Maple now satisfies both natural callings and her maple syrup is a point of pride for this new chapter in her life.
Laskey's business was inspired by the several seasons she spent at one of her family's sugar shacks. Her time there brought a sense of grounding and deep connection that ultimately led her to the agri-food industry. More importantly, Laskey hopes that Wabanaki Maple continues to spread Indigenous culture and values to future generations. "This business is not just for me. The bigger picture is to support and get involved in other initiatives that impact my community positively," explained Laskey.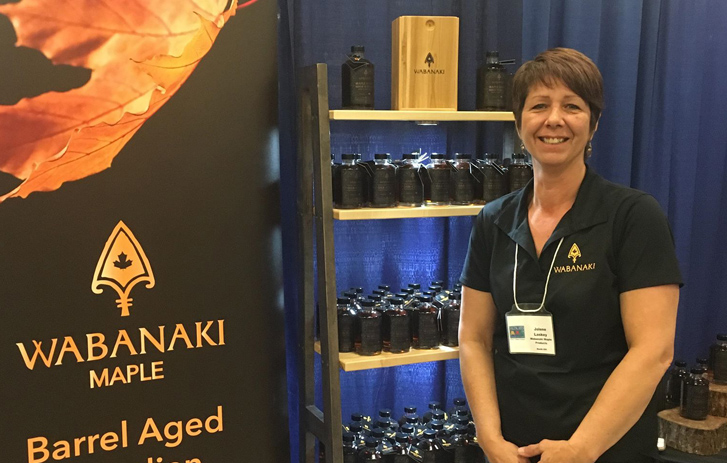 Laskey, teary-eyed expressed how much this grant means to her. "I'm still overwhelmed by it all. Coming from my little community, it feels great to be recognized for the hard work I've put into the business. It gives me the motivation to keep going and know that I'm doing something worthwhile – the encouragement is unparalleled," she explained.
Laskey hopes to use the grant to purchase new equipment including more barrels for ageing, invest in marketing, and further build out her team. Over time, Laskey hopes to become an even bigger environmental advocate and help preserve Canada's natural beauty for generations to come.  
LEARNINGS
Running a small business as an Indigenous woman certainly came with its challenges. Pulling from her own experience of creating Wabanaki Maple from the ground up, here are Laskey's top pieces of advice for small business owners:
 
Be attuned to your unique challenges

Laskey is no stranger to unique business challenges. Because Wabanaki Maple operates within a First Nations community, she struggled to receive proper funding.

"Traditional financial institutions were reluctant to provide funding due to complications of ownership of land assets. I spent a year researching funding opportunities and meeting with business incubators before I was able to start Wabanaki Maple."      


Connect with other entrepreneurs

Laskey speaks about the challenge of doing it all on your own. She found a lot of comfort and support in the people she reached out to.

"I advise any small business owner to look for help from other businesses. Everyone I talked to wanted to help and support. There's a tremendous amount of support out there. It's all about getting out of your shell and connecting with other people on the same journey – and helping each other out."


Build a team early with the same values and vision

Laskey underscores the importance of having a team that shares the same vision as her so that everyone is moving forward toward the same goal. 

"Build a team early and make certain that the people you bring on to your business share the same values and vision. It was important that the people who join my team have an understanding that my Indigenous roots and preservation of nature are paramount."