Yes Crickets
Yes Crickets
Owen Sound, Ontario
2019 Bronze Prize Winner
Owen Sound, Ontario
2019 Bronze Prize Winner
Yes Crickets jumps for joy and wins the bronze in the 2019 FedEx Small Business Grant Contest
Joe Shouldice's future-thinking small business is a conversation starter that will have you reaching for the crickets – literally. In fact, this small insect would lead Shouldice far from his graphic design studio in New York City to a cricket farm in Canada. Yes Crickets, the Owen Sound, Ontario-based business is owned and operated by Shouldice, who is taking a unique approach to sustainable farming and getting the next generation of Canadians excited about crickets as a sustainable food source. Yes Crickets makes dried cricket snacks and protein powder and sells them through its online store, local restaurants and other small businesses.
Shouldice's journey to founding Yes Crickets was years in the making. He read an article in the early 2000s that said people all over the world would be eating crickets in the future. Later in 2013, he reflected on that article around the same time an agriculture report stated that factory farming and traditional sources of protein would become unsustainable and unrealistic as the global population increased, and instead offered up insects as an alternative.
In 2017, Shouldice, originally from Toronto, was living in New York City and working as a Grammy award-winning graphic designer. He and his wife decided it was time to move back to Canada and to take a one-year trip across the U.S. before making the trek north of the border.
"On the trip, we visited cricket farms and learned that cricket farming isn't standardized," he said. "The farmers were really encouraging and shared their knowledge because the demand for crickets was on the rise. Eventually, my wife and I realized that we could start a farm while the industry was in its early stages."
Afterward, Shouldice and his family settled in Owen Sound, where he founded Yes Crickets. The flexibility of owning his own business and range of work is more rewarding for him. Now, he does everything by himself including farming, processing, marketing and package design.
Shouldice is most passionate about the sustainability aspect of cricket farming. "Compared to cows, crickets only need two per cent of the water, one-eighth of the land and emits only one per cent of the methane," said Shouldice. "They are also a great source of vitamin B12, calcium, iron and fiber, which can help to fight gut inflammation."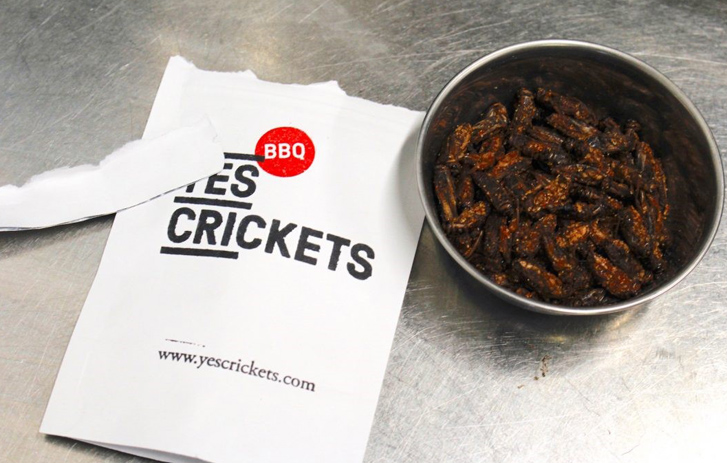 "I use the cricket species that tastes better than others because I want to give my customers the best experience and flavour possible, especially if they're trying them for the first time," said Shouldice.
Like many cricket farmers, Shouldice experienced roadblocks along the way. "Farming was quite the challenge because crickets need perfect conditions in order to grow," he said. "A slight change in temperature or moisture levels could result in six weeks' worth of production ending with no usable product."
From a marketing perspective, he focuses on younger people and others who are interested in trying something different, rather than pursuing people that are put off by the idea of eating insects.
Following this method, Shouldice has successfully developed a relationship with a local restaurant that continues to increase its orders. "Sometimes I cannot believe they are buying as much as they do," said Shouldice. "I find being a part of the local business community and seeing the demand for my products really motivating."
When Shouldice got the call that he won the Bronze Prize in the FedEx Small Business Grant Contest, he was working. "I was in the middle of filming a documentary featuring my farm," he said. "I was so excited!"
"I'm going to use the prize money to purchase a larger dehydrator for faster processing and to invest in a temperature and humidity-controlled room to make growing more predictable," said Shouldice.
He also plans on hiring other farmers to help him with production while keeping the farm relatively small. This will allow him to be involved in the day-to-day activities. "I want to stay focused on bringing cricket products to more Canadians in the most sustainable way possible," he said.  
LEARNINGS
Harvesting a small insect is no small task at Yes Crickets and Shouldice has learned a lot of lessons along the way. Now that Yes Crickets is growing, Shouldice reflected on his experience and offers this advice to other small business owners:
 
Listen to your customers.

It is important to recognize and appreciate potential and loyal customers. He recommends that small business owners listen to their stakeholders in order to succeed.

"To grow my business, I have to listen to my customers and make sure I am giving them the best products, with a variety of the best flavours. People really appreciate it and it helps build loyalty."      


Find balance between your business and personal lives.

Before starting Yes Crickets, Shouldice did not have a good work-life balance and missed out on family gatherings.

"Always be prepared for long days but don't forget about what brings you happiness. For me, that is making time to spend with my family. It also reminds me about why I love what I do."


Network with experts in your field.

Even before he started Yes Crickets, Shouldice gained a lot of insight into the complex world of cricket farming from others in the industry. 

"Connecting and learning from other cricket farmers helped me get started and saved me a lot of time and money. Learning from your own mistakes is important, but take advantage of networking to help reduce those initial costs."