Cemento
Cemento
Windsor, Ontario
2018 Silver Prize Winner
Windsor, Ontario
2018 Silver Prize Winner
Cemento's Solid Work Wins Silver Prize in FedEx Small Business Grant Contest
A 10-year veteran of the Ontario Provincial Police, Constable Hishaam Pahary understood the importance of having a great partner. As a result, after conceptualizing Cemento in 2016, he enlisted fellow police officer and friend Fadi Abd Eljaber to provide back-up.
As a self-described visionary, Pahary needed someone who was "good with his hands", and possessed the technical knowledge to help transform his vibrant idea into a business that would positively impact the community.
"I knew Fadi would be a perfect fit. He had the drive to always keep pushing forward. He immigrated from Lebanon in late 2011, and in his short time here, he's accomplished things that many people take a lifetime to do"
"My immigrant father came to Canada in the 1990's with $500.00 in his pocket. He became a small business owner and now employs 20 people," explains Pahary. "After having my two kids, I wanted to build something that would make my children as proud of me as I was of my Dad."
This love for family, combined with a passion for technology, architecture, manufacturing and art, gave the 36-year-old an idea. He would employ new manufacturing innovations to turn concrete into an art form. Pahary strove to create modern, lightweight, and durable concrete tiles, and wall-mounted panels. The unique cladding solution transforms a bland room into a space fit for an interior decor magazine. From designs that range from traditional to Avant Garde, Cemento panels create interior styles that appeal to every taste . Cemento's innovative design solutions serve customers ranging from large corporations to individual households.
"With Cemento, we wanted to redefine what people thought was possible with concrete," says Pahary. "It was that idea behind taking a material known for being cold and transforming it into a unique masterpiece by incorporating depth, colour, softer lines and beautiful textures."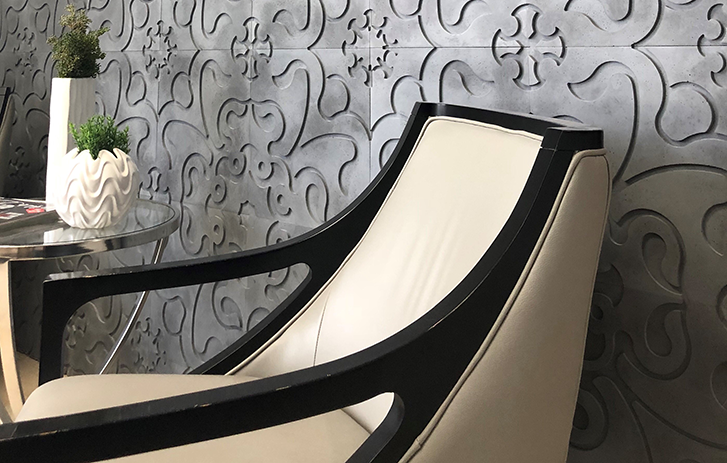 Working together, while continuing in their full-time jobs at the OPP, Pahary and Abd Eljaber poured their hearts into three custom projects in 2017. Using their lightweight, glass-reinforced concrete tile designs, they attracted immediate interest from potential customers. With a lot of momentum now surrounding the business, Pahary and Abd Eljaber plan to release a new line of concrete tile designs in August. They also have the capability to rapidly prototype custom jobs for architects and builders.
Winning the Silver Prize in Canada's first-ever FedEx Small Business Grant Contest - an honour that comes with $15,000 in grant money, plus $5,000 in consultancy services - will also enable Cemento to reach another milestone: becoming a more efficient and sustainable business.
"Right now, we're constrained by pouring each concrete tile manually, but the winnings will allow us to buy a high-shear mixer, a filtration system and a concrete pump. It means we'll be able to make larger quantities, reduce waste and decrease the particles we're releasing into the air," he explains, before coming to a pause.
"I'm still absorbing it - I've never won anything before," he says. "Thanks to this grant from FedEx, we'll be able to realize our vision and make a more sustainable product."
Pahary says he's focused on making a positive impact on the environment (using recycled aggregates and manufacturing by-products that would otherwise end up in landfills) and a positive impact on the economy (hiring local talent, manufacturing locally and sourcing materials within Ontario). Over the next few months, the company plans to hire a labourer for the factory, as well as office staff, sales staff and more designers.
LEARNINGS
Running a small business is a process, with lessons learned along the way. Those lessons can come in the form of corrected mistakes or good decisions that ended up being great decisions or unexpected victories. After doing some solid work to get Cemento off the ground, here's Pahary's advice to other small business owners:
 
Don't be afraid of competition

When he was first trying to get his business off the ground, Pahary says he was amazed at how many people in the industry were willing to lend advice, even his own competition. This taught him that small business owners can help each other and both succeed.

"When Cemento started, we weren't ready to take on larger jobs so we actually passed them onto our competition" explains Pahary. "It ended up paying back in spades because there's so much work out there. It proved to me that if you're good at what you do, you can't be afraid of competition."


Believe in yourself

Pahary says there will always be doubters when you have a big idea, but if you truly believe in it, you can't lose faith. You have to push forward.

"When I had my kids, I didn't want them to have limits," says Pahary. "The only limits you have are the ones you set for yourself."


Network, network, network

Some people say there are no opportunities anymore. Pahary wholeheartedly disagrees. He says you just need to get out there and start talking to people.

"Networking opens up so many doors, and those doors open up more doors. I kept speaking to people and opportunities kept opening up."