Faire Child
Faire Child
Dartmouth, Nova Scotia
2018 Grand Prize Winner
Dartmouth, Nova Scotia
2018 Grand Prize Winner
Faire Child wins Canada's first-ever FedEx Small Business Grant Contest
Tabitha Osler's week got off to a great start when she realized her little girl could finally fit into Faire Child's smallest size raincoat.
After all, it was the birth of her daughter almost three years ago that inspired the Dartmouth, NS designer to start her small business. After seeing how much Charli enjoyed playing outdoors, she decided she wanted to make a positive impact on the environment through fashion and leave her child with a better world to live in.
"We're using earth's resources 1.5X faster than earth can replenish them - we're using the resources of our children's generation," explained Osler, who makes Faire Child's garments from 100% recycled PET water bottles.
 "I wanted to create clothes that didn't end up in landfills. I didn't want to compromise my own personal values, so it was important to produce in Canada with environmentally-friendly and sustainable fabric. At the same time, I also wanted my garments to surpass the competition by offering a fabric that was breathable, waterproof and machine-washable." 
Osler's dream was to create a line of children's outwear that would allow kids to spend the day outside, whatever the weather, engaging with their natural environment and learning to care for it. In early 2017, she started a Kickstarter campaign to get her small business off the ground. After raising $20,000, she was able to purchase the 100% recycled materials and began making her garments.
It was a whirlwind year-and-a-half, so who could blame the sustainable fashion designer for getting a bit misty at the sight of Charli wearing her little raincoat. At the time, however, she had no idea her week was about to get even better.
It was just days later when she received the call: Faire Child, was the winner of Canada's first-ever FedEx Small Business Grant Contest and the $25,000 CAD grand prize.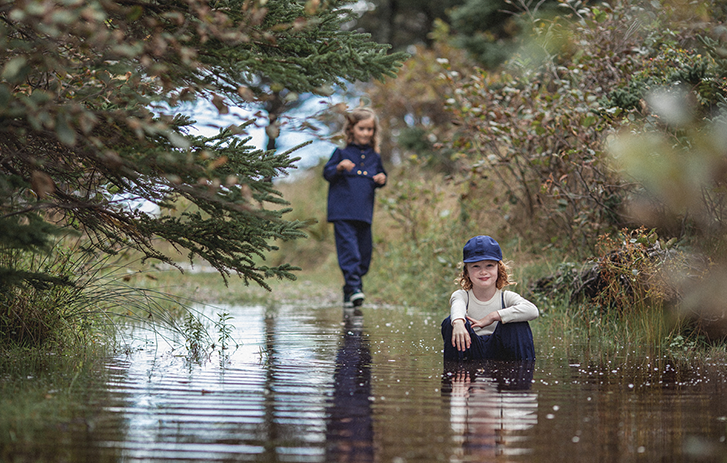 "I can't believe it," said Osler. "This money will go a long way to helping me achieve my dream." As the winner of the grant contest, Faire Child will also receive a brand marketing workshop with FleishmanHillard HighRoad ($10,000 CAD estimated value), a meeting with an internationally renowned Canadian business consultant ($5,000 CAD estimated value) and a face to face with FedEx Express Canada president Lisa Lisson. It's a big prize for a small business owner who only just started her company in January 2017.
Faire Child operates under a closed-loop model, producing garments in such a way that, after customers wear the clothes for many years, they can recycle them again into new water bottles, or better yet, more fabric. "At the end of the product's life, we take the garment back, disassemble it and recycle it into a new textile, ensuring our waste is transformed back into a resource," explains Osler. "From plastic bottle to rain coat to plastic bottle again - that's the lifecycle we envision for our line of children's outerwear."
With the $25,000 grant from FedEx, the 34-year-old small business owner plans to add underlayers to her eco-innovative product line while expanding to adult sizes. "Parents are always asking me, "Do you have this raincoat in my size?" says Osler, "so it will be nice to respond "yes" for a change." 
While Faire Child has been mostly focused on the Canadian market to this point, Osler says she will also invest her new winnings into marketing. "We've been receiving a lot of interest from the U.S. Pacific Northwest, so I'm hoping I'll soon be shipping a lot more garments south of the border," she says. 
LEARNINGS
Running a small business is a process, with lessons learned along the way. Those lessons can come in the form of corrected mistakes or good decisions that ended up being great decisions or unexpected victories. Pulling from her own experience starting Faire Child, here are Osler's top three pieces of advice for small business owners:
 
Listen to your customers

While Osler made a lot of clothes for a lot of people in her previous career in fashion design, she was always behind the scenes. So, she's been surprised by just how much she enjoys having the opportunity to hear from her customers firsthand, on the frontline

"Whether it's in-person or on social media, I love chatting with parents about what they like about my garments, and what they don't," explains Osler. "It's very rewarding to get that feedback and then put it to use in my next design."      


Look for all the help you can get

Osler advises small business owners to chase every government grant and funding opportunity available.

"Canada is incredible for supporting entrepreneurs," she says. "I still haven't paid myself, so without government funding and generous small businesses grants like this one from FedEx, there is no way I would have been able to get Faire Child off the ground."


Innovate and adapt, on repeat

Whether it's switching up the design of a product or changing her marketing strategy, Osler has learned that small business owners need to adapt quickly if they want to survive. 

"My biggest takeaway is that nothing is going to be perfect from the get go," she says. "When something doesn't work, you have to adjust appropriately. You always need to be learning and adapting."