Hooray Truffles
Hooray Truffles
Gibsons, British Columbia
2018 Bronze Prize Winner
Gibsons, British Columbia
2018 Bronze Prize Winner
Hooray Truffles finds sweet success with a bronze place finish in Canada's FedEx Small Business Grant Contest
To describe Kim Kingston's life as a box of chocolates is fitting. The founder of Hooray Truffles, which specializes in organic, vegan, dark chocolate truffles, has taken all of her life experiences – both sweet and bitter – to build a business that is truly a labour of love.
"I believe that amazing gifts come from adversity. I don't live in the past, and I don't dwell on my challenges. I move forward and capitalize on them," Kingston explained.
The path to creating Hooray Truffles was forged out of some painful periods. Kingston, who herself struggled with an eating disorder as a teenager, recognized the signs when her oldest daughter Alanna fell into similar patterns, ending up as an inpatient for treatment. While in the hospital, it was discovered that Alanna suffered from sensitivities to a number of foods including gluten, dairy and soy, so the family began to focus on creating vegan meals. As a result, Alanna became an excellent gluten-free vegan chef.
During a visit with Kingston's mother in 2013, Alanna whipped up a batch of vegan truffles that were so delicious, Kingston saw an immediate business opportunity and the potential to do something she was passionate about.
"These truffles made my soul sing," Kingston remembered. "I knew they were something special."
Testing her concept at craft fairs over the 2013 holiday season, Kingston knew she was on to something. She was able to connect with people while spreading the word about health and wellness, and both her message and the truffles were received with open arms.
Not long after, Kingston faced another difficult hurdle. Her younger daughter Daynah was diagnosed with stage four cancer at the age of 21. While her daughter endured months of chemotherapy, radiation and a stem cell transplant, Kingston stayed by her side and found her outlook had shifted.
"It changed how I looked at life. Our time and our connections to people are what matter most," she said. "The only thing we have control over is how we treat each other, how we show compassion, and how we show up energetically into a room every time."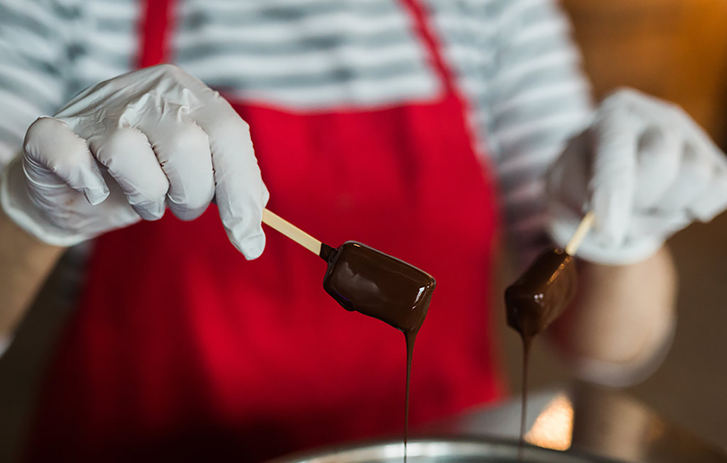 Following Daynah's recovery, Kingston knew she wanted to focus on the work that brought her so much happiness, and redoubled her efforts to create a viable business. In 2017 she built an allergen-free kitchen and began spreading the word about Hooray Truffles online, with a commitment to donate five per cent of the company's net proceeds to the Looking Glass Foundation for Eating Disorders. Her products have received such a positive response that local residents in Gibsons, B.C. will shout, "Hooray!" when they see her.
While she currently ships to customers within Canada, Kingston has a vision of reaching like-minded chocolate lovers around the world from her online-only storefront. With her $5,000 grant from FedEx, the chocolatier has plans to launch two new products, and invest in specialty origami packaging from Malaysia.
"I want the package to be as special as the products inside," she said.
Winning a bronze award in the FedEx Small Business Grant Contest was both motivating and inspiring for Kingston, who is looking ahead to what's next for her company. Her vision for Hooray Truffles is to align her company with corporations that share similar values, and supply her products to resorts, spas, and other businesses looking for corporate gifting.
"We believe that you can heal your body and your mind with food. We live these values by creating outstanding chocolate truffles from the purest and cleanest of ingredients," Kingston said. "Food is so important, and when kids with anaphylactic allergies can eat my products and their moms hug me and cry, it just brings me so much joy."
LEARNINGS
Like many small business owners, Kingston has learned some key lessons along her journey as an entrepreneur. Here are her top three pieces of advice for other small business owners:
 
Value your own product

Kingston knows firsthand the importance of having a business model that will make a profit. To ensure she wasn't underpricing herself and actually creating a viable business, she took advantage of available small-business tools.

"There are some phenomenal products and tools out there for pricing, and I definitely rely on them. I can't keep doing what I love to do if I don't make a profit."


Test and learn

Validation is incredibly important for small business owners, so Kingston is a huge proponent of reaching out and trialing an idea before making a decision.

"Get out there, talk to people, and test your product. They'll tell you whether you have a viable business idea or not."


Engage and connect

Kingston has embraced social media as a tool to not only gain visibility with potential customers and partners, but to forge relationships and share the message of her brand.

"Social media is the communication tool of today, whether you like it or not, and it's free, so let's capitalize on it!" she said. "Using social media we can demonstrate who we are as human beings, and really connect with people. People are searching for connections, and they want to connect with companies that have integrity, quality and sustainability. They're demonstrating their beliefs in how they spend their money, and are looking for brands with values and a social consciousness. For me, business is all about relationships and making those connections with my customers."