Minimo Motivation Ludique
Minimo Motivation Ludique
Quebec, Quebec
2018 Bronze Prize Winner
Quebec, Quebec
2018 Bronze Prize Winner
Minimo Motivation Ludique: a simplified and colourful children's routine
Nothing is more stubborn than children who want to assert themselves or do things on their own. In their quest for independence, children sometimes have difficulty with routine tasks and activities, making bedtime routines a common headache for parents. For Valérie Bouchard, an umpteenth bargaining episode with her four-year-old boy who never wanted to take a bath, triggered the idea of a tool to facilitate daily tasks with her son.
Valérie soon took to the internet to search for tools to get them through these daily battles, only to find that the only tools available were primarily targeted to children with special needs and education, rather than for daily life. This sparked an idea with the professional graphic designer, who pulled out her sketchbooks to design a colourful and imaginative solution.
"Children are looking for independence, but they need to be guided, and not all parents have the time or the tools to create educational assistance for their children. In meeting the needs of my own child, I saw an opportunity to offer a solution for other parents. The product is simple: a colourful, customizable and magnetic board, where kids move specific task-based magnets nicely illustrated by Valérie herself from the "to do" to the "done" section on the board once a task is completed.
"It's a unique, turnkey product that changes the lives of thousands of families. The principle is very simple, but by involving the child directly, it helps them to become more autonomous thanks to this playful, colourful and stimulating table."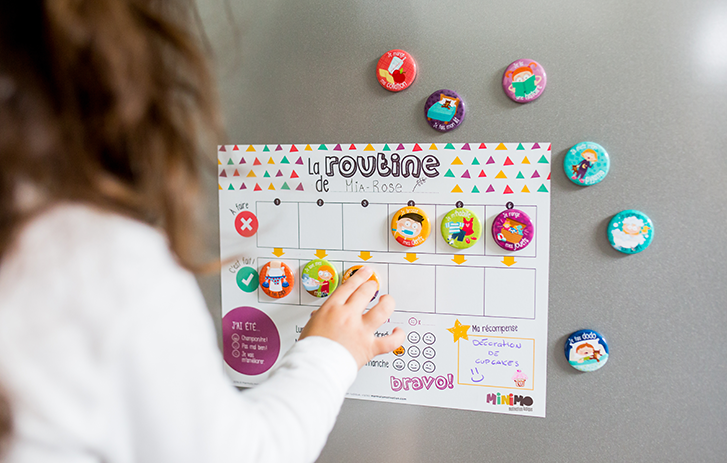 Valérie began operating as a Facebook page in early September 2016 to share her idea and put the daily routine chart - which was to become the flagship product of Minimo - into presale. Valerie planned to pre-sell 100 in the first month - a goal reached in two weeks, forcing the young mother to increase quantities and find points of sale.
Two years later, Minimo has sold 8,000 magnet sets and the products are available in 100 retailers across the province including Clément: one of the largest chains of children's boutiques in Quebec. The small business continues to grow, doubling its sales each month year-over-year. Today, she and her business partner, spouse and father of her children, are considering an expansion into English Canada.
The possibility of expansion has Valérie thinking not only about her distribution network, but also about her suppliers, particularly as it relates to shipping. "Because my product contains magnets, it can create shipping issues due to its weight. I'm therefore evaluating our options, and this contest has allowed me to discover the solutions that FedEx offers to small businesses."
For Valérie, being recognized in the FedEx Small Business Grant Contest is not only a financial boost, but a validation. She listed Minimo in thinking about her plans for expansion, but also to see if others would recognize the potential of her company. "The 'pat on the back', the recognition, it is worth much more than the grant for me. It confirms that we have our place in the market," she continues proudly.
The grant will help Minimo to increase inventory before the back-to-school rush – the busiest time of year for Minimo – before expanding into English Canada.
KEY LEARNINGS
Managing a small business comes with a major learning curve. Reflecting on her own journey with Minimo, Valérie shares these three business tips:
 
Know your priorities

"It's crucial that we first establish our priorities, and then stay the course to avoid diverting from them," said Valérie, adding that doing this can help maximize efforts while ensuring to meet the deadlines and goals.


Don't wait for perfection before you start

"You need to know when to stop and to not wait until everything is perfect and that all conditions are met, otherwise we never would have launched!", said Valérie. She goes on to explain that the instinct of waiting to have more products to offer will only lead to an indefinite launch delay.


Find good partners

If Minimo is a family business – managed by Valérie and her husband, with active support from her in-laws who do the assembly, the suppliers are just as important. "My product contains magnets, so it can sometimes create distribution challenges because of the extra weight, which I then need to factor into business plans. I receive parcels daily so I know about the services from FedEx, but this contest allowed me to discover the other small business solutions that they offer."