Wooly Maple
Wooly Maple
London, Ontario
2018 Bronze Prize Winner
London, Ontario
2018 Bronze Prize Winner
Wooly Maple brings 'comfort' to those who need it most
Most small business owners will tell you they started their company to pursue a personal passion, earn a better living, or to fill a void in the marketplace. Ashley Burt's motivations were much simpler. When she started Wooly Maple, she was just looking to survive.
After being diagnosed with a mental illness in 2014, Burt turned to crocheting as a form of art therapy. While there were days she found it difficult to even get out of bed, the soothing, calming act of crocheting brought purpose to her life. "I couldn't make it to work, but at least I could crochet," she explains. "It really helped my self-esteem and my sense of mastery, and before I knew it, I had a whole stack of hats."
With an extensive therapy schedule that made it difficult to find full-time work, Burt started selling her hats on Facebook to keep a roof over her head. After receiving what she calls an "overwhelming" response from the community, she then decided to become a full-time business owner in March 2017, expanding her range of products to include additional clothing items and accessories.
"With Wooly Maple, I wanted to take something I made to create calm and comfort in myself and provide it to customers so they could feel just as comfortable and warm. I think there's a lot of beauty in that exchange," says the 35-year-old entrepreneur.
In addition to offering a line of warm Wooly Maple hats and comfortable screen-printed clothing, Burt now runs community workshops at local coffee shops and breweries to share the healing benefits of crocheting. "I took a tremendous amount of comfort, figuratively and literally, from crocheting, so I wanted to pay that forward," she explains.
"Crocheting or knitting is often overlooked as form of comfort when it comes to anxiety and depression. While it obviously isn't going to heal everyone, crocheting kept me alive, it kept me motivated, it helped me relax. Those little things that we can do for ourselves when we're suffering - I think everyone should have those tools. So, as soon as I was able, as soon as I was better, I started the workshops."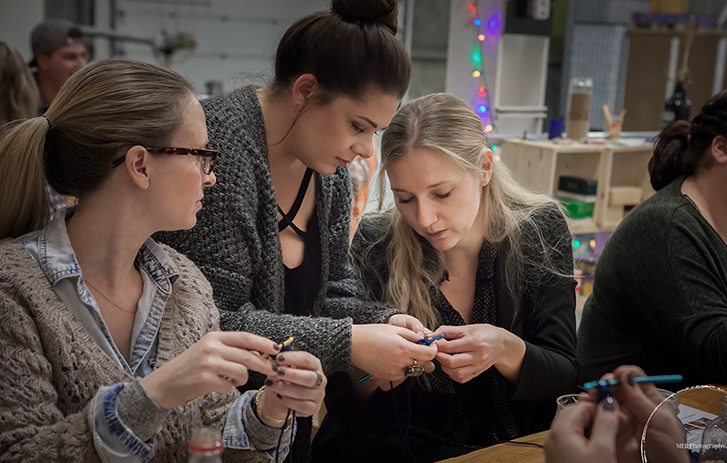 Burt's mission to bring more comfort to more Canadians recently landed Wooly Maple a top-ten finish in the FedEx Small Business Grant Contest. With the $5,000 grant money, she hopes to invest in a marketing strategy to bring her free workshop series to more people. Having just launched an e-commerce site two months ago, she's also hoping to expand her customer base outside of the London area to the rest of Canada.
"My dream is to make enough money with Wooly Maple that I can give back to the community, through these free workshops, without causing myself financial harm," she says. "I have so much appreciation for the people who support me and this lifestyle of mine. It allows me to live my life with purpose and do something that I love. So, I want to make this exchange of love and appreciation apparent in every single thing I do. The yarns I choose for my crochet hats, the clothing I choose for the screen printing -- it's all chosen from a place of comfort. When people leave my market booth, leave an event, leave one of my workshops, I want them to feel like they were given a big warm hug."
LEARNINGS
Running a small business is a process, with lessons learned along the way. Those lessons can come in the form of corrected mistakes or good decisions that ended up being great decisions or unexpected victories. After finding personal salvation in her company Wooly Maple, Burt has this advice for other small business owners:
 
Get out of your own way

Before starting Wooly Maple, Burt says she would see small business owners opening stores and think, "That's a whole other class of person, there's no way I could do that." She believes a lot of people have limiting attitudes when it comes to themselves and what they're capable of doing.

"You're not going to move forward if you already decided it's something you can't do, but skills can be learned, financing can be acquired," she says. "Sometimes, you just need to change your attitude and get out of your own way."


Connect with others

When Burt was just starting out, she joined the Makeology group on Facebook. She credits the community of makers, artists, and entrepreneurs with helping her get her small business off the ground. I asked them, "Where do I get tags, where do I get labels, how do I get yarn wholesale? They saved me a lot of time and money, and they collectively became my online support."

After this experience, Burt's advice to other small business owners is: "Align yourself with people who are already doing what you want to be doing. Don't be afraid to reach out to someone you admire. Most small business owners are proud of what they accomplished and eager to share their knowledge. With Facebook and Instagram, it's easy to tap into that wealth of information. We're so connected now -- you need to take advantage."