Young Native Fashion
Young Native Fashion
Hamilton, Ontario
2018 Bronze Prize Winner
Hamilton, Ontario
2018 Bronze Prize Winner
Canada's FedEx Small Business Grant Contest puts Young Native Fashion in the spotlight as a bronze place winner
Angela DeMontigny has a story to tell, and she's found a beautiful and fashionable way to tell it.
In 2013 DeMontigny founded Young Native Fashion Inc., a custom and ready-to-wear luxury fashion line using the finest materials including leather, suede, shearling, silk and cotton. Her designs and products are made with the highest level of craftsmanship, in a sustainable way so they can be enjoyed for years, and are inspired by the beauty, art and stories of her Cree and Metis ancestry. DeMontigny raises awareness of Indigenous culture through contemporary fashion, and collaborates with other Indigenous artists, such as jewelry makers, to help support and promote their work.
"I consider myself a bridge in a lot of ways. I use fashion as a vehicle to educate people about Indigenous culture in Canada and internationally," she explained. "There's a lack of education and misinformation out there, and I want to focus on the beauty and the positive aspects of our beliefs, our art and our culture. I want to change people's perceptions of who we are as contemporary people."
DeMontigny, who started designing under her own label in 1995, has seen traction with Young Native Fashion on an international scale, with plans to present her Spring/Summer collection in September during London Fashion Week. This will be her second time at the iconic event, but this time she will have many additional trade events, as well as a presentation to buyers from select retailers and fashion media in the UK and Europe along with other Canadian designers at Canada House in London.
"The more international work I do, the more I realize that the rest of the world has little idea who we are today. They have outdated or wrong ideas about indigenous people based on incorrect history, movies and books," DeMontigny said. "I use my fashion as a way to show that we're also doctors and lawyers and professionals and singers and artists and actors, and they just haven't seen authentic indigenous fashion this way before. I'm bringing something that's fashion-forward and edgy while incorporating my ancestral inspiration, and people love it."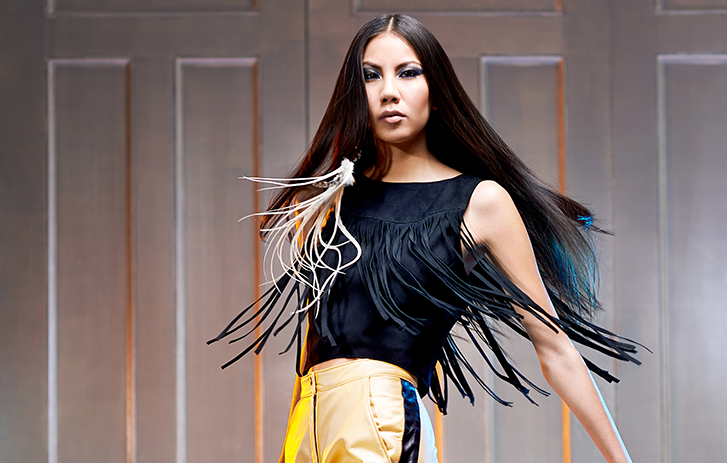 Along with educating people about her heritage, DeMontigny sees her success as a positive step towards combating the issue of cultural appropriation, a growing issue in the fashion industry.
"It's harder to appropriate fashion if you have people in the mainstream fashion world doing authentic cultural fashion," she said. "It provides more visibility."
While DeMontigny currently runs her business from her boutique in downtown Hamilton, Ontario, she has a vision of expanding to boutiques and galleries in other parts of the world. She also has a goal of elevating Indigenous models to international runways and giving them the exposure they deserve.
DeMontigny, a Bronze Award winner in Canada's first ever FedEx Small Business Grant Contest, plans to use her $5,000 winnings towards creating her next collection.
"Everything is possible," she said. "I know I have challenges ahead of me, but I'm looking forward to making a strong, positive change."
LEARNINGS
DeMontigny has been in the fashion industry her entire adult life, and has gained a lot of insight about what it takes to run a small business over the past 25 years. Here are her top three pieces of advice:
 
Go with the flow

Over the past 25 years in the fashion industry, DeMontigny has learned that success is rarely linear. She advises that business owners are better set up for success if they embrace change rather than resist it.

"Success isn't a straight line. Sometimes you do things that are maybe not exactly where you thought you'd be headed and you need to go in a different direction," she said. "Go with the flow, and discover what other opportunities it might create."


Stay true to you

DeMontigny believes that success has as much to do with the heart as it does with the head.

"It's much easier to be successful if you're doing something that's true to your values, aligns with what you believe, and is really what you love to do. It's an empowering thing," she said.


Pay it forward

Even though entrepreneurs might often work alone, DeMontigny encourages small business owners to broaden their network with mentorship.

"Being an entrepreneur can sometimes be a lonely, challenging place. I encourage business owners to have a mentor and to be a mentor to someone coming up behind you," she said. "As you're moving forward and need help, you'll have someone there to advise you. At the same time, reach behind you and help someone who's learning the ropes. It's very rewarding."