FedEx Careers
FedEx Careers
Life at FedEx
The Company
At FedEx Express, we believe that a connected world is a better world. We connect people and possibilities with our diverse portfolio of transportation, e-commerce, and business solutions. Today, our networks reach more than 220 countries and territories, linking more than 99 percent of the world's GDP. FedEx is consistently recognized as one of the most admired brands in the world and one of the best places to work. Our people are the foundation of our success and the key to our future.
Our Philosophy
People-Service-Profit (PSP) is the philosophy and business model FedEx was founded on, and continues to be a way of life for all employees. Taking care of our People, results in outstanding customer Service, allowing us to earn a fair Profit that we reinvest in our People and our future.
Our Culture
We believe in making every FedEx experience outstanding—for the customer and for our team members.
---
Our People are our Strength
When you join FedEx, you're joining a team with possibilities that literally span the world—from opportunities for advancement and location transfer, to training and leadership programs.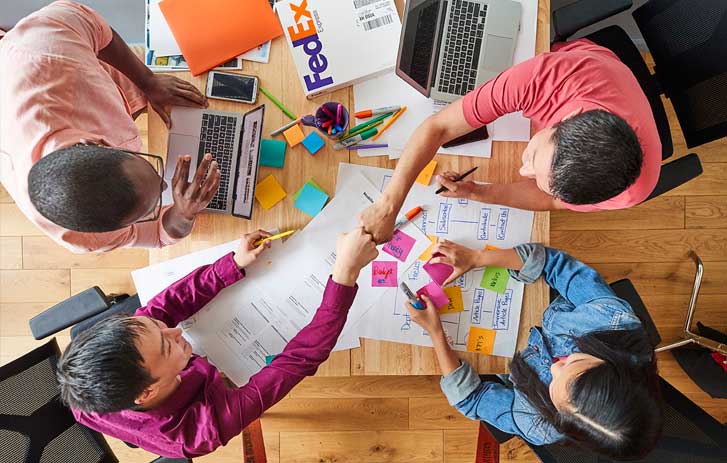 Your Career and Growth
At FedEx, we are like a family where we grow personally and professionally. We offer competitive benefits, opportunities for development and career advancement, and programs to support your well-being.
Innovation
FedEx is always innovating and evolving, and with our expanding reach and portfolio of solutions, we are only getting better.
---
Together, We can Make a Difference
Team members help our customers succeed, build more vibrant communities, and create a more sustainable future. Our team is strengthened by diverse perspectives and experiences, which lead to greater creativity, new ideas and a better workplace.

Diversity, Equity and Inclusion
"Diversity and inclusion have been part of the FedEx DNA since day one. We've known for years what various studies now prove — that workforce diversity and inclusion are key drivers of business success, and we too embrace these values not only in our recruiting and hiring, but also in our relationships with suppliers and the charitable organizations we invest in. Commitment to diversity creates a better experience for our team members and our customers." - Frederick W. Smith - Chairman & CEO FedEx Corporation
Diversity, Equity and Inclusion at FedEx connects people and possibilities to deliver a better future for all team members, customers, suppliers and communities. FedEx Express is also an equal opportunity/affirmative action employer (minorities/females/disability/veterans) committed to a diverse workforce.