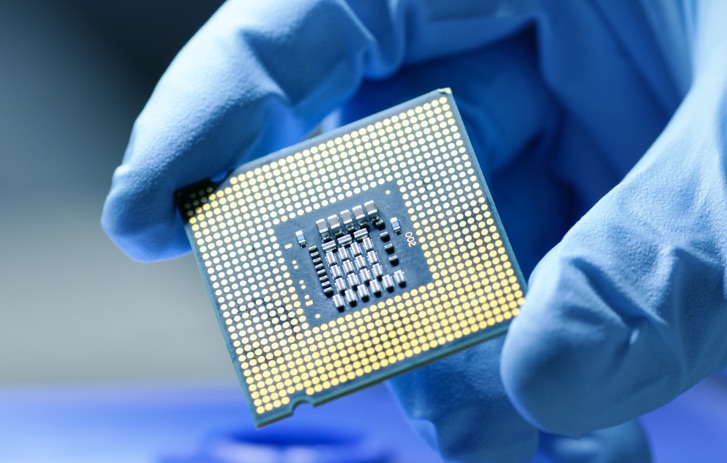 The secret world of semiconductors
The secret world of semiconductors
How a tiny chip came to trigger a tech boom
How a tiny chip came to trigger a tech boom
How did our society come to run on semiconductors, and what trade opportunities do they present to businesses across the globe?
Nature's hidden tech resource
It may not feature in everyday conversation, but the semiconductor is one of the most influential products powering the modern world.
This tiny chip, found in almost every electronic device, has transformed technology, facilitated global connections and helped to advance fields such as transport and computing. It can even save lives.
Perhaps most fascinating about the semiconductor is the fact it has natural beginnings. In the 1940s, scientists realised pure elements such as silicon could conduct electric currents. They then used these to create transistors, tiny devices that switch currents on and off and run computations.1
Currently, over 100 billion of these miniscule semiconductor devices are in use around the world, powering everything from smartphones, to appliances, to cars. Annual sales in the industry have now reached nearly $500 billion.1 Here, we look at some of the trends shaping past, present and future growth in this booming market.
Creating a connected world
Modern lifestyles run on connections. One moment, you might be sending a funny photo to a friend who lives nearby – the next, you're having a video call with a business partner on the other side of the world. 
It is this increased global demand for connectivity that has powered semiconductor growth. There are currently more than 3 billion smartphone users worldwide, with this set to grow by several hundred million in the next few years.2 

In emerging markets such as Latin America and Asia-Pacific, rising wealth and an expanding middle class has increased the accessibility and adoption of smartphones even further. Data from Pew Research Center found that 85% of under-34s in Brazil use a smartphone, while adoption in the Philippines has more than doubled since 2015 to 71%.3
But these connections don't just apply to human-to-human communication. The growth of the Internet of Things (IoT) – the network of electronic devices that collect and share data via the internet – has also become a major phenomenon. The popularity of wearable tech, home devices and smart TVs has skyrocketed, with around 18 billion IoT devices expected to be in use by 2022.4
Meanwhile, disruptive new technologies in automotive and healthcare have also driven demand for semiconductors. In healthcare, for instance, companies have capitalised on the possibilities semiconductors present with developments in clinical diagnostics, medical imaging and home monitoring. The medical devices segment in particular was worth $425 billion in 2018, and is projected to reach a value of $613 billion by 2025.5
The tech trends powering demand
The semiconductor industry is one that continues to innovate and find solutions for some of the biggest global challenges, especially around efficiency and better living. A key way it is currently doing this is through technology such as Artificial Intelligence (AI). 
Many AI solutions rely on hardware that contains semiconductors, particularly for logic and memory functions.6 As AI becomes more prominent within society through the rise of self-driving cars, voice-activated devices, and, in healthcare, bionic limbs, the market for AI-related semiconductors is expected to grow from $6 billion in revenues in 2018 to more than $30 billion in 2022.7 
Another current trend is the digitisation of supply chains, and using semiconductor-based technologies such as automation, big data and IoT to drive efficiency across everything from planning to logistics. 
With studies showing that a digitised supply chain can boost annual growth by 3%, more companies could soon start considering whether investing in digital tools could help streamline their processes and free up time for bigger business decision-making.8
Global economies are also preparing for the launch of 5G in 2020. This technology presents huge opportunities for the semiconductor sector. As well as boosting the market's growth by up to 18%, it's also expected to drive chip sales by 7% as demand for smartphones increases.9
But it won't just be the semiconductor industry that benefits from the next step in wireless technology. Across all sectors, 5G is set to help to redefine workplace processes, increase productivity through faster transmission speeds, and improve communications between businesses and consumers in every corner of the world. 9 
Semiconductor sales: growth rates across the regions10
14.5%
Asia-Pacific (excl. Japan)
13.9%
Europe, the Middle East and Africa
What's next for semiconductors?
In the car industry in particular, semiconductors are set to see exponential growth. The automotive semiconductor market is expected to reach a value of $129 billion by 2025 as a rising number of vehicles are kitted out with components such as LED lights, sensors and navigation control.12
Digital connectivity – linking cars to the IoT as well as owners' mobile devices – is also increasing, with 90% of vehicles produced to be connected by 2023.13 

What's more, certain technologies that were once associated with high-end vehicles will soon become available in mid-range and economy models – for example, lane departure warnings, anti-lock brakes and adaptive cruise control.
An increasingly competitive tech world is set to bolster demand for semiconductors. Each year sees the launch of new start-ups and investments in innovative technologies, with the global start-up economy now worth almost $3 trillion, up 20% from 2017.14 In 2013, funding for AI start-ups amounted to around $1.7 billion, but in 2017, this had jumped to more than $15 billion.15  
It won't just be entrepreneurs in the U.S., China and Europe behind the boom. Research shows that the number of tech businesses launching in emerging markets is on the rise. In India, more than 1,300 tech start-ups were launched in 2019,16 and in Latin America, 30% of the population of Guatemala is now involved in a start-up, compared to 16% of the U.S.

With competitiveness becoming more important than ever, businesses in every field may want to consider the ways they can leverage the power of the semiconductor – from embracing connected processes and addressing digital skills gaps to going paperless.

Tapping into new growth possibilities
The story of the semiconductor is one that's relevant to almost every industry worldwide. From in-store card readers, to state-of-the-art medical equipment, to office air conditioning, few businesses can say they do not come into contact with semiconductors in their day-to-day tasks.
At FedEx, we too are familiar with the ways in which semiconductors can advance operations. In the U.S., we've developed a cutting-edge automonous delivery service  the FedEx SameDay Bot – which uses robotics and AI to make local deliveries. We've even launched a pilot program for drone deliveries.
You can count on our team of experts to streamline your own supply chain and make powerful new connections in the world of trade. We have a range of digital tools to help simplify your processes, and are always investing in our infrastructure to help businesses offer an outstanding experience to their customers.
Possibilities
Discover market insights, trends and how our network can connect you and your business to global possibilities.
Discover what's possible