FedEx® HealthCare Solutions
FedEx® HealthCare Solutions
How to Export out of a Foreign-Trade Zone
by Christelle Laot
July 10, 2017
Certain exports out of the United States, such as narcotics, are highly controlled and regulated. Commodities stored in Foreign-Trade Zones (FTZs) are also subject to tight control when goods are moved out of the United States. Fortunately, the FedEx International Controlled Export (FICE) service provided by FedEx Express is here to help.
How does it work? FICE handles small parcels and freight from FTZs in the United States and Puerto Rico then submits the required CBP 7512 form to authorities, facilitating the export process. This option is a fast, reliable way to get your controlled exports where they need to be with the convenience of customs-cleared, door-to-door delivery and the reliability of a time-definite commitment.
FTZ U.S. Facts
Annual reports filed by the Foreign-Trade Zones Board to U.S. Congress provide insights into FTZ business. FTZ total figures are provided for U.S. exports and U.S. merchandise received, which corresponds to the sum of U.S. imports and U.S. domestic status (duties and taxes were then already paid on the merchandise that was brought in). In 2015, FTZ U.S. exports were worth $84.6 billion in merchandise value, while FTZ U.S. merchandise received totalized $659.4 billion in value. Calculating compound annual growth rate (CAGR) indicates that the business is booming, with a 2004–2015 CAGR for FTZ U.S. exports of 14.4 percent.
FTZs have many benefits, in particular to healthcare companies, including:
Lower duties and taxes: Finished pharmaceutical products are often imported free of duties and taxes, while raw materials are subject to fees. An FTZ makes it possible, for instance, to mix foreign components with domestic components and take advantage of different customs tariffs.
Inventory management: FTZs are close to the market, and such a proximity can be valuable in case of quotas. Also, products can stay in FTZ until they are sold, simplifying potential biopharma expiration date issues.
Simplified brokerage for imports: The consolidated weekly entry filed to regulators lowers merchandise processing fees, as the maximum weekly fee is capped and can be substantially lower than the sum of transactional costs for corresponding simple imports. In addition, merchandise is moved directly into FTZs once it arrives near U.S. territory and doesn't have to wait for import clearance, which means a faster transit time and a reduced risk of temperature excursion for cold chain shipments.
Regulatory compliance: Documentation and records are readily available. FTZs are enabling solutions for specific situations, such as Pre-Launch Activities Importation Requests (PLAIR) requirements for generics.
High security
Contact your FedEx sales representative for more exporting solutions.
---
Christelle Laot
Technical Fellow
Dr. Christelle Laot joined FedEx Express in 2007 and is currently technical fellow in the FedEx healthcare industry vertical. In this role, she provides thought leadership, strategic direction and subject matter expertise for healthcare transportation. Prior to her work with FedEx, Dr. Laot held managerial positions in R&D, innovation and strategy at Bayer in Germany for about six years.
Dr. Laot obtained a PhD and MS in chemical engineering from Virginia Tech (USA), a Diplôme d'Ingénieur from UTC Compiègne (France), as well as an MBA from HEC Montreal (Canada).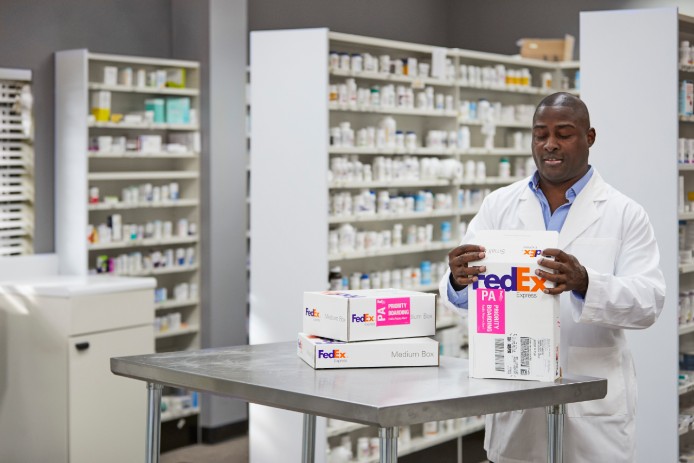 FedEx HealthCare Solutions Knowledge Center
Check out our library of articles, videos and webinars that discuss the healthcare supply chain as it looks today and where it's headed in the future. Plus, learn from experts how innovative technology, strong connectivity and data-driven solutions will help improve the healthcare industry.