Expanding the understanding of print
Print is powerful. Unlocking its potential can give businesses groundbreaking results. Whether you want to communicate better with clients and employees or gain new customers through stronger marketing, the print options are both exciting and vast. Print isn't simply a piece of paper or a poster — it's a strategy that can change an organization's course for the better. Here are some thoughts to help you expand your understanding of what you can achieve with print.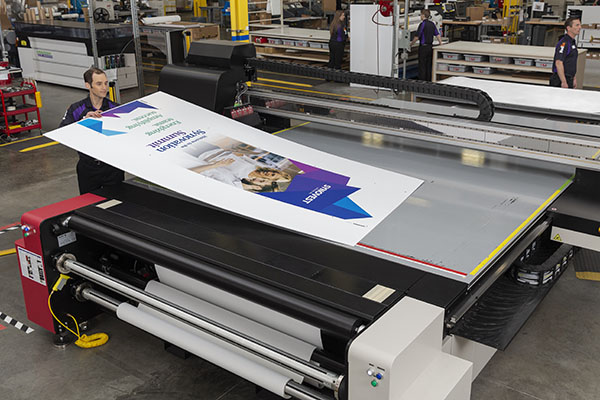 Misconceptions about print
There are several common misconceptions about print. The first is that print materials can't be personalized. Of course, many marketing campaigns need personalization by geography and target audience. Variable-data printing allows for personalization of materials by changing aspects of the print job from item to item, while QR codes allow for digital engagement with and continual updating of printed pieces.
Another misconception is that print is ineffective as a business tool, but research done by Nielsen Homescan found that 80% of U.S. households still use circulars and other traditional printed sources for product information.1 Tangible printed products can encourage people to take action that they might not otherwise consider.
A third misconception is that print isn't environmentally friendly. In reality, the print industry encourages sustainable forest management, and paper is one of the world's few truly sustainable products. According to the initiative Two Sides North America, there are certifications and standards in place to make sure forests are properly managed, which incentivizes landowners to maintain their forestland as opposed to selling it to developers.2 Additionally, paper gets recycled up to seven times. Print makes it easy to be responsible and conscientious as a company.
Commercial print capabilities
Print can produce just about anything — brochures, catalogues, books, signs, banners, direct mail, posters, flyers — and spans all industries. Many companies couldn't function without it. In fact, the global print industry is worth $898 billion.3 So, how can you use print most effectively? Often, it helps to start with a problem you need to solve. 
Problem-solving with print
With the endless variety and opportunities of print, it's best to approach the subject from a solution standpoint instead of a project standpoint. Ask yourself what issue you need to resolve, what opportunity you see and what message you need to convey. 
Do you want to strengthen your bond with customers? 
Do you need to more effectively engage your employees? 
Do you want to enhance awareness of a new service? 
In short: Begin with the end in mind and go from there. 
Connecting with experts
Once you have a goal in mind, a qualified print consultant can offer successful strategies to help you get there.
Your organization will want to work with print experts, serving many industries, with the expertise and capability to offer sound recommendations. As the relationship develops, an expert may even broaden what you previously thought was possible for your company. Taking full advantage of this resource will prove invaluable.
In addition to more than 2,100 FedEx Office locations and 19 commercial print facilities nationwide, we have a dedicated team of commercial sales consultants and other print experts on hand to support your business goals. 
Print is tangible. It establishes your brand. It's engaging, and it's resilient. It's more than a piece of paper or a single sign. Print can grow an organization and bring people together. That's power.
To discover more articles like this on the benefits of creating a commercial print program, visit our Knowledge Center.
Request consultation
Learn more about the potential benefits of creating a customized commercial print program.
CONTACT US
---
1 Nielsen Homescan Study. (Dec. 18, 2017). "Digital touchpoints are making their mark in U.S. retail, but print is (still) not dead."
2 TwoSidesNA.org. (Jan. 29, 2019). "How paper production and sustainable forestry keeps our forests growing."
3 Statista Research Department. (Feb. 20, 2014). "Value of the global printing industry market by region."