How leaders tackle inefficiency for savings
Inefficiency depletes budgets, employee time and morale, none of which companies can afford to lose right now. Inefficiency is the sum of time and money that fails to contribute to a company's fundamental mission and business goals — and the pure financial costs of it are staggering. 
According to market research from International Data Corporation, inefficiencies drain as much as 20% to 30% of an organization's annual revenue.1 That means if revenue is $5 million, at least $1 million is simply being thrown away. 
As businesses start to open back up, they will continue to focus on providing the best products and services to customers. Addressing inefficiencies now will leave businesses more time and resources to dedicate to their core offerings.   
Collaborating with a trusted commercial print organization is a powerful way to simultaneously shave costs and achieve business goals through consistent messaging and branding. 
Spotting inefficiency
Make efficiency a continuous effort that leverages the input and ideas of all employees. Empower your colleagues to focus on productivity by encouraging them to ask these questions:
How much of my work time is spent on tasks that have little or nothing to do with the company's mission?
Can those tasks be eliminated or outsourced without sacrificing quality?
Is there a way to quantify the value of eliminating those inefficiencies in terms of both money and time? 
How could that saved time and money be used to improve the fundamental value proposition of the company?
What are some tangible goals and strategies that could help eliminate inefficiencies and create value for customers and the company?
Tallying the costs
The price tag for certain inefficiencies is blatant. Take printing as an example. It can cost as much as $25,000 to lease just one of the high-volume printer-copiers needed to produce high-quality marketing materials. 
Then you have to add the expense of maintenance and service agreements, as well as monthly energy bills, which can spike as much as 30% when printers are old and unproductive.2 
The cost of supplies is also a factor. A lot of waste comes from machines that aren't maintained properly, since reprinting often runs through ink and toner and a lot of paper.
Identifying low engagement
Less-obvious ripple effects — such as inefficient operations that throw off employee engagement — can also harm a company's financial health. High employee engagement translates into real money. Gallup's "State of the American Workplace" report found that companies with high employee engagement are 21% more profitable than those with low engagement and have 41% less absenteeism and dramatically lower levels of job turnover.3 
Low engagement can take many forms, but it often occurs when employees are asked to operate outside their core competency to manage other programs — such as complex print projects that could be outsourced. One way to combat low engagement is by supporting employees with access to competent vendors. They can then focus on their job and what they do best.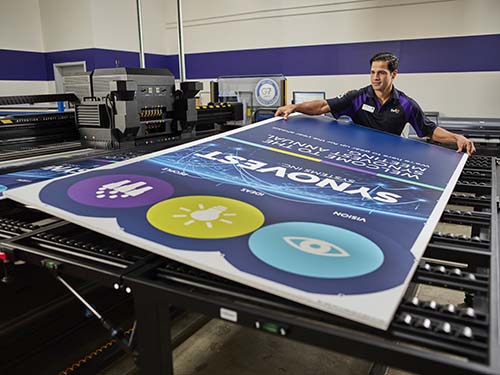 Outsourcing toward efficiency
Outsourcing print services can be an effective way to free up employees to propel your core business and delete manual, outdated tasks. Besides refocusing on core competencies, replacing an in-house print operation with a trusted and sophisticated provider yields other benefits, including:
Reduced costs. On average, the move to outsource can shave up to 30% from a large company's print budget.4 This is true when establishing an ongoing relationship with a commercial print organization. 
Higher quality. In-house printing requires large and ongoing investments to tap into the benefits of cutting-edge equipment. Most companies can't and shouldn't make those investments. Working with a reliable, experienced provider whose core business is printing is a more efficient way to ensure your materials are error-free and have the consistency and quality needed to avoid expensive reprints.
Less maintenance. Your organization isn't just avoiding the cost of new printers; you won't have to maintain the fleet either. Typically, in-house shops have employees who know how to work a particular machine, but they aren't cross-trained on multiple machines. Such gaps could lead to errors or missed opportunities to execute the print order.
Increased speed and capabilities. When establishing a print relationship, consider the organization's overall capabilities. The best print professionals have the capacity to complete print jobs quickly, offer large-format products such as banners and surface graphics — eliminating the need to manage additional vendors — and provide door-to-door delivery services that increase your ability to meet the always-changing demands of the market.
Print inefficiencies are an inevitable drag on every company's financial performance. The sooner you recognize the negative impact these inefficiencies have, the quicker you can begin rooting them out and devoting those savings to all the things that make your company special.
Maintaining efficiency is crucial to your bottom line. At FedEx Office, we'll operate your commercial print program as efficiently as possible through our vast network of commercial print facilities, on-site operations and your dedicated program manager. Let us take care of your print needs and allow your teams to focus on their high-value work.
To discover more articles like this on the benefits of creating a commercial print program, visit our Knowledge Center.
Request consultation
Learn more about the potential benefits of creating a customized commercial print program.
CONTACT US
---
1. Candito, Nick. Entrepreneur. (Dec. 8, 2016).  "How Inefficient Processes Are Hurting Your Company."
2. FedEx Office. "Gaining Efficiency and Growth Through Outsourcing."
3. Harter, Jim and Annamarie Mann. Gallup. (April 12, 2017). "The Right Culture: Not Just About Employee Satisfaction." 
4. Diaz, Mario. Document Strategy. (Nov. 5, 2015). "Managed Print Outsourcing: Comparing Investment Costs to Future Savings."