How to communicate effectively across industries with print
In order to support returning customers and employees efficiently and effectively, you must understand their concerns, anxieties, needs and questions. How are they consuming information, creating and learning? How are they balancing the excitement of being back in public with lingering anxiety? As employees and customers transition to their new normal, each industry may need a different message and medium to support their back to business goals.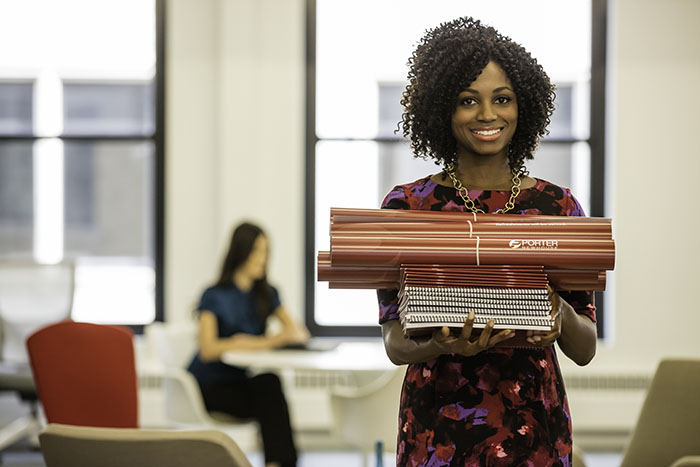 Retail and Restaurants
Customer communication, education and trust building are crucial, as these industries suffered the greatest pandemic-related impact. In March, U.S. employee hours were down 40%1 at local restaurants and foot traffic to retail stores had decreased 58%. 2
Customers are seeking information about how establishments are cleaning and enforcing social distancing practices with max capacity restrictions. As well, they need to know new business hours and guest policies regarding contactless payment. Once they're assured their health and safety concerns are met, customers should be informed of new or updated products and pickup options.
For employees, companies should be communicating new health policies, such as temperature checks and updated business cleaning procedures. Guidelines regarding interactions with customers, a heavily impacted process, need to be communicated as well.
Floor decals are effective in communicating/enforcing social distancing practices and queuing expectations
Banners are ideal to show your business is open
Corrugated yard signs provide directions as visitors walk up or drive in the parking lot
Window clings communicate health screening and capacity policies upon entry
Posters provide detailed cleaning or touch-free payment information
Direct mail and catalogs are a great way to reach customers and employees where they are
Education
The American Council on Education estimates that college enrollment for the upcoming academic year will drop by 15%.3 Accordingly, schools at every level need to be flexible and communicate learning options and public areas should have posted guidelines for social distancing and other policy updates. 
Students, educators, staff and parents are seeking information about school policies on social distancing, orientation, coursework and recognition programs. Whether supporting distance learning or a hybrid style, accurate information is crucial as the pandemic situation continues to evolve.4
Facility signage denotes open and closed areas as well as visitor information
Floor decals effectively communicate social distancing practices
Hanging banners are great for welcoming back students, staff and faculty
Retractable banners are eye-catching, easy to move and convey information for a variety of needs
Flyers work as an easy cleanliness reminder in common areas (hallways, cafeterias)
Course packets support content engagement and reference for distance learning
Bound documents provide professionally-presented information on learning institution and individual programs
Custom boxes can double for both orientation and recognition programs in distance learning
Healthcare and Pharmaceutical
While emergency rooms have spiked dramatically in pandemic-related visits, many providers are struggling to recover previous patient volume as visits are down nearly 60%.5 Preventative care is a time-tested method for offsetting future facility overload, but patients are staying home.5
Therefore, across the spectrum of general practitioners and hospitals, all healthcare facilities need to be proactive and clear about their facilities' cleaning and visitor policies. As the pandemic situation evolves, testing sites and telemedicine will continue to play a large role and need proper communication and supporting materials. Pharmacies also need to communicate hours and curbside pickup options.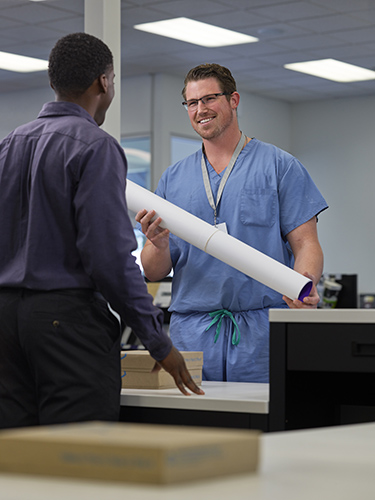 Symptom cards help narrow down patient priority levels at facilities
Banners give directions for testing site traffic and patient directions onsite
Corrugated yard signs give instructions on patient and visitor policies approaching entry points.
Handwashing policies can be detailed with posters near every sink and entry point
Floor decals are effective in communicating/enforcing social distancing practices
Direct mail and brochures supplement discharged patient care and prescription deliveries
Manufacturing
Supporting important supply chain changes while complying with social distancing and cleaning requires satisfying a variety of information seekers.
First priority is keeping employees healthy and safe by providing guidelines on health screening requirements, social distancing practices and alternative work schedules. Next is communicating changes to packaging and cleaning protocols. Companies should also create welcome messages to new and returning workers.
Floor decals are effective in communicating and enforcing social distancing practices
Indoor banners communicate important policy changes quickly
Yard signs help with parking and shift schedule reminders
Handwashing posters should be posted in hotspots (restrooms, breakrooms and cafeterias)
Standard Operating Procedure (SOP) manuals help with communicating extensive new guidelines
Banking, Finance and Insurance
As the economic ramifications of the pandemic solidify, these interwoven industries need to provide practical solutions and financial advice while showing support for anxious customers.
For possible on-site visits, organizations need to be clear about their building cleaning and social distancing policies, visitor guidelines and office hours. Next, companies should remind consumers of their services offering such as tele-support for investment advice. 
Floor decals are effective in communicating/enforcing social distancing practices
Hanging banners communicate important company messages quickly
Stationary banners and yard signs both work to reinforce visitor policies outside entry points
Posters easily communicate detailed policy changes (handwashing, meetings, visitors) in gathering areas
Custom branded boxes inclusive of masks and procedure sheets can be sent out to alleviate in-office work anxiety
Direct mail, packets and brochures provide supplemental customer and client information
Everyone is adapting to change and is looking for reassurance and familarity. You can count on FedEx Office to handle all your printing needs. Lean on us to support your evolving employee and customer communication strategies while you return your business to health.
To discover more articles like this on the benefits of creating a commercial print program, visit our Knowledge Center.
Request consultation
Learn more about the potential benefits of creating a customized commercial print program.
CONTACT US
---
1 Dixon, Vince. (March 24, 2020). "By the numbers: COVID-19's devastating effect on the restaurant industry."
2 Goldberg, Jason. (March 29, 2020). "The impact of COVID-19 on U.S. brand and retailers."
3 Hartocollis, Anemona. (April 15, 2020). "After coronavirus, colleges worry: will students come back?"
4 NWEA. (April 2020). "New research from NWEA projects major academic impacts from COVID-19 closures for students, especially in mathematics."
5 Mehrotra, Ateev et al. (April 23, 2020). "What impact has COVID-19 had on outpatient visits?"
6 Schneider, M.D., Eric C. (April 23, 2020). "Pandemic shock threatens to undermine outpatient care."