How to support connections virtual or in person
Meetings, conferences and seminars foster collaboration and learning where internal ideas are tested and plans are finalized. That planning can be simplified by bringing in your print provider early. And with remote work becoming the norm, you need to ensure everyone has tools for success to stay abreast of changing times.
Follow along for three best practices in supporting collaborative activities that deliver lasting results.
1. Establish a plan and communicate
No matter how flexible your plans, start with a rough outline. Begin by setting the frequency of the meeting: will this be a one-time event or ongoing? Will attendance be cross-functional or restricted to a core group? Have you considered building in breakout sessions for larger meetings? Answering these questions will help with logistics planning.
Whether your organization is still fully or partially remote, ensure everyone has proper access to the meeting. Almost 90% of participants in online meetings reported equal or higher levels of engagement compared to in-person, so take advantage of the medium1. However, accommodation is key these days so be sure to allow for a mix of in-person and digital to satisfy varied comfort levels, with moderators to coordinate questions. Engaging your print vendor or supplier early helps with deciphering timelines and deliverables for maximum accomodation effectiveness.
Finally, consider moving meetings offsite to a hotel or conference center for better spacing and A/V support. Space is at a premium now so take advantage.
2. Distribute supporting materials
According to the Journal of Research in Reading, 87% of studies show people retain information better from print materials instead of screens2. Therefore, it would benefit your meeting to send printed pre-work, agenda or dossier to attendees in advance of the event. 
In the event registration numbers are low, use direct mail as a tool to encourage attendance and connection—studies show that it's nearly 80% easier to process a direct mail piece than a digital one3. FedEx Office not only has the shipping experience, but a unique distributed print model to support a remote workforce. Companies with large employee bases may need to get creative in engaging employees across the nation, more spread out than ever before.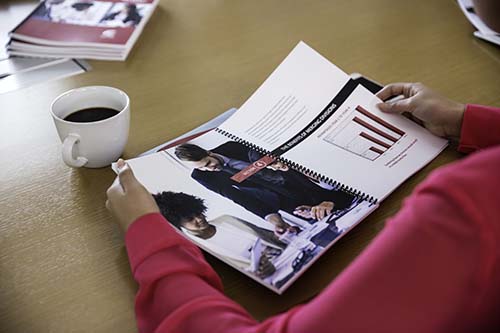 Beyond pre-event planning, print can boost the actual collaboration aspects of the meeting. Provide a presentation handout for participants to take notes on. As well, consider ordering specialized backdrops for speakers. Lean on FedEx Office for creative expertise in creating subtle or eye-catching backdrop designs--whatever fits your company's brand. With so many people working from home and unused to digital backgrounds, a branded poster or signage can elevate the professionalism of a speaker. 
As for attendees, offer branded collateral to encourage excitement and engagement for infrequent sessions such as conferences and seminars. One example is to send personal white boards to attendees for creative collaboration, which can also help minimize the occurrence of participants speaking over each other.
3. Foster ongoing engagement
How can you keep the momentum going after your successful meeting—by continuing the conversation with your attendees. First, send out an event summary and action items since 43% of respondents to Doodle's 2019 State of Meetings report stated that unclear actions led to confusion after poorly organized meetings4. To further promote clarity, work with FedEx Office to create and distribute detailed summaries of critical meetings--we understand the importance of timely printing and shipping.
To elevate the impact of a meeting, make an effort to create original content from session collaborations, and provide this to attendees. Finally, schedule follow up meetings to capture future ideation and collaboration opportunities.
Events don't need fireworks or celebrity guest speakers to garner attention and be productive. You just need a group of engaged people, a goal and open communication. Whether digital or in person, these collaborative sessions bring people together internally and move businesses forward. 
As research demonstrates, using print materials to support these engagements benefits everyone involved. At FedEx Office, we have the experience and capabilities to support your needs, from signage to booklets and custom branded boxes, and we'll get them to the location, or locations, where you need them.
To discover more articles like this on the benefits of creating a commercial print program, visit our Knowledge Center.
Request consultation
Learn more about the potential benefits of creating a customized commercial print program.
CONTACT US
---
1 Data Connectors. (May 6, 2020). "Virtual summits and the future of business gatherings in a post-COVID era."
2 Clinton, Virginia. (January 13, 2019). "Reading from paper compared to screens: a systematic review and meta-analysis."
3 Dooley, Roger. (September 16, 2015). "Paper beats digital in many ways, according to neuroscience."
4 Economy, Peter. (January 11, 2019). "A new study of 19 million meetings reveals that meetings waste more time than ever (but there is a solution)."