Six ways to earn the highest ROI from print
Now that businesses are reopening to the public, print will be a key component of efforts to attract customers. Businesses need to catch and maintain the attention of customers whose activity has become more precautionary in recent months. To effectively reopen, you will need to communicate the right message, and print technology can help you do that. While investing in digital ads can result in attention, evidence shows that smartly designed signage — such as banners, posters and window graphics — can stand out and deliver an exceptional return on investment (ROI) for your organization. 
Studies chronicle the economic impact printed signs can have for a business:
In one study, nearly 80% of consumers reported entering a store for the first time exclusively because of its sign.1  
Another study determined that adding one sign at every fast-food outlet in Los Angeles would result in a $132 million increase in revenue. Another finding: One extra sign yielded a sales increase of 4.75%, a bigger impact than longer hours of operation or a larger workspace.2
Furthermore, 60% of businesses reported a sales increase of about 10% after changing the design or improving the visibility of their signage.1  
Though signage can be an impactful way to market your business, not all signs are created equal. For instance, poor quality or placement in a hard-to-see location can quickly diminish a sign's potential power — and may be counterproductive by reflecting poorly on the professionalism of the business it advertises.
Here are six ways to tap the full potential of signage to increase awareness of, interest in and revenue for your business:
1. Use unique materials to set yourself apart 
Hand-scrawled paper signs can work well to thank delivery drivers, but you'll need something more noticeable to differentiate yourself. Stand out by using unique materials such as metal or canvas, which deliver a unique and textured look, or offer contour cutting to add interest. Large signage gives marketers the option to print signs on almost any material you can imagine, from metal to plastic.
2. Show local pride
People are drawn to familiarity, especially when things hit close to home. Keep that in mind as you craft the words and images for your sign. A beautiful image of a local landmark and language acknowledging that your business is part of a proud community will be far more relevant than stock images and generic words. Chains and franchises are part of a community too, and they can use their signs to uniquely connect with their customers in a neighborly way.
3. Repetition, repetition
Repetition can ingrain snappy tag lines and messages in our memory. There is a long-held belief in marketing that a consumer needs to hear a message seven times before they act. Since one glance at even the most effectively designed signage isn't enough, be sure to display your message throughout your business. Materials with a consistent look and message will create a reliable and memorable customer experience.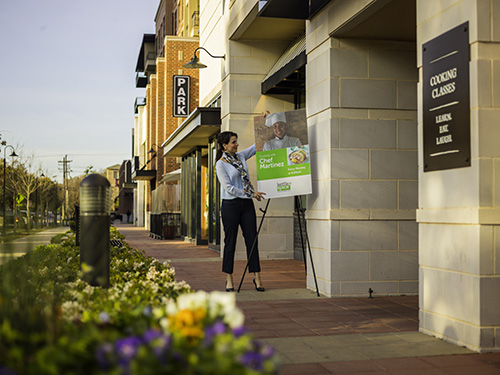 4. Illuminate your message 
Don't rely on the sun alone to keep your sign visible and readable. Whether your signs are located inside or outside the store, consider using lighting to draw attention to your brand and message. Lighting up outdoor signs will ensure they are doing their work even at night, while a spotlight or stylish backlighting can help attract eyes to indoor signs.
5. Think outside the box
Most signs are square or rectangular, but businesses eager to stand out don't do what everyone else is doing. Fortunately, signs can be made in just about any shape, depending on what you want to convey and how you want people to think about your brand. For example, are you more likely to remember an outdoor-supply shop with a rectangular sign or one shaped to look like a mountain peak?
6. Turn to printing professionals 
Devising a highly creative marketing message is a team effort. Working with print professionals to bring your creative ideas to life can expand your options and effectiveness. Look for a printer who can produce the high-quality, innovative print products that will drive your message home. The right printer can be a trusted ally in building your brand and will be responsive and flexible in helping you make the most of your signage investments. 
Every company wants to make a big splash as they reopen, either to reclaim lost traffic or to build upon earlier success. The right message at the right time and in the right place can make a significant difference. An experienced printing professional can help boost your business when you're ready to dive back in.
To discover more articles like this on the benefits of creating a commercial print program, visit our Knowledge Center.
Request consultation
Learn more about the potential benefits of creating a customized commercial print program.
CONTACT US
---
1 FedEx Office. (May 14, 2012). "FedEx Office survey: Standout signs contribute to sales."
2 Sign Research Foundation. (August 2012). "The economic value of on-premise signage."