Print
Perspectives
Print
Perspectives
Construction and facilities services company utilizes print to support workplace safety
"Over the many years of our relationship with FedEx Office, we've learned that print helps us communicate, especially with the most important messages." 
—Hattie Peterson, SVP Marketing & Communications
---
See the solution in action, watch the case study video.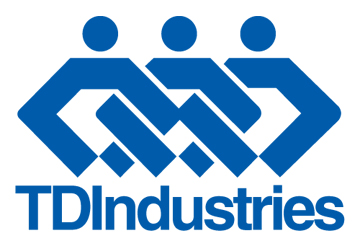 TDIndustries is a premier construction and facilities services company. Their relationship with FedEx Office has evolved over the years from routine projects, through a rebranding and most recently rapid response communication of safety protocols. They used innovative print products to communicate changes to employees and ensure their success.
---
TD at a glance
Construction and maintenance work requires customized safety protocols for onsite employees.
Servant leadership as a core value fosters a workplace culture of trust and open communication.

Repeat winning of Fortune's "100 Best Companies to Work" through employee focus earned the title of Legend after 21 straight years.
---
Challenges

Employee safety
TD needed to easily communicate workplace changes to evolve their safety standards.

Product variety
From cubicles to construction zones, TD required hundreds of new communication pieces for a range of surfaces, sizes and uses.
Brand consistency
As an industry leader, TD needed to ensure their communications delivered a consistent brand message across their facilities.

Rapid Changes
With ever-changing environments and regulations, TD needed a print solution that could quickly meet their needs.
---
Solutions
"The team at FedEx Office was able to work hand in hand with our team to create a variety of floor graphics, wall banners and additional signage materials to help keep our employees safe as they return to the office." 

Innovative design
As part of an evolving relationship, FedEx Office collaborated with TD to create innovative print solutions based on changing workplace needs to support their Partners and customers.

Rebranding support
To maintain consistent workplace design and marketing collateral, FedEx Office advised TD on best practices to ensure a consistent printing brand experience.

White-glove service
TDIndustries has direct contact with FedEx Office print experts who know their preferences and processes. If they have a special need or an urgent request, they're able to get in touch immediately.
---
Results
| | | | | |
| --- | --- | --- | --- | --- |

Ready to discover how working with a trusted advisor can help your business adapt to change?
CONTACT US
---