Simple ways to support remote teams with print solutions
When the global pandemic first pushed businesses to a remote model, many had concerns about lost productivity. However, in the past few months, many organizations have found that the setup can be not just possible but successful and that remote work actually opens new opportunities, including increased productivity, more flexibility and work-life balance.
Executives are uniquely positioned to support this shift. In a February 2020 survey by Buffer, 98% of remote workers said they'd like to continue working from afar for the rest of their career, and 97% said they'd recommend remote work to others.1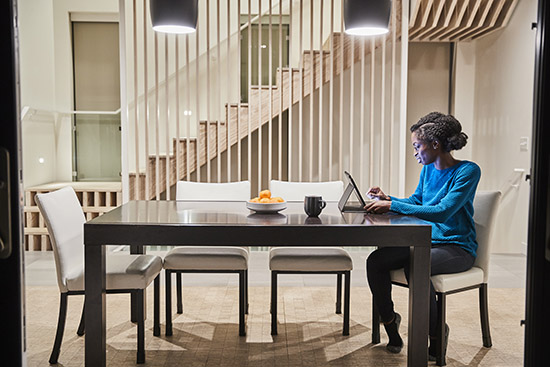 While some companies will undoubtedly revert to working in person again, for many, remote working environments are here to stay. There are ways you can optimize the work-from-home experience for employees in order to ensure your business doesn't miss a beat — or a deadline.
The new status quo
Almost overnight, entire organizations moved their operations to a remote-work configuration for the health and safety of their employees. In any role, working from home five days a week is a large adjustment, as many of us have discovered. The challenges can look different for everyone: missing the camaraderie of an office or lunchtime strolls with co-workers, difficulty learning new technology for virtual meetings, trouble focusing or interruptions from children or pets. However, there are upsides: no commutes that drain time, money and energy; more flexible schedules; fewer roadblocks; and more time to be productive, according to Harvard Business Review.2
Businesses have had to pivot quickly to support remote work and create virtual infrastructures, but already they've seen an increase in output from their remote teams. Some are making the change permanent. With the right policies, communications and resources in place, remote work will begin to present fewer challenges and more freedoms.
Getting remote teams set up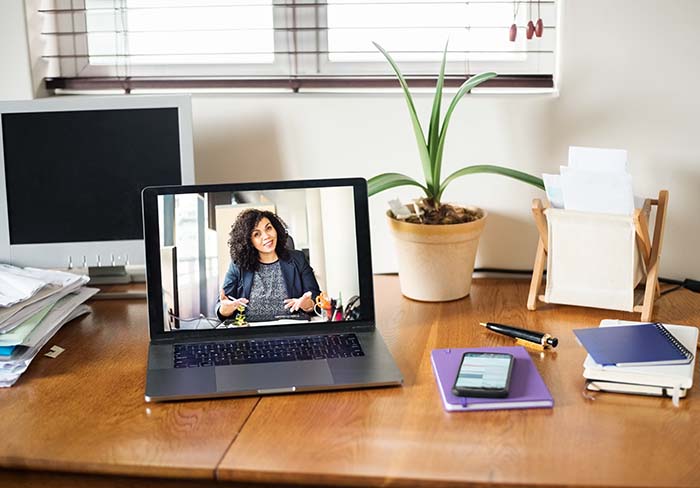 The most successful remote teams are the ones that implement new tools for virtual success while retaining the most important aspects of office culture: communicating well, staying connected, conducting frequent check-ins and keeping each other accountable.
Executives should encourage remote employees to create a dedicated workspace to function as a sitting or standing desk. It doesn't have to be an office. It could be the end of the kitchen table — as long as it's comfortable and not their couch or bed. Ideally, keep this space as quiet and distraction-free as possible so the employee can be "at work."
Employees will also need to configure desktops and laptops in a productive way, with technology such as videoconferencing tools and remote company server access set up to allow business to continue as usual. Companies will also need to have IT support options and procedures in place in case something unexpected happens.
Adjusting visual communication styles
Without in-person chats, virtual communication is more important than ever. This can take some trial and error for managers, but finding the best frequency and times to communicate with others in your company is paramount to productivity. For small notes, instant messaging tools (Slack, Microsoft Teams) are best. For more complex issues requiring discussions, video calls are preferable. Screen-sharing boosts communication. Plan for regular feedback sessions and brainstorming meetings. Employees should feel comfortable letting you know when there's a problem. 
Make sure to allot time and space for work breaks. This will humanize the work-from-home experience and help everyone keep work and personal life separate. Virtual happy hours with team members can also help to build relationships within the group.
Ensuring consistency of communications
Office or no office, communications still need to reach their destinations without a hitch to instill confidence and a sense of solidarity within the team. Printing providers should be able to produce and transmit your documents, flyers, papers and posters without you having to leave the house. 
Direct mail services offered by FedEx Office will get your materials where they need to go when they need to be there. Send files from your home to FedEx Office through your online print portal or by contacting your account representative. You can upload files and print them using the online tools, no matter where you are — all while you're at home on a video call or taking a lunch break.
Engaging employees through print materials
Print can support remote teams with a variety of solutions. For example, as the team adds new members who may not receive the benefit of an in-person onboarding, you can send them a "new hire in a box" kit with brand merchandise and printed training materials available to ease the transition. Schedule an unboxing event for the team to build camaraderie. 
When in-person meetings are canceled, printed presentations can be an excellent substitute to keep everyone in the loop. Mental health resources for employees and updated human resource policies can be helpful too. Reinforce that you're still a team even if you're not in the office together by sending boxed supplies such as face masks and hand sanitizer.
With remote work continuing into the future, ensure that your virtual teams are supported by your efforts and also by your vendors who should be here to navigate changes with you and enable your team to accomplish its business goals.
To discover more articles like this on the benefits of creating a commercial print program, visit our Knowledge Center.
Request consultation
Learn more about the potential benefits of creating a customized commercial print program.
CONTACT US
1 Buffer. (Feb. 11, 2020). "The 2020 State of Remote Work."
2 Choudhury, Prithwiraj, Barbara Z. Larson and Cirrus Foroughi. Harvard Business Review. (Aug. 14, 2019). "Is it time to let employees work from anywhere?"