Fast, convenient passport photos
Fast, convenient passport photos
From expedited passports to rushed passport renewals, we've got you covered. Plus, conveniently get passport photos taken and printed in-store while you wait, at a FedEx Office near you.
From expedited passports to rushed passport renewals, we've got you covered. Plus, conveniently get passport photos taken and printed in-store while you wait, at a FedEx Office near you.
Traveling soon? Get your passport faster.
Whether you need to rush your passport renewal or get an expedited passport ASAP, get it all done fast, right here at FedEx Office. No need to make a separate trip to the post office.

Free 24/7 assistance from our passport advisors
Overnight shipping for rushed passport applications
Full tracking visibility throughout the approval process
Apply Now
Need passport photos? No problem.
Get travel-ready fast and worry-free.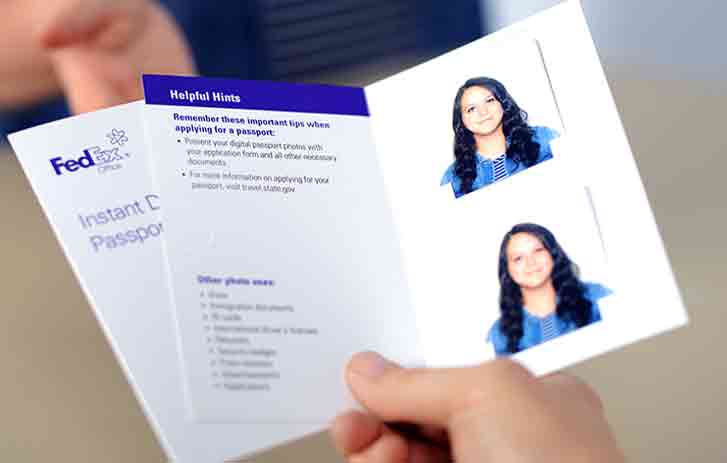 Ready when you are
When it's time to travel, you need everything done quickly and correctly. A FedEx Office team member will take your passport picture, let you view it on screen and print your photos in minutes.
Ready where you are
Head to a convenient FedEx Office location near you. You can get passport photos taken at any FedEx Office across the country, and even use a computer rental station to complete and print your passport application.
Ready for an affordable price
You're going places, and you'll need passport photos to get there. At FedEx Office, just $14.95 will get you two government-compliant, 2"x2" photos to submit with your passport application.
---
Frequently asked questions
Please note: At this time, RushMyPassport can only help expedite Passport Renewal applications. We are not offering adjudicated services such as new, child, lost, stolen, or damaged replacement passports at this time.
FedEx Office has partnered with RushMyPassport to help travelers prepare their passport photo, passport application, and required documents for a seamless experience. Service fees are paid at checkout and government fees are paid separately in the form of a check or money order.
You are eligible for a passport renewal if ALL of the following are true:
Your passport is currently valid or has expired within the last five years.
Your passport is in your possession.
Your passport is not damaged.
Your passport was issued when you were age 16 or older.
For an Adult Passport Renewal, you can simply visit your local FedEx Office and bring your expired or soon-to-expire passport and check payment for the government fee. We can help prepare your new passport photo and the required application forms.
If your name is different from what is listed on your birth certificate or has changed since the issuance of your most recent passport, you can still renew your passport. When completing your passport application, use your current legal name. In addition, you will need to provide the original name change document such as a marriage certificate, divorcee decree or adoption paperwork.
Passport photo services are available at any FedEx Office location nationwide. Find a location near you.
Most countries require your US passport to have a minimum of 6-months validity after your intended return date. Please review your expiration date to see if a renewal is needed. The purpose of this validity is to safeguard against unforeseen delays you may face in leaving the country you are visiting. The State Department recommends that U.S. citizens renew their passports approximately nine months before the date of expiration.
The benefit of using a third-party hand courier includes:
Time and Convenience. We save you time and a trip to the passport office.
We help avoid 30% of delays by carefully reviewing your application for errors or omissions before submission.
If there is an issue with your application we are notified by the passport office so we can fix any issues quickly.
We provide smart-form automation, easy to use checklists, and in-depth quality assurance.
Tracking of your documents from start to finish.
Customer support by phone, chat and email. We take the worry out of the process and allow you to focus on fun and adventure.
If you wish to apply directly with the Department of State, visit their website here.
No. FedEx Office is not a Passport Acceptance Facility. An Acceptance Facility is usually located within the county clerk office or US Post Office. A separate fee of $35 is collected at this visit. You can find your nearest passport acceptance agent here.
If you are not eligible for our expedited passport services or wish to no longer continue with the process, full refunds are available. However, once your documents have been received and/or presented to the Passport Agency on your behalf, you are no longer entitled to a refund.