Keep your guests safe with wall-mounted menus
Many business models have changed in the wake of COVID-19, and restaurants are no exception. While our nation's eateries have always focused on the safety and well-being of their guests, today those concerns are more important than ever. In the past, restaurants depended on printed menus to let guests know what they served. These menus were often laminated and passed physically from guest to guest. But in today's contact-free world, restaurant owners need a way to showcase their selections in a way that reduces physical interactions. Wall-mounted menus and banners are an excellent solution to this problem.

Posting your menu on the wall is a great way to keep your guests safe and they're also a snap to make. Your order can be picked up from a nearby location or delivered, in most cases, within 24 hours.
How many posters will I need?
This depends on the size of your menu and restaurant.
Think of it as a one-to-one for your menu. If it fits on one page, simply transfer this information to a poster. For longer menus, consider printing on multiple posters. Regardless of how many pages your menu requires, we recommend printing out several and placing them in different locations. This helps to promote social distancing by lessening the need for multiple guests to crowd around the same poster. Posters can be displayed every dozen feet or so, or around certain sections of your restaurant.
Getting started with your poster is easy. You can use your own design, or try one of our handy templates here: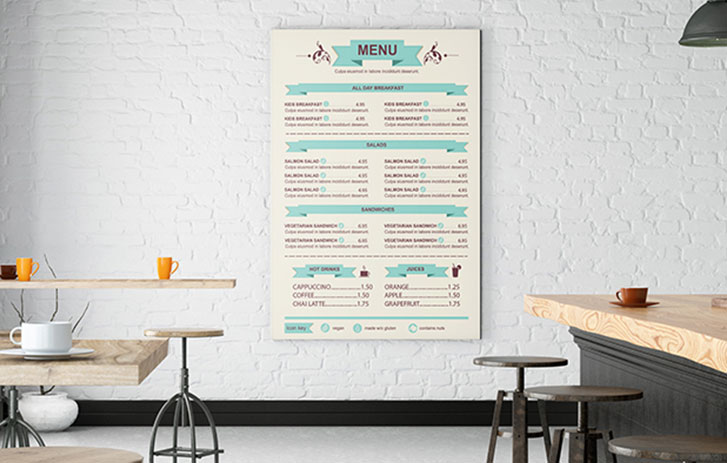 Types of posters
Printed poster

They're versatile, since you can place them anywhere. Printed posters come in a variety of different sizes, so you're sure to find just the right fit for your unique menu.

Mounted poster

Printed on a sturdy white foam board, a mounted poster can be tacked to a wall or placed on an easel. Mounted posters are ideal for longer-term use and will also help your printed material be seen.
Click the following link to get started with your mounted poster:
https://www.fedex.com/en-us/printing/posters/mounted.html
Draw interest outside
If your restaurant is on a street that gets lots of foot traffic, try posting a menu outside as a way to entice potential customers with your delicious offerings. A mounted poster on an easel is great to use outdoors, since they're more durable than printed posters and easily movable. Outdoor messaging will give your guests a chance to familiarize themselves with your menu even while they're waiting for their table at appropriate social distances.
It's in the details
 Now, let's talk about design. This is yet another way to show off your restaurant's unique offerings and personality. Your restaurant is your brand, so be sure it includes your eye-popping logo. Feel free to jazz up the poster with decorative details, as long as they don't detract from your text. Here are a few pointers to keep in mind while designing your menu:
Make text large enough to read at a distance
Use a light background to help the text stand out
Use vibrant photography that appeals to the senses
If you're comfortable using technology, consider printing a scannable QR code instead of the actual text of your menu. Link the code to an online menu that your guests can pull up on their smartphone at their leisure. This creates a clean, minimal look for your poster. This technique will resonate with your younger guests, many of whom use this technology on their smartphone frequently.
More promotional ideas
But why stop with posters? While your guests are inside your restaurant, you have a built-in audience to promote to. Use banners to call attention to special dishes, or even deals, for your hungry guests. For example, let's say you're a popular lunch location, but you're trying to build up your breakfast crowd, too. Promote the special price of your ham and eggs combo on a banner to let your lunch crowd know what they're missing. Or let's say you're wanting the world to know your burger and fries can't be beat. A full-color banner can communicate this message to your guests in mouthwatering detail. Here are a few other promotional messages to consider:
Show off an award you've won
Feature an employee of the month
When it comes to promoting your restaurant on banners, the possibilities are endless. Click here to get started making yours today:
https://www.fedex.com/en-us/printing/banners.html
Whatever you're serving at your eatery, posters and banners can help keep your guests safe, while selling them on your delicious dishes. Visit a FedEx Office® store to consult with a team member today to view samples and place your order. You can also design and place your print order online using any of the links in this article.