Learn the 5 essential ways to make your "Open" sign effective
A silver lining in this unprecedented time is that many customers are more passionate than ever about supporting small businesses. However, with regulations at every level constantly changing, it's no longer a given that a favorite business will be open during normal hours. It's each business's responsibility to decide what's best for them within those guidelines, so communicating clearly and efficiently how you're operating your business is important. There's no better way to do that than with your "Open" sign.
In this article, you'll discover the 5 key ways to make sure your sign quickly and precisely tells passersby how you're choosing to adapt your business. Read on and get the knowledge and inspiration you need to create an eye-catching, easy-to-understand sign to let your community know you're "Open" for business again.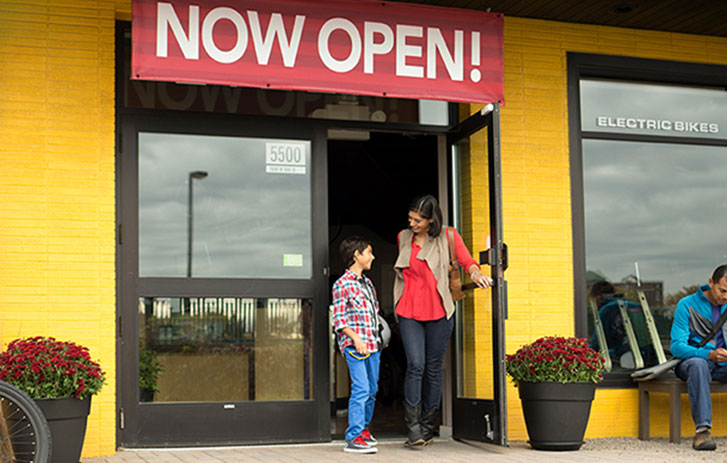 1. Keep it short and simple
In all likelihood, your business is operating quite differently than it was previously. While it's important to communicate changes to how you do business, your "Open" sign is probably not the best place to do that. For more detailed information like updated lists of products and services, display a mounted poster outside or perhaps place a styrene sign inside your window. Your website and social pages are also a great place to post these details, since customers often check those before visiting in person.
For your "Open" sign, stick to the essentials:
State "We're Open" in big, bold letters.
Include updated business hours.
Include updated policies, like "Takeout Only" or "Mask Required."
2. Be clear and reassuring
Even as regulations are lifted, your customers' worries won't necessarily lift with them. Some will be excited and ready to return to normal routines; others will be wary of venturing out and interacting closely with others. Appeal to customers of all mindsets by including clear and reassuring language in your "Open" sign that sets accurate expectations and puts minds at ease. Perhaps a mention of your contactless service, touch-free payment options or regular cleaning policy would fit nicely on an outdoor banner announcing your reopening.
3. Be sincere and respectful
You never know what situation or scenario a potential customer is facing, so the best policy is to always be as sincere and respectful as possible when writing on behalf of your business. For example, using a phrase that tries to make light of current events may be well meaning, but could offend someone who doesn't share the same sense of what is and isn't appropriate. Especially now, resist the temptation to use humor and instead opt for straightforwardness and simplicity. A simple window decal that says, "Yes, we're open" is really all you need to send the right message.
4. Show gratitude for support
Customers are limiting their outings and being very selective about where they shop, so it's important to show gratitude to your community for considering or choosing to shop at your business. It may be tempting to express how much you need their help, but thanking them instead will have a more positive and inviting effect. Try including a line on your sign like, "Thank you for your support" or "We're glad to serve [Name of Community]."
5. Have a little fun
The truth is that getting back to business and reopening is an exciting time. Sharing your product or service with your community is undoubtedly why you started doing it in the first place. As long as you're sensitive and considerate, it's great to show your enthusiasm! Bright colors, bold letters–even an exclamation point or two–can convey your passion and create a welcoming environment for potential customers who pass by.
Explore our Design Services tool for ideas and inspiration on bringing your excitement to life, and place your order today for pickup or delivery. Most orders are ready the same day or within 24 hours.