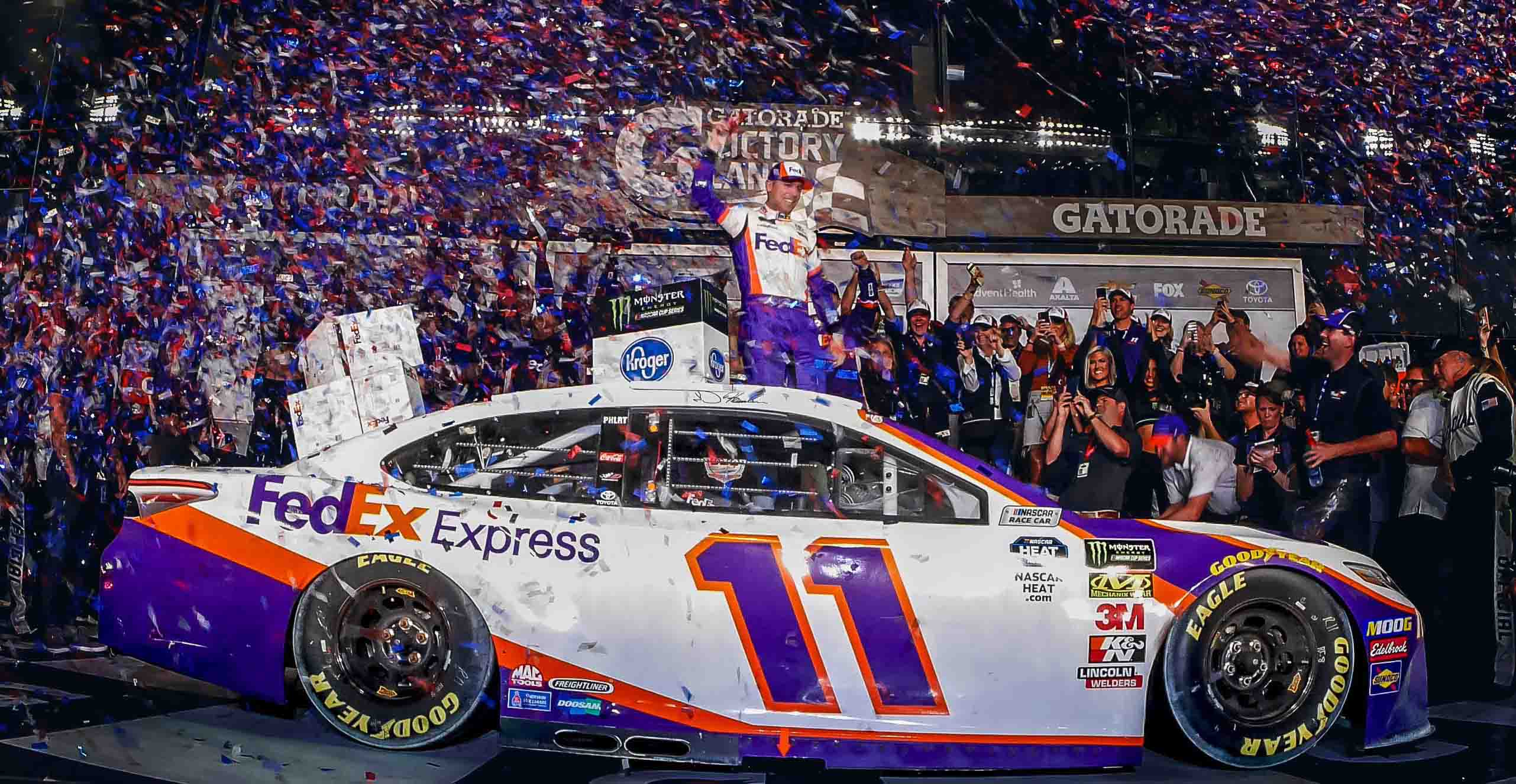 2021 Post-Race Reports
2021 Post-Race Reports
Get All Your Post-Race Information
From race highlights to quotes from Denny, Race Day Central delivers it all and keeps you informed on the latest and greatest in NASCAR racing.

Hamlin Fights Setbacks to Finish 11th at Homestead
Denny Hamlin finished 11th at Homestead-Miami Speedway Sunday after working to overcome penalties that twice sent him to the rear of the field.
Hamlin lined up on the pole in the FedEx Small Business Grant Contest Toyota for the start of the 400-mile event, but pre-race adjustments deemed "unapproved" by NASCAR sent him to the rear for the green flag. Despite some difficult handling, Hamlin's Camry was able to climb back into the top five. A quick pit stop by the FedEx pit crew in the closing laps of Stage 2 put Hamlin in position to finish the segment in second, and he held that second spot for the start of Stage 3.
The final segment of the race brought another challenge. A speeding penalty on a Lap 200 green-flag stop sent Hamlin to the back of the pack once again. The team took the ensuing restart in 28th, and Hamlin used the remaining 60 laps to claw his way to a spot just outside the top 10. He finished 11th, allowing him to maintain the series points lead. William Byron won the race.
"Obviously, we hurt ourselves with the penalties," Hamlin said. "But, we also didn't have the car we needed to overcome them. We'll learn from it and move on and give it all we've got next week in Las Vegas."
The NASCAR Cup Series heads west to Las Vegas Motor Speedway for a 400-mile event on Sunday, March 7.
Hamlin Grabs Points Lead after Third-Place Finish on Daytona Road Course
Denny Hamlin said he had a third-place car pretty much all day Sunday on the Daytona International Speedway road course, and that's exactly where he finished. The top-three performance was enough to boost him into first place in the 2021 point standings after the completion of the first two races.
Hamlin and the FedEx Racing team started the 253-mile event from the fourth spot and hung around in the top five for much of the afternoon, finishing Stage 1 in third and moving out front to take the Stage 2 win. The 70-lap race was interrupted by eight caution flags – including one for a brief rain shower – which made pit strategy a significant factor.
The team opted to make a final pit stop for fresh tires under caution on Lap 57, putting Hamlin in 18th for the ensuing restart. He used the remaining 12 green-flag laps to pick off spots on the leaderboard, making his way up to third before the checkered flag flew. Ahead of him, Joe Gibbs Racing teammate Christopher Bell passed Joey Logano with two laps to go to earn his first Cup career win.
"We were third-best, to be honest with you, all day," Hamlin said. "That's kind of what our FedEx Camry had. Christopher Bell was fast there the second half of the race, and I thought we were solid. I was kind of confused on what to do with the strategy there. But it was a great team win for Joe Gibbs Racing. Congrats to Christopher on his first win."
The Cup Series heads south to Homestead-Miami Speedway for a 400-mile event on Sunday, Feb. 28. Hamlin will start the race as the points leader, 12 points ahead of Logano.
Hamlin Dominates Daytona 500 but Finishes Fifth
Denny Hamlin dominated most of the rain-delayed Daytona 500 Sunday but came up short of a history-making third consecutive win in "The Great American Race." The #11 team finished fifth after a late-race green-flag pit stop shuffled Hamlin too far out of the lead to recover.
Hamlin and his FedEx "Where Now Meets Next" Toyota won Stages 1 and 2, and led 98 of the event's 200 laps. When he wasn't out front, he was actively weaving his way back up there, and it appeared he could be on his way to earning his fourth career – and third straight – Harley J. Earl trophy. With one last green-flag pit stop needed, Hamlin and the other Toyota drivers ducked down pit road together on Lap 173. But Hamlin and his teammates were too detached exiting pit road to blend back into traffic in the lead.
Hamlin found himself in 13th with about 20 laps remaining, with the field staying single file until the white flag. The lead-lap group of cars then spread out for a dash to the finish, and contact between a pair of Team Penske cars triggered a last-lap wreck. Michael McDowell squeaked through for the win, while Hamlin crossed the line in fifth.
"Our fate was sealed after that last pit stop," Hamlin said. "We came out in front of everybody and didn't have any help to get up to speed. They all blew by us because they were single file. The fact we came back to fifth on the last couple of laps is pretty good. We had a dominant car. I was happy with everything but the finish."
Lightning and rain moved into the area shortly after the race got under way. The event was red-flagged with only 15 laps completed and did not return to green for five hours and 40 minutes. The NASCAR Cup Series returns to Daytona International Speedway road course on Feb. 21 for its second points race of the season.
Duel in Daytona: Hamlin Runs out of Gas during Last-Lap Surge
Denny Hamlin was right where he wanted to be – in fourth and on the move on the final lap of his qualifying duel at Daytona International Speedway Thursday night. But his #11 Camry ran out of fuel on the backstretch, dropping him down to a 13th-place finish.
Duel #1, in which Hamlin started seventh, was a typical superspeedway event, with cars strategically jockeying for position throughout its 60 laps. Hamlin initially took his FedEx "Where Now Meets Next" Toyota toward the back of the 22-car pack to avoid early chaos but worked his way back up to the front about half-way through the race. After leading Lap 34, he ducked to pit road for a quick fuel-only stop.
The stop was so quick that Hamlin returned to the track alone, with no drafting help, and consequently had to fall back in line behind the main pack. Crew chief Chris Gabehart also warned Hamlin that the team didn't get the gas tank as full as needed. Despite the challenges, Hamlin managed to work his way back up to fourth with five laps to go. But the car ran out of fuel on the final lap, and Hamlin crossed the finish line 13th. Aric Almirola, who led 52 of the 60 laps, took the win.
"I did everything I wanted to," Hamlin said. "I knew I was going to beat everyone off pit road, but I had too big of a lead and then didn't have any drafting help getting up to speed, and everyone went by us. Then I worked it right when I was able to jump up there and put myself in fourth. I got a run on (Christopher Bell) and kind of got pinched there, and then ran out of fuel on the backstretch. I really liked where I was at going into Turn 1 on the last lap, but we cut it too close on fuel."
Once a rain-delayed Duel #2 is complete, the field will be set for Sunday's main event, the 63rd running of the Daytona 500. 
Hamlin Leads the Most Laps but Finishes Sixth in Clash at Daytona
FedEx Racing driver Denny Hamlin kicked off the 2021 NASCAR Cup Series season with a sixth-place finish in the "Clash at Daytona" exhibition race Tuesday night. Hamlin looked sharp on the Daytona International Speedway road-course event, leading 21 of the 35 laps, but couldn't push his way back to the front after a late-race pit stop.
Hamlin started the Clash in third by virtue of random draw but didn't stay there long once the green flag flew. The #11 Toyota passed the top two before the first lap was complete and stayed there for the first nine circuits. Despite a loose-handling car for part of the 126-mile race, Hamlin stayed in or near the front for most of the event.
When the caution flag flew with eight laps to go – the result of leader Martin Truex Jr. crashing into the wall – crew chief Chris Gabehart called Hamlin to pit road for some needed tires and fuel. After restarting 10th, Hamlin was able to climb four more spots in the remaining laps to finish sixth. Kyle Busch got the victory after Ryan Blaney and Chase Elliott wrecked in the final turn battling for the lead.
"I just got jammed up back there on that final restart," Hamlin said. "There wasn't anywhere for me to go. But our FedEx Camry was pretty good tonight. Chris and the team got it dialed in pretty good after some early adjustments. We led a lot of laps, and we learned some things that will help us when we come back here racing for points in a couple weeks."
The FedEx Racing team's Daytona 500 car will be on track next, with pole time trials scheduled for Wednesday and the qualifying duels to fill out the field on Thursday. NASCAR will run "The Great American Race" on Sunday, Feb. 14.
© 2021 FedEx. 'Denny Hamlin®' and '#11®' are trademarks of Joe Gibbs Racing, Huntersville, NC. Toyota trademarks used with permission.