How Weekend Delivery Drives Business Growth
How Weekend Delivery Drives Business Growth
Deliver to most residential customers on Saturday and Sunday at no additional cost.
Deliver to most residential customers on Saturday and Sunday at no additional cost.
The expansion of FedEx Home Delivery® to include Saturday and Sunday residential deliveries is a big benefit for small businesses. Hear how two of our FedEx Small Business Grant Contest winners expect weekend deliveries to help them achieve their goals and what advice they have for other businesses that wish to capitalize on the ability to deliver to their customers seven days a week. 
What's one thing residential weekend delivery means for your business?
J.D. Wilcox, Qore Performance – Efficiency. Part of our operations is in a residential building, so weekend delivery gives us a jump on the competition. Now we can get inbound home delivery bulk shipment of new product and prototypes on Saturday and Sunday. Everything gets checked, counted and packed on our schedule, and our product is in customers' hands sooner.
Faraji Starks, Moka Origins – Customer satisfaction. We ship perishable products that are heat-sensitive. It's nice to have confidence that if I ship something on a Thursday or Friday, it can surprise my customer with a Sunday arrival.
J.D. – I agree. Our customers expect us to get packages to them very quickly, and Sunday delivery is becoming more common. Now we can offer the kind of delivery schedule consumers have simply come to expect, directly on our website. While also giving the direct and empathic customer service we pride ourselves on. 
J.D. Willcox, Co-Founder of Qore Performance, in his home-based supply room.
Any projected impacts to your bottom line?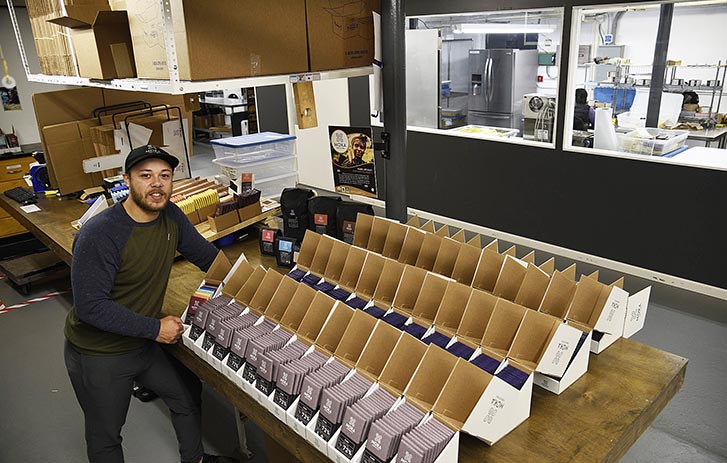 Faraji Starks, shipping manager of Moka Origins, fulfilling orders.
Faraji – We hope so! The ability to deliver seven days a week presents new opportunities for our growth. Combine that with the option of fulfillment by seller, and we can explore third-party selling options for a limited selection of our product while still ensuring our premium quality.
J.D. – While we want our product available where our customers shop, that comes with its own challenges and less control for the business owner. We prefer customers order direct from us when possible. We think offering seven-day delivery will increase sales to our website by as much as 14%, and not having to share a cut of profits with a third-party seller will definitely boost revenue. 
What advice do you have for other small businesses to make the most of weekend deliveries?
Faraji – Eliminate the Monday morning bottleneck of orders by taking advantage of the ground network where it makes sense. With prices becoming more competitive it really is possible to offer a premium delivery experience to customers while still being cost-effective.
J.D. – Prep enough packages ahead of time and invest in equipment that will lead to accuracy and speed. Keep good records, photographs and manage your staff's expectations. They have to buy into the importance of giving customers a great experience or else shipping speed doesn't matter. 
Take the next step
Talk with a sales specialist
FedEx supports E-Commerce growth