FedEx Ship&Get® Self-Service Locker
FedEx Ship&Get® Self-Service Locker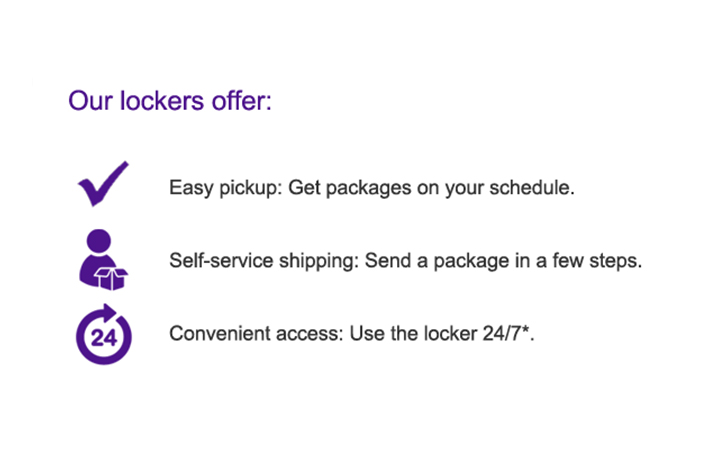 Ship a Package
Create a label for your package:
Create a label

At a self-service locker (see kiosk screen for instructions)


Pay with your FedEx account #, or make a one-time payment with your credit card.  


Print and apply the label to your package.
Drop off your package:
Follow the on-screen instructions and scan the shipping label. 


A locker door will open automatically for you to place your package inside. 


After closing the locker door, you can request a receipt on-screen.
Get a Package
Request to redirect your package to a locker:
Use your tracking number, or proceed to step two.


Sign up for FedEx Delivery Manager® to request to redirect packages to a locker.  


Log in and have your tracking number handy.
Choose the "Hold at FedEx Location" option, and select a locker location.



Rather call?
Pick up your package at a locker:
Enter the last five digits of your tracking # or scan your door tag.


If the shipper required the "Adult Signature" option, you will be asked for your government-issued photo ID.



Sign for your package on the touch screen.


Retrieve your package from the open locker to complete the pickup.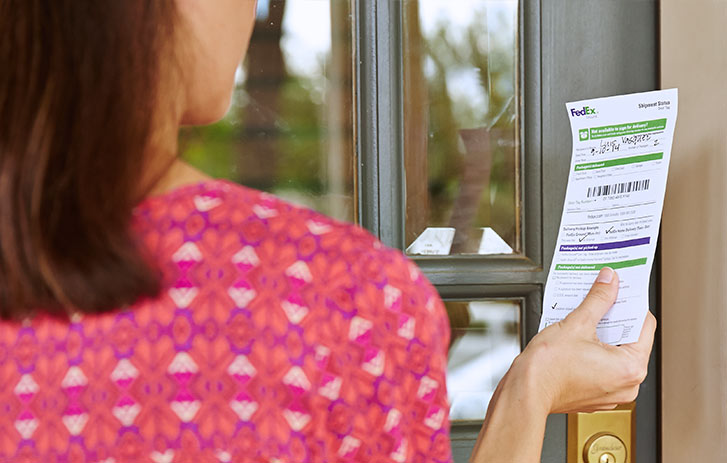 No more door tags: Sign up for FedEx Delivery Manager® and request deliveries on your schedule.

For your convenience, request to send or re-direct packages to a locker anytime from your mobile device.

Save the day. When life throws you a curve, our self-service lockers help you ship and get your packages when you need to.

Frequently Asked Questions
No. You can pick up or drop off packages using FedEx Ship&Get at no added cost. If you're a FedEx account holder and wish to create a shipping label at the locker, you'll pay the same FedEx rates based on your FedEx account number.

You can ship via FedEx Express®, FedEx Ground® and FedEx Home Delivery® services. Some restrictions apply. Eligible packages can measure up to 15" w x 22" d x 17" h and weigh up to 70 lbs

FedEx Express and FedEx Ground will pick up outgoing packages from FedEx Ship&Get lockers Monday through Friday.

FedEx considers the security of your shipment information a top priority, making registration a requirement to provide visibility to certain account-specific information. After you register, you can ship U.S. FedEx Express®and FedEx Ground® packages. You'll also be able to enroll in FedEx Delivery Manager®, receive account-specific rate quotes, determine transit times and schedule a pickup.
No. Anyone can receive packages or drop off a pre-labeled package at a FedEx Ship&Get location. You can either use a FedEx account number, or choose to ship using a credit card to print a shipping label at the locker.

Five business days — the same as our current Hold at FedEx Location policy. After that time, the FedEx Express or FedEx Ground driver will remove the package from the locker. Expired packages may be returned to the shipper at the shipper's expense.

You can access the lockers 24/7 at most DFW area locations.

Yes. When you request to redirect a package to a FedEx Ship&Get locker, you can provide your phone number or email address to receive a notification when the package is available for pickup at the locker.

You can find FedEx Ship&Get lockers at many FedEx Office locations, and several other retail locations in the Dallas area. You can find a link to the locations on the FedEx Ship&Get homepage or go to fedex.com/locate and search by ZIP code to see if a FedEx Ship&Get locker is in your area.

Getting help is easy. Just use the "Need Assistance?" feature on the FedEx Ship&Get locker to get detailed on-screen instructions or talk directly to a FedEx customer service representative.