How to present a resume that stands out in a sea of applicants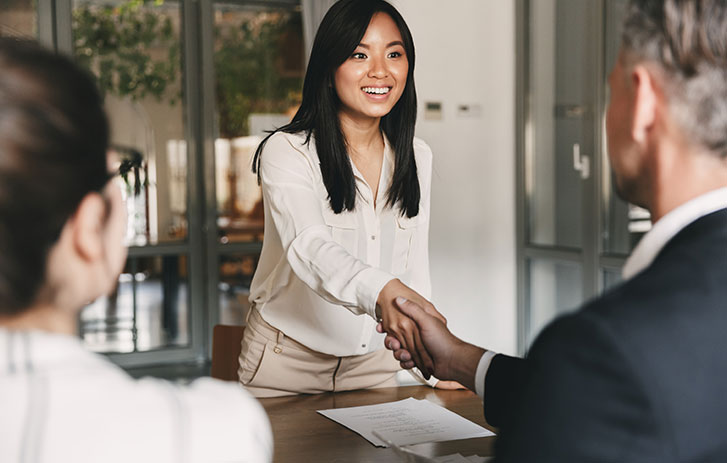 Your resume is the first impression you'll make on a company, so it's important to create one that reflects your personality, fits the tone of your industry and stands out from the crowd. When you're ready to start, FedEx Office has the tools you need to design and print an eye-catching resume that will help you land your next interview.
The job market is fiercer than ever, and a cookie-cutter resume won't cut it in most industries. These four tips can help you develop a visually appealing resume that won't get lost in the shuffle.
1. Start with a sleek template for a professional resume design
An eye-catching resume starts with a layout that's easy and enjoyable to read. Choose from over 1,000 templates in our design studio. Pick one that fits the overall aesthetic of your target role and industry.
For example, choose an artistic and unconventional design if you're applying for a creative position, such as graphic design or marketing. Applying within an artistic field gives you room to show off your design skills and personality with a single additional color and cool graphics. If you're vying for a more conservative or corporate role — like at a law firm or accounting company — stick with a template that's sleek, professional and understated. Choose classic colors and a format that resonates professionalism and expertise.
Either way, simplicity is key for a good-looking resume. The hard copy of your resume must look sharp, but it also needs to have a clean and uniform appearance on computers, smartphones and tablets.
Hiring managers don't have a lot of time to spend on each resume they receive, and too much information makes it look busy and hard to read. Our resume templates keep the professional resume design consistent across all platforms, helping yours to stand out.
2. Use color with care
Create an aesthetic resume with different tones and hues — just don't overdo it. A pop of color in your heading and graphics or a contrasting design element is great if you're applying to a position in a creative field, but an overly colorful resume can get distracting. For those going the corporate route, tone down the colors and consider a monochromatic look with deeper shades like navy blue, deep green and rich burgundy for your headers.
If your resume will be accompanied by a portfolio of your work, make sure the look and feel are consistent between the two, including color palette. 
3. Customize the content
Once you've nailed your professional resume design, it's time to tackle the content. Include a two- or three-sentence objective or personal profile at the top, and incorporate keywords used in the job description. Tweak your objective for each position — this little bit of extra work can go a long way toward getting your resume to the top of the pile.
Emphasize why you're a good fit for the role and an asset to the company. Mention your career goals and how they can be achieved at that company but remember to keep them applicable to the role you're applying for. For example, don't mention your goal of working overseas if you're applying to a small, local business with one office.
4. Pick the perfect paper
High-quality paper makes a statement and helps your resume stand out from those printed on standard printer paper. While 20 lb. is the usual choice for most print jobs, it's not the best resume paper. FedEx Office takes the quality up a notch with 32 lb. and 100 lb. resume paper weights. Deluxe 100 lb. matte paper packs a punch, especially if your resume design incorporates color.
Once you've finished your design, print several hard copies of your resume to bring to your interview — one for you, one for each interviewer and a couple of extras (just in case). When you design your resume, you can have them printed for pick up from a your closest FedEx Office or get them shipped directly to your home. With your eye-catching resume in hand, you're set to ace that interview and lock in the next step in your career.
---
The information on this page and links provided are as a convenience and for informational purposes only; they do not constitute an endorsement or an approval by FedEx of any of business, products, services, or opinions of any other corporation or organization or individual. FedEx bears no responsibility for the accuracy, legality, or content of any external site or for that of subsequent links. It is important to do your own analysis based on your business needs before using any third-party products or services. Any actions you take upon the information on this page is strictly at your own risk.