How 3 Eco-Friendly Small Businesses Balance Profit and Purpose
Though the trend to "go green" seems stronger than ever, running an environmentally conscious small business profitably can be a challenge. Weighing the earth-friendly benefits against the financial risks can make decision-making difficult, knowing that many common cost-cutting tactics may be more likely to harm our world in some way. But growing a "green" business isn't impossible. With an inventive mindset and an unwavering dedication to their values, ethics, and social conscience, many entrepreneurs are finding ways to build a profitable, sustainable business without harming the environment in the process.
With Earth Day just around the corner, we spoke with three FedEx Small Business Grant winners who are living examples of this success. Whether their primary focus is to reduce waste, clean up our shared space with a recycle-reuse-repurpose approach, or honor the beauty and integrity of our natural resources by transforming them into everlasting pieces of art, each of these visionary founders represents an important role in the overall wellness of our planet…as well as an important influence on the future mindset of small business owners.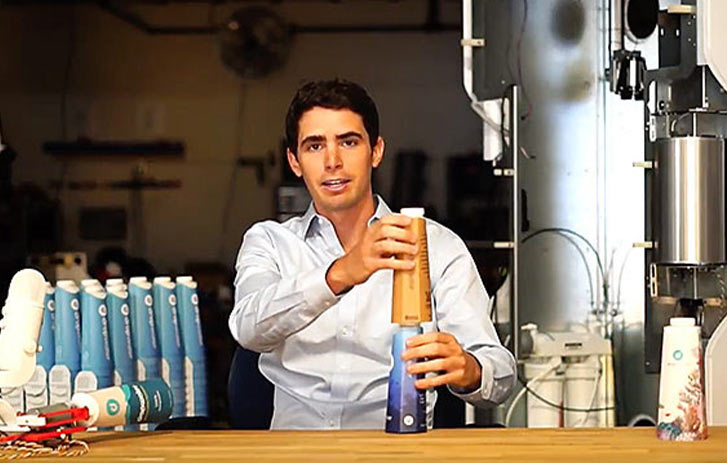 Drop Water
Scott Edwards shares why he believes "it is our responsibility as stewards of this environment to correct these issues for future generations."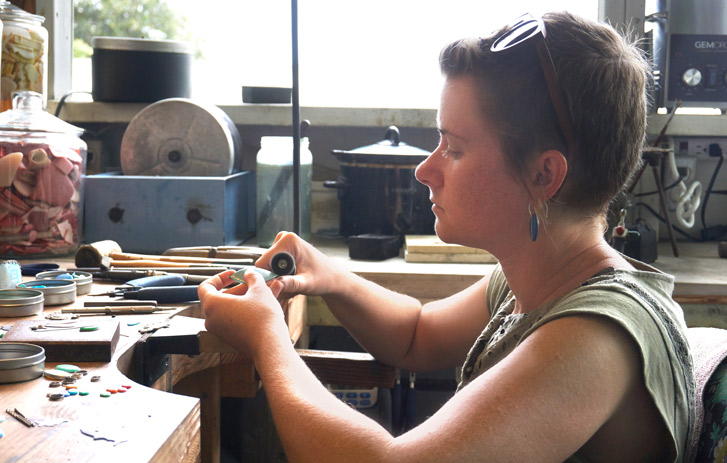 Nurdle in the Rough
Hear Kat Crabill explain why she thinks it's really important to do as much as she possibly can to make a positive impact socially and environmentally.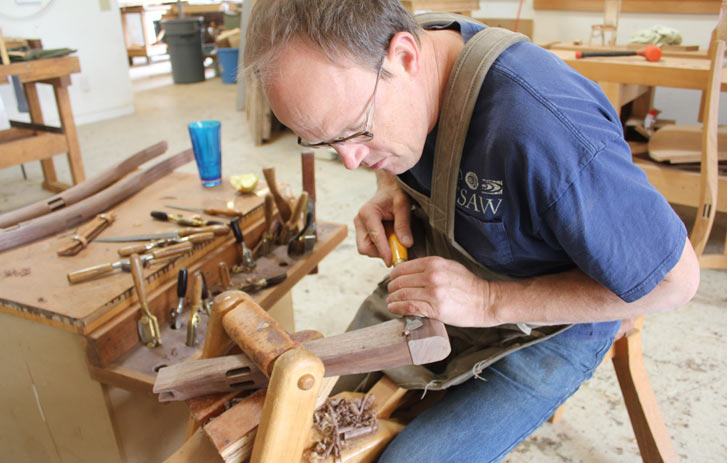 Brian Boggs Chairmakers
Eco-entrepreneur, Brian Boggs, explains why "designing and making things that will last for centuries, not just decades" is a mission of his business.
Drop Water: A thirst for better packaging and a better world
"It is our responsibility as stewards of this environment to correct these issues for future generations."
One of the most ubiquitous signs of our convenience-first lifestyle is the way we acquire our drinking water: purchasing it in a plastic bottle, drinking it, and disposing of the empty bottle as quickly as possible. The downside of this convenience is more than just the price we pay per bottle. Nearby water is underutilized, the energy and cost to transport water is great, and water bottled in plastic is harmful to our environment. Not to mention that the bottled water we purchase and drink travels great distances but may not be better than the water from your own tap. According to Scott Edwards, founder and CEO of Drop Water, in 2017 alone, over 480 billion bottles of water were produced. That's enough bottles that, if you stacked them end-to-end, you could wrap it around the equator over 2,500 times.
According to Scott, the bottled water industry has grown without any limits or checks for many years, and now we're seeing the negative effects of this unchecked growth. "It wasn't anyone's intention to create environmental problems when we made this or other industries. It is our responsibility as stewards of this environment to correct these issues for future generations." With Drop Water, Scott is taking action to help drive this change. The company's mission is to create a new method for producing and distributing beverages without compromising or sacrificing our environment.
Our plastic waste problem is easy to understand, but what's the solution?
The solution may be developing products that are just as convenient as traditional options; they should be as easy to acquire without all of the side effects, which include burning fossil fuels, using incredible amounts of plastic, and even potential health concerns long term. That's exactly what Drop Water is doing, with the invention of a unique compostable bottle that can be folded flat for easy, economical transport. Their distribution strategy is to enter the arena through the vending market, using a touch-screen interface that allows for drink customization, starting with a test location in an airport. The idea is to place the vending machine inside the security check, after travelers are forced to throw their water bottles away. It's a promising start, but Scott explained that to have a meaningful impact on the industry, they need to expand to other locations.
With innovation comes time and cost
While speed to market can be a success factor, rushing any phase of innovation may be risky. Drop Water has invested significant time and resources into research and development before testing their product in the market. Though it meant a longer lead time before generating revenue, reinventing the way that we think about and purchase water and other beverages is no easy endeavor. Constantly in learning mode, they plan to develop a product using the same technology as the current vending machine in order to get to a refill state. They are currently researching, testing, and exploring the best design approach and bottling method to enable them to make recurring revenue in the vending space. Their continued development path includes an emphasis on taste-testing and inviting customers to give feedback by email after trying a beverage in their test market.
The path to sustained growth
Scott explained that they will install 100 machines in the field in the next twelve months. Current discussions include several airports, including a major international airport which is banning bottled water by 2021. The significance of this is huge. At that airport, from food and beverage, 20% of the revenue — tens of millions of dollars annually — is from bottled water, yet the board of the airport feels that this issue is so important that they are willing to sacrifice that revenue. The decision to ban bottled water was made before Drop Water began talks with the facility, but the company hopes to be the airport's solution in 2022.
A nod to other packaging innovators
Scott is aware of a company that makes packaging material that is biodegradable and edible, and another company that makes packaging out of algae. The market is expanding with promising innovations like these, all through small companies that are focused on saving the environment. Of his forward-thinking peers, Scott says, "It's great to see other entrepreneurs trying to change the status quo and trying to make the world healthier with packaging that's made not to last."

Learn more about Drop Water.
Nurdle in the Rough: Making a difference, one grain of sand at a time
"I think it's really important to do as much as I possibly can to make a positive impact socially and environmentally."
Raised in Hawaii, Kat Crabill left to pursue her college education, then returned to Hawaii four years ago with a mission. Armed as a skilled and experienced goldsmith and passionate about the condition of the world, Kat is determined to make positive change for the beaches she calls home. She considers this a challenge and a dual transformation — first, to create jewelry for consumers to learn from and enjoy, and second, to help restore the beauty of the heavily polluted beaches that supply her with the materials necessary to reach her goal.
Kat explained, "There are pristine local beaches, but there are also areas on the islands that are known as accumulation zones. They represent what's coming in from the open ocean." As an example, she explains that Kamilo Beach used to receive mostly driftwood and logs from the west coast and other coasts that touch the Pacific Rim, but for the last 25 years, the beach has been barraged with plastic coming in from the open ocean. She knows visitors are unaware of the amount of debris that is polluting the water and beaches and feels it's important for them to get the full story.
Studying the problem
Even on a seemingly picturesque beach, Kat can easily spot plastic in the sand. One type she often sees washed up on shore is a microplastic pellet known as a "nurdle." How do these and other plastic pollutants threaten our environment?
"All plastic is very dangerous and damaging to wildlife on our coastlines. The biggest problem are drift nets. Fishermen just ditch their nets when they get holes in them because they are charged to dispose of waste at port. So, they just dump the damaged nets overboard and the nets transform into massive clumps. They're a major entanglement threat for humpback whales, turtles, monk seals, whale sharks, and sharks." And drift nets aren't the only problem — other everyday items like bottle caps, oyster spacers, and bottles are among the most common plastic pollutants. Beach cleanup can seem like a daunting, endless task, but it sparked Kat's entrepreneurial spirit. "I wanted to see a business like mine exist and finally thought, why don't I just make it happen?"
Perseverance and problem-solving
Kat has a Bachelor of Fine Arts degree (BFA) with a concentration in metalsmithing and glass blowing and has worked as a designer goldsmith as well as for refineries. But even with her years of expertise in her field, there was a risk in leaving the traditional industry work. She faced a new steep learning curve by taking on a new material while also using it to launch a profitable business. She shares, "I had not worked with ocean plastic, and there's no preparing yourself for working with a material that you're not familiar with and that has its own setbacks." Not only was it a new material to her, but the proper tools for this use of plastic didn't even exist. So, in order to propel her business idea forward, Kat invented tools that enable her to work with the plastic to create her jewelry. It's clear her persistence helps drive her progress, with multiple iterations leading towards the best result, including her ninth attempt to design a machine to polish her plastics and her quest for a specific machine that's no longer produced. Kat's solution? "I found one on eBay in Canada. I've been working with the machine for the last two months, altering it and trying to make it work for my purposes."
Future growth will fuel Kat's dream
E-commerce selling has helped Kat grow her business, and she'd like to continue that growth. Sales are primarily driven through her own website, but she's considering wholesale options as a way to expand. Although she currently uses a large amount of plastic, her goals include using much more and reaching more people. Her work is labor-intensive, so as her business grows, she'd like to hire other people to help handle the workload. Physical growth has also been a factor. The FedEx Small Business Grant enabled Kat to double her studio space; she now has room to fit the tools that she created for her business.

It seems that Kat's leap of faith has paid off, both in terms of her business and her sense of purpose. "One of the things that I love about my work is that I'm transforming this material that's ugly and a blight on our wildlife and our coastlines. Even with the ugliest, most distressing, largest problem, I feel like I'm uncovering nature's fingerprints with the work that I'm doing."
Perhaps the biggest sign of success is that Kat is living her dream on her own terms. She shares what that means to her: "I like the freedom of being able to really use my voice, my business, and my passion to drive change. I have control over exactly where I want my business to go and the impacts that I want it to have. I think it's really important to do as much as I possibly can to make a positive impact socially and environmentally."
Learn more about Nurdle in the Rough.
Brian Boggs Chairmakers: Against the grain
"For us, it means designing and making things that will last for centuries, not just decades."
Brian Boggs is a different breed of eco-entrepreneur, one who has been inspired not by markets, causes, or trends, but who has instead always approached his craft with respect and honor for the natural resource that's the core of his creative talent. While Brian doesn't claim to be driven solely to save the earth, he makes his point of view clear: "If we are going to kill trees to make something, it has to have meaning."
Brian and Melanie Boggs made Asheville, NC, their home more than 10 years ago. Near downtown Asheville, you'll find Brian Boggs Chairmakers, an 11,000-square-foot woodworking space and shop with 12 employees. This is no ordinary furniture store. It's where Brian, who is a renowned master woodworker and passionate furniture artist, respectfully transforms wood into functional and breathtaking furniture described as works of art. Alongside Brian is a team of like-minded, talented woodwork specialists who share his commitment to creativity and impeccable design.
Bringing meaningful additions to their clients' homes is what drives and unites the team. Brian shares, "We are passionate about what we are doing by sharing and putting our heart and soul in everything we make; people are inspired by that. We see it happen by the look on their faces. Owning a piece of our furniture, having it in your house, changes the experience you have of living in your home. When we fill our house with mundane things we bought, we create an uninspiring atmosphere and pay less and less attention to our homes. We can make a difference, a value at a different cost, to how you feel about living in your home." The heartfelt testimonials Brian and Melanie receive from their clients is proof of that difference.
Built to last
In a discussion of the planet and related causes, Brian explained that they are not involved with forestry management for urban development, noting that trees that are typically cut down for urban sprawl tend to be stressed and damaged. Brian pointed out, "The topic of sprawl is a political matter that follows the winds of political change. The timber inventory has increased. Our forests, overall, are not threatened in volume but their care is not impressive. We can get fine logs because we pick the best ones available and we use wood sparingly." Resources are respected and waste is avoided by selling scrap to local woodworkers who can use what Brian's team can't, providing firewood scrap to The Forest School, and giving wood chips to mushroom growers.
Brian's strong belief about sustainability has been one of his values since he first started working with wood. "The focus tends to be about how you source the materials that you use. We believe that is just as important as what you do with the materials." Therefore, the pieces that his team creates are not intended to be used as temporary pieces of furniture. "For us, it means designing and making things that will last for centuries, not just decades."
The design world can easily be swayed by trends. Is it a risk to operate within your own creative realm and not take advantage of current market trends and themes? Brian wouldn't have it any other way, explaining that bucking the trends doesn't leave you boxed into traditional themes. In contrast, it opens the designer's mind to draw inspiration from nature and look at the bigger picture of integrity and quality. This approach results in artistry that holds up longer stylistically, holds its value longer and is often blessed with the accolade of "timeless design."
"Human creativity drives innovation."
Brian believes that furniture might rank #1 as the least innovative industry, and adds, "Furniture is institutionalized. The average consumer isn't interested in more innovative furniture." If the market isn't there, it's challenging for a single artist to try to be progressive. "The furniture industry is not filled with individually owned businesses generally, so without control over the manufacturing plants and processes, the designers aren't able to be local innovators." But that hasn't hindered his own inventive path. In terms of furniture design, Brian is the exception rather than the rule, proudly explaining that his team is empowered to be as creative as possible and to "think and act at will." He speaks to the rising interest in environmental awareness and sustainability over the past ten years as a response to market pressure demanding earth-friendly values from brands. It's a priority that Brian found with small furniture shops long before it was trendy, sharing that they have always, at their heart, had strong environmental values and appreciation and respect for the environment.
"We make furniture with 1925 technology. Even state-of-the-art technology and new thinking using very old products. In the furniture industry, human creativity drives innovation, not technology." So how does a forward-thinking artist like Brian build a thriving business amidst this outlook? By embracing his own creative spirit and trusting that the right customers will connect with it. Rather than follow the other furniture makers, he says, "We do things in a unique way that you won't find anywhere else; designs from a different mindset."
Necessity is the mother of invention
It is common for small-business owners to unexpectedly become inventors. Brian talked about the range of tools that he has needed as his career has evolved, and his solution for filling in the gaps. "Early on as a chairmaker, it was really clear that because of the rarity of chairmaking specialists, tools were not available in the 1980s. Almost nothing was available except antiques." With that insight, he had both the need and the opportunity to design, make, and sell tools that enable others to do their part to shape the furniture industry's future.

Learn more about Brian Boggs Chairmakers
Helping to save and heal the Earth will take all of us. Learning how FedEx Small Business Grant winners do their part is a dose of inspiration. Thanks to their recent and upcoming innovations, it may become easier, more efficient, and affordable for all small-business owners to speed up growth in an eco-friendly way. If you're interested in how other entrepreneurs find inspiration, we hope you'll explore all of the resources on the FedEx Small Business Center, where we learn from one another how following our passion can make a difference in the world.