Growing Your Small Business from the Inside-Out
As if coming up with a smart idea or a great product isn't difficult enough, the work doesn't end there. In fact, it's only the beginning, not a guarantee of success. That's why it's crucial to make sure that all of the internal and external factors that affect your small business are working in your favor. Many entrepreneurs know the importance of a marketing plan to help customers discover and engage with your business, but it's just as important to have a solid plan for what goes on inside your business—the people. After all, no matter how much demand there is for your product or service, if your team can't deliver it with efficiency, knowledge, and passion, you may miss out on opportunities to expand. Here, the owners of Fiddlershop and LuminAID, both FedEx Small Business Grant winners, share the distinctive tactics that have helped support their growth.
Fiddlershop
Owners, Pierre and Michael Holstein, share how a strong team                     empowers small businesses for growth and success.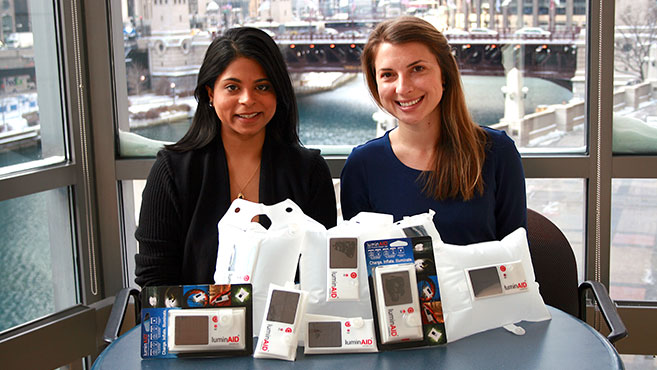 LuminAID
For insight on how to make the most of external factors to accelerate growth, we looked to LuminAID owners Andrea Sreshta and Anna Stork.
Fiddlershop: Building the right team for success
Building the Business Model
Pierre and Michael Holstein built their business with a proven customer-engagement marketing technique: content. Yet they credit an internal force, their team, for fueling their continued growth. Driven by his passion for teaching people to play the violin for free, Pierre employed a professional marketing-to-sale concept, offering violin tutorials on YouTube. Together with son Michael as the company's CEO and Co-Founder, Pierre (aka Fiddlerman) has transformed Fiddlershop into a promising e-commerce business that buys and restores stringed instruments.

This family-owned, family-run business offers customers a value that's as unique as the people who make up the Fiddlershop team: When you receive a stringed instrument from Fiddlershop, it is already professionally "set up" and, because the founder invented a way to ensure the best shipping experience possible, that shipped instrument arrives ready to play, right out of the box! Though it may sound like a simple idea, this single benefit sets Fiddlershop apart from other online stringed instrument stores.
Fiddlershop's competitive advantage goes beyond shipping expertise to deliver the next best thing to shopping in-person. When a prospective customer is considering purchasing a particular instrument, they can hear it played online to experience the sound of that exact instrument. And, to ensure that each violin will arrive in the condition promised, Fiddlerman himself tests/adjusts every instrument that leaves their workshop.
Building the Team
Fiddlershop brings entertainment value to its musical expertise (violin music played by Pierre is the shop's phone ringtone, as one example), and everyone in the family brings their unique sense of fun and passion to their role with the company. Learning more about the people behind Fiddlershop, there's a theme of family spirit—from actual family members to the company's growing "family" of employees—that Michael believes helps support Fiddlershop's growth.   
The company has grown to include 10 full-time employees including some who are experienced musicians themselves, plus a handful of part-timers. When growing their staff, Michael explained that they originally interviewed luthiers -- craftsmen who build stringed instruments. However, master luthiers are difficult to find and, with the kind of training and experience that Pierre and Michael can share with employees, they realized that people with woodworking skills, creativity and a positive attitude were readily available. Michael believes that "growth and success happen when you find the right team." Theirs is comprised of multiple people with multiple skills, each enjoying their role in this growing business. Michael describes them as "free thinkers who market as part of their role and who generate new ideas." He counts teamwork as the most important key to another non-negotiable factor for scaling up, solid customer service—sharing that "The right team goes an extra mile."
Adapt to Customer Needs
Fiddlershop's accelerated growth isn't limited to their online sales. In fact, Michael described that they have also physically grown faster than anticipated. Their warehouse originally was just that—a warehouse. However, local customers were finding their way to the business and the family realized that they needed a real storefront instead of selling instruments in their offices. They were able to secure the warehouse next door and from there, creativity took off. The vision of a storefront grew to include a much-needed recording studio for Fiddlershop and twice as much storage space as they previously had at the original warehouse. Though the Fiddlershop's website and videos offer an amazing virtual experience, now customers can visit the store for hands-on shopping, listening, and a chance to cross paths with the Fiddlerman in real life.   

LuminAID: Making external factors work in your favor
LuminAID was a 2016 FedEx Grant Contest winner for a bright idea with global social impact—portable, inflatable, waterproof solar lights for disaster relief, outdoor adventures and camping. In addition to winning and having their eyes on their business, they are also now part of the FedEx Entrepreneurial Advisory Board (EAB), a group of small-business advisors who deepen our understanding of small businesses and help FedEx work to enable small-business success.
When speaking to Andrea about her business, her fascination with being an entrepreneur is one of the first things you learn about her, and that passion is clear in everything she does. While others may find the unpredictability of small-business ownership a challenge, it seems to be the very thing that draws her to it, explaining that "Things are completely out of your control, which is exciting."  We recently looked to Andrea for insight on small-business success, and she was eager to share her experience growing a small business through external channels and tactics.
Social mission. Like Andrea, many of today's entrepreneurs emphasize the need to look at social significance as well as business significance to set yourself up for success. She explains that "It is important for your business to have a social mission." Through their experience with disaster relief, Andrea and Anna developed a solid network of people and organizations which enabled their products to quickly get to those in need, finding that "It is nice to collaborate with companies and charities for distribution."
Continued product innovation. Their vision was never to rely on disaster relief; they knew that there were additional people who could benefit by their solar creations in their everyday lives, providing light in places where electricity might not be an option. LuminAID evolved to include additional solar-powered products such as phone chargers with longer battery life and home lighting, controllable from a phone app.
New channels for existing products. Andrea talked about the importance of finding new channels that trigger growth, initially focusing on different uses for their products. "We then realized that these products could also make unique corporate gifts for employees and clients instead of something typical like a t-shirt or pen."
Customer satisfaction. Providing a great product and great customer service are critical to success—but when it comes to advertising to build and scale your business, Andrea shared that nothing compares to hearing about a product from a satisfied customer. "Your existing customers are your best advocates." Customers providing product reviews, such as "posting their own comments on social media and sharing more about LuminAID with their own communities and networks" is invaluable.

Paid advertising. In addition to word of mouth, they tried a variety of methods including paid searches, online ads, affiliate programs, and social media. However, it is important to experiment with options, then understand the data and the cost of customer acquisition. You can then budget for advertising, based on understanding the costs as related to customer acquisition relative to your margins.
Omnichannel selling. Channels are chosen based on their potential for gaining new customers and follow-up information regarding customer satisfaction and product use. However, whether they are selling online or in stores, their focus is always on design, performance and quality.
Brand recognition. As a marketing strategy, getting LuminAID products out into as many channels as possible can drive growth and aid customer acquisition. For example, working with corporate customers to supply them with custom branded lights that they then give as gifts exposes LuminAID's products and mission to new audiences and groups of people.  
While all of these factors are critical to growth, Andrea's most important reminder is that, "At the end of the day, products must have a fundamental value to your customers."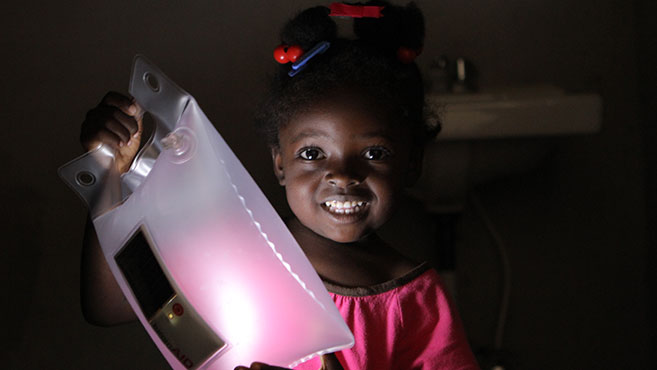 Knowing when and how to grow your small business is one of the mysteries of being an entrepreneur. Pay attention to what is going on inside your business as well as conclusions you draw from sales, the customer service you provide, and the reputation of your company. Keep in mind the nuggets that were shared by Fiddlershop and LuminAID, two companies that truly represent growth from the inside-out.