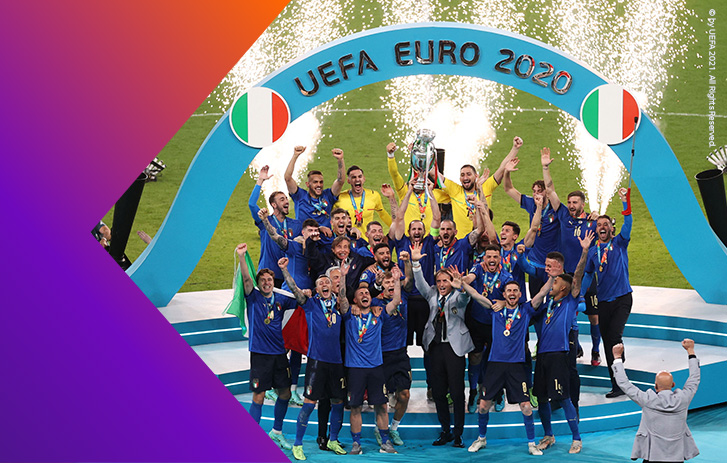 Congratulations to the winners!
Congratulations to the winners!
What a great celebration of football UEFA EURO 2020 proved to be. We're proud to have played our part in making it happen – right up to the final whistle and beyond. Held across a number of countries for the first time, the tournament provided football fans across the world with a memorable sporting festival featuring many of the world's greatest football stars and top European teams. 

As Official Logistics Partner, we're excited to have helped make it so successful. As the teams battled it out across 11 venues throughout Europe, our own teams were hard at work too. They provided specialist logistics services and support to UEFA, from dispatching national team equipment to transporting official UEFA materials like match balls, tickets, uniforms, LED boards and more. 
---
We did it! Celebrating the successful delivery of UEFA EURO 2020. Take a look.
---
Delivered by Fans for Fans
See the stories of some of our team members who proudly supported UEFA EURO 2020 across Europe.
---
FedEx Performance Zone
Watch the best performers during the tournament and check out their amazing performances with a great winner of the FedEx Performance Zone at the end!
GO TO THE FEDEX PERFORMANCE ZONE
A fantastic event across Europe
Discover some fun facts and interesting numbers about UEFA EURO 2020. 
Part of the fun of being a football fan today is looking at the stats, and we've included a few of our own below. There are some huge numbers behind the UEFA EURO 2020 logistics. We're proud to be using our expertise as a leading global logistics network to support this tournament. 

---
Services built for your business
We're proud to have supported UEFA with wide-ranging services from dispatching national team equipment to transporting official UEFA materials like match balls, tickets, uniforms and more. Find out how we can provide comprehensive assistance for your business too. 
---
---
UEFA Champions League and FedEx come together
FedEx is proud to be an official global sponsor of the UEFA Champions League, the world's premier club football tournament featuring the best European teams and star players from around the world.


As the world's largest express transportation company, we believe aligning our brand with this world class competition is a natural fit, and we are excited to connect football fans with passion, commitment and excellence – three factors that inspire everything we do at FedEx.
The highly anticipated new season of UEFA Champions League football will start on September 14, 2021 and provide endless entertainment showcasing the best in Europe, with the iconic trophy being competed for and awarded at the Final in Saint Petersburg, Russia on May 28, 2022. FedEx will be there to support during every stage of the competition.