Eco-friendly marketing ideas to support your business's sustainability efforts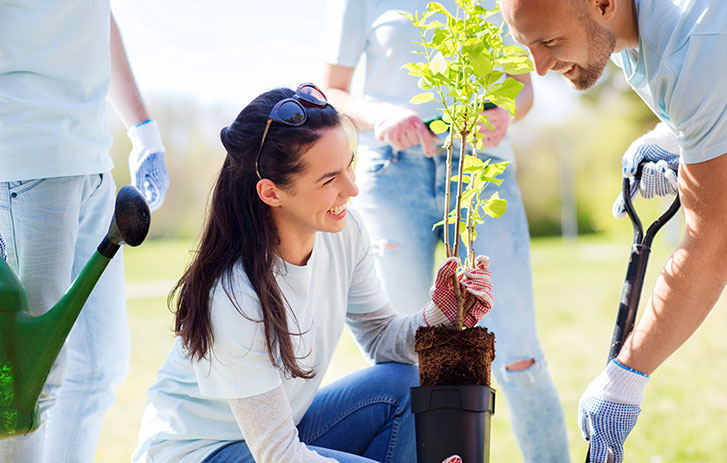 Your business has an impact on the environment, and that can steer customer actions. Reducing waste and choosing reusable promotional items are key to any green small business campaign. Still, eco-friendly marketing ideas are about more than handing out reusable bags and feeling good—they can offer a return on your investment in promotional and marketing items.
When considering green marketing ideas for your business, ask yourself these questions:

Is the item made from a compostable or sustainable material like steel, glass, wool or bamboo?
Does it take the place of something disposable, such as water bottles or plastic straws?
Can you promote your company virtually, without any physical waste?
These four sustainable marketing examples can help you launch a campaign that supports the environment and catches potential customers' attention.
1. Use biodegradable and sustainable materials
Keep your physical marketing materials simple and made from recycled paper. Also consider sustainable promotional items like canvas totes, stainless steel tumblers and cotton beach towels.
More eco-friendly marketing ideas include:
Laptop bags or sleeves made from post-consumer or sustainable material
Branded bamboo cutting boards or pencil cups
Stainless steel or reusable straws packaged in sustainable bags
Sustainably packaged health and wellness items such as healthy snacks, soap bars or pocket-sized hand sanitizers
2. Find an organization to support
Elevate your eco advertising through an environmentally friendly marketing campaign that supports a worthwhile cause. Green marketing examples include:
Planting a tree through the Arbor Day Foundation for every potential client who signs up for your online newsletter
Contributing a set amount of money to local environmental support efforts for every page view on your site
Creating an interactive online quiz, game or microsite to educate consumers about eco-friendly products
Incorporating natural imagery—like trees, birds and water—to highlight your company's sustainability efforts
Additionally, consider collaborating with a nonprofit that shares your company's focus and core purpose. 
3. Inspire customers through green marketing giveaways and events that give back
An eco-friendly marketing campaign should use materials that reflect that ethos. Try these unique ideas to connect your company name with greater purpose and sustainability:
Drum up excitement by raffling off branded terracotta grow kits or gardening gift baskets
Share your love for fresh air and fresh food by mailing quick-grow herb packets to new and existing customers
Host a park clean-up or community event that encourages people to get outside and involved in their neighborhood
Reducing your carbon footprint and minimizing your impact on the environment requires innovation. The best green marketing campaigns don't waste money on flimsy extras—they show that you care about the world beyond your business. Customers want to see real, actionable data that prove you understand the long-term need for sustainability. 
4. Highlight your company's sustainable business practices
Examples of environmentally friendly best practices include:
Incorporating sustainability into every aspect of your business, including corporate strategies, goals and products
Providing training to all employees on sustainable work policies and encouraging them to share ideas for resource conservation
Working with vendors and suppliers who also make sustainability a priority
Creating an in-house recycling program for paper and electronics
Purchasing energy-efficient office equipment

Controlling the impact your company has on the environment is a long-term initiative. You want potential and existing customers to know you have an eye on the future, and these green marketing campaign ideas can highlight your efforts to create an eco-friendly business.
---
The information on this page and links provided are as a convenience and for informational purposes only; they do not constitute an endorsement or an approval by FedEx of any of business, products, services, or opinions of any other corporation or organization or individual. FedEx bears no responsibility for the accuracy, legality, or content of any external site or for that of subsequent links. It is important to do your own analysis based on your business needs before using any third-party products or services. Any actions you take upon the information on this page is strictly at your own risk.