Manage your time in your peak season
Manage your time in your peak season
---
An e-commerce business is always on. That's no truer than during busy season. Small business owners find themselves working long hours to compensate for overwhelming demand and thin staffing. How can you better manage your time during your busiest season?
So says FedEx Small Business Grant winner Kat Samardzija. Kat is a busy and productive woman. She is a full-time college student and runs Locker Lifestyle, a small e-commerce business that sells a patent-pending "Wrist Locker" wristband that stores cash, cards, keys, and more for customers with an active lifestyle. She manufactures the product herself, manages her own website, supervises a team of interns, and still finds time to enjoy her life.
So how does she do it? Kat shared her advice with us.
Set a schedule
An entrepreneur's priorities are always changing, but Kat says it's important to structure your time. She locks down her schedule three days in advance, sometimes down to 30-minute increments, from the time she wakes up until the time she goes to sleep. She then lays out a skeleton schedule for the remainder of her week that allows flexibility in case unexpected needs present themselves.
Make lists
Living in a digital era has its advantages, but sometimes Kat needs to go analog to stay focused. She uses pen and paper to write her daily to-do lists and crosses off items as she completes them. "It's really easy to get caught up in my phone," says Kat. "I'm able to stick to my paper list and complete important tasks before I am distracted by anything else."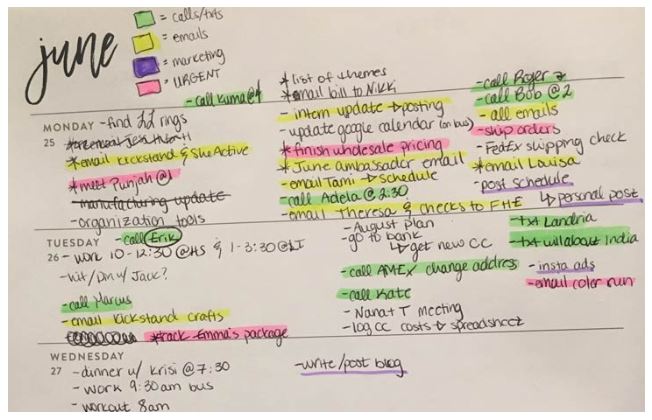 Kat's detailed to-do list is written with pen and paper to help her avoid digital distractions.
Prioritize the hard stuff
When Kat makes a to-do list, she ranks her tasks in importance from 1 to 20. She starts at the top and won't move on to the second task until the first task is complete. "Asking 'What's the focus here?' has been crucial," says Kat. "It's so easy to get caught up in email and doing other things. By numbering them, I make sure I get those essential tasks done, as much as I may not want to do them."
Explore organizational software
For long-term assignments, like web development or marketing plans, Kat turns to tech tools to stay organized. She uses project management software called Asana that lets her create projects for certain tasks, set deadlines, and distribute assignments to her interns. "It really helps me save time," says Kat.
A view of tasks assigned to Locker Lifestyle's intern team within the Asana project management tool

Set goals
To keep both short-term and long-term tasks on track, Kat makes daily, weekly, and monthly goals.
She establishes her monthly goals at the beginning of each month in a spreadsheet under a column titled "projections." At the end of each month, she holds herself accountable by returning to the spreadsheet and entering what she actually accomplished next to her projected goals, so she can identify where she needs to make more progress.
According to Kat, the key to making headway is breaking down big goals into incremental actions. "I could have a general goal to respond to emails," says Kat. "I break it down into tasks. For example, there is an extension on my computer that allows me to move unanswered emails to the top of the emails in my inbox. Laying out the specific tasks I need to complete to achieve larger goals makes those goals attainable."
Get help
As her small business takes off, Kat is handling a mind-boggling array of tasks while still attending college full time. She realizes she can't do it all alone if her business is to continue to grow. As a result, Kat found help.
After her mother's own small business, a bridal boutique, burned down, Kat brought her mother on staff to help run operations. Kat calls her a "mom-ager." "It's huge. I wouldn't be where I am today without her," says Kat. "We have weekly meetings. Getting her more involved was a definite game changer." Kat also hired a team of interns to attend events to promote Locker Lifestyle, which saves Kat time.
Make time for yourself
"All work and no play…" You know the rest. A competitive tennis player, Kat takes two hours out of her day to practice the sport.
"Because I've played so many sports throughout my life, it's really important for me to be able to get out, get my blood flowing, and get my energy back so that I feel sane and can restore my creativity.
Then I can sit at a desk and knock things out," says Kat. "I think being able to step away is really crucial for anyone in business."