Exporting explained
Quick exporting information to help you make your next move in the U.S. with confidence.
Get a personalised offer
To unlock this exclusive offer and start shipping next-day to the U.S., complete the form. We will call you to discuss how you can send packages to the U.S. quickly and cost-effectively using our latest shipping tools.
Conquering Europe's biggest export market

What's next in the U.S?
A snapshot of trade insights, sector trends and new opportunities to grow your business to the U.S.
Download Report
FedEx is the fastest way to more of the U.S.**
This map shows the U.S. city lights at night. These cities are key U.S. business centres that can be reached next day by 4:30 p.m. using our new service.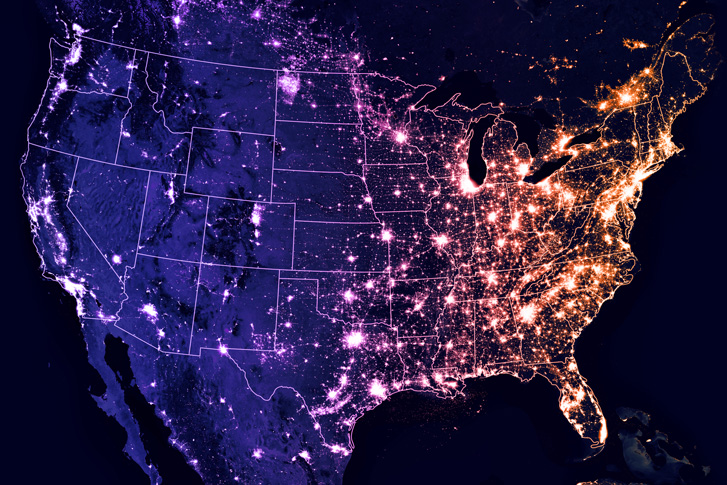 ---
Our shipping services
Our services will help you reach your customers faster and manage your costs better.

Next-day
Deliver to the majority of key U.S. business centres by 4.30 p.m. the next day*.

Late pick-up
Benefit from our late collection booking service for next-day deliveries.

2-days
Deliver to the rest of U.S. with a two-business-day service, with an early delivery of 10.30 a.m.*
---
From Europe to the U.S. by 4.30 p.m. next-day
See how a package travels through our network and the steps we take to deliver your shipments to customers in the U.S. next-day.
---

Did you know that certain shipments to the U.S. under $800 are exempt from duties and taxes? Together with fast next-day deliveries, it means you can compete with domestic U.S. sellers.

---
We can help you reach new opportunities in the U.S. thanks to :
Frequent flights
Over 40 weekly flights to the U.S., more than any of our competitors.


Wide coverage
90% of the U.S. population lives within five miles of a FedEx Hold retail location.


E-commerce solutions
Your e-commerce customers can access 14,000 pick-up points.


Speed and choice
Shipments can be delivered anywhere in the U.S. within one or two business days*.


Simple clearance tools
Clear goods quickly with our customs expertise and customs cleared products.


Easy shipping solutions
Automate your processes and enhance your customer experience with our digital tools and solutions.
---
Your questions answered
Providing the correct details and documents is key.
Information should be provided in English.
Regulated goods (such as drugs, food, biological substances and medical devices) are subject to additional governmental control.
Adding your receiver's phone number and email address to the invoice and packing list will avoid clearance delays if your carrier has any questions.
Keep an eye on U.S. regulations and check them before shipping to ensure you're up to date.
Before shipping to the U.S., you will need to complete a commercial invoice and an air waybill. If you're sending regulated goods (alcohol, medical devices, or electronics, for example) then you and your receiver may need to provide extra documents. Each shipment's required customs documents differ based on origin, destination and the commodity being shipped.
A precise goods description
Providing a full and accurate description of your goods is key, including any specific details and avoiding generic descriptions.


An accurate Harmonized System (HS) code
You can find an item's Harmonized System code online using an HS code search tool or on your country's government website.


Country of origin
List the country of origin of your goods. This is where the goods were manufactured, not where you're sending the goods from.


The receiver's contact details
In case the U.S. customs authorities need to contact the receiver with questions, you will need to provide your receiver's details.
Sources: 1. National Retail Federation: NRF Forecasts Retail Sales to Exceed $4.33T in 2021 as Vaccine Rollout Expands, 2. McKinsey: Survey: US consumer sentiment during the coronavirus crisis
*Transit times may vary depending on origin and destination location.
**This is based on analysis carried out by FedEx in March 2021 of UPS NA1 and Express parcel services and DHL Express parcel services as quoted online and compared with FedEx International Priority and FedEx International Priority Express services available to selected and eligible customers, between 140,000 postcode origin-destination pairs, from 17 European countries and taking into account GDP weighting, to key business districts in the U.S.. Further information is available upon request. 17 European countries: Austria, Belgium, Czech Republic, Denmark, Finland, France, Germany, Hungary, Italy, Luxembourg, the Netherlands, Norway, Poland, Spain, Sweden, Switzerland, United Kingdom. U.S. key business centres: per County Business Patterns (CBP) provided by U.S. Census Bureau. Transit times may vary depending on origin and destination location