Refrigerated and cold shipping
Refrigerated and cold shipping
2˚ to 8˚ Celsius | 35˚ to 46˚ Fahrenheit
Keeping products cold is critical for the healthcare industry. We provide reliable solutions for shipping pharmaceuticals using cold packs, chilled boxes and other specialized containers. This provides the temperatures and security you need in order to meet cold shipping regulations and keep products in top condition.
Cold shipping boxes, packaging & containers
Our top priority is keeping your products cold. Each of the following packaging options is specially designed and tested to provide reliable cold temperatures during transit. If you're packing cold shipments yourself, you can also find details on how to keep your cold shipments safe.
Cold shipping package provided by FedEx
Cold shipping package provided by FedEx can keep your temperature sensitive shipments between 2˚C and 8˚C (35˚F and 46˚F) for 48 or 96 hours* without the weight, hassle and expense of using dry ice or gel packs. Also available in FedEx® Clinical Pak design, exclusively for use with clinical samples.
*Actual cooling duration varies, depending on external temperatures.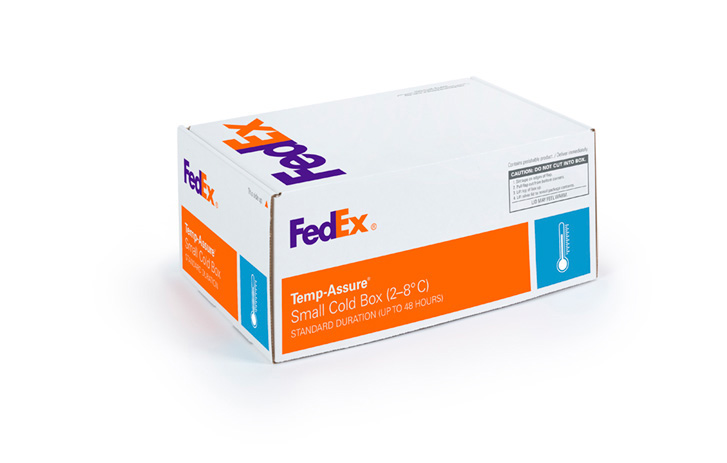 Small Standard Duration
Duration: 48 hours
Payload: 8.5" x 4.7" x 1.6"
Outer dimension: 12.1" x 7.9" x 5.1"
Weight: 3.8 pounds
Medium Standard Duration
Duration: 48 hours
Payload: 8.5" x 4.7" x 3.0"
Outer dimension: 12.1" x 7.9" x 8.5"
Weight: 7.5 pounds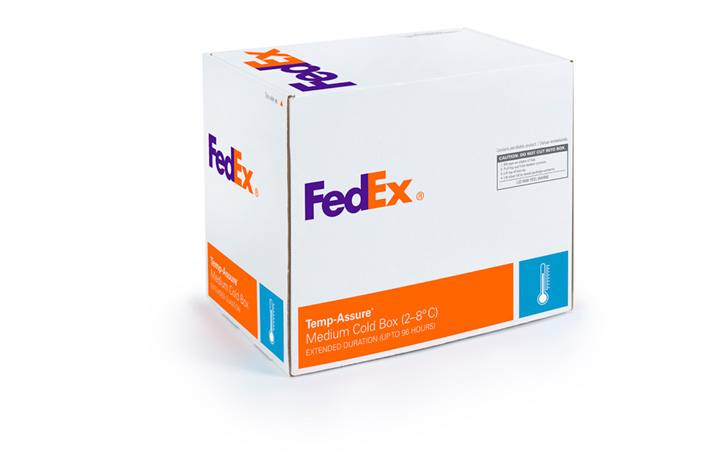 Large Standard Duration
Duration: 48 hours
Payload: 9.5" x 8.7" x 4.5"
Outer dimension: 13.9" x 12.0" x 10.3"
Weight: 12.1 pounds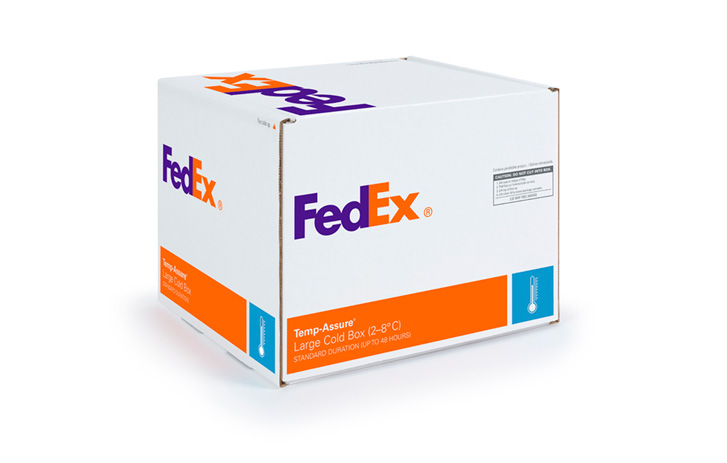 Medium Extended Duration
Duration: 96 hours
Payload: 8.5" x 4.7" x 2.7"
Outer dimension: 12.1" x 7.9" x 9.9"
Weight: 9.4 pounds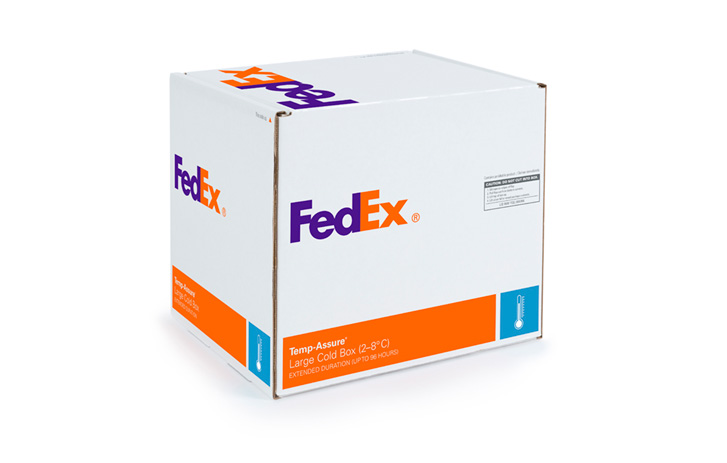 Large Extended Duration
Duration: 96 hours
Payload: 9.5" x 8.7" x 4.8"
Outer dimension: 14.2" x 12.0" x 12.0"
Weight: 16.8 pounds