Tips from 20 years of packaging
Tips from 20 years of packaging
---
Since 1998, business for Humdinger Kettle Korn has been popping
Selling from farm stands is second nature to Suzi Buchanan, who has been selling food grown on her family farm since she was 7 years old. As the daughter of farmers in Washington State, she began by helping her parents sell sweet corn at her family's roadside stand.
Over time, Suzi came to believe that the public would love kettle corn as much as she did, and in 1998, she started selling it in her local farmers market.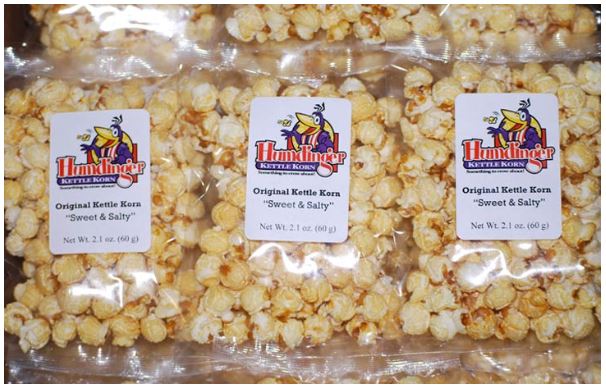 Humdinger Kettle Korn has become a staple at local farmers markets, developed an active B2B business in corporate events and non-profit fundraisers, and expanded its product line from kettle corn to an array of flavored popcorn. Suzi credits product flavor innovations with helping her business grow, explaining that the company's "flavor innovations have been influenced by both customer feedback and flavor trends."
Humdinger's top tips for other entrepreneurs:
1.    Understand how your product spoils
When Buchanan began selling at farmers markets, she wasn't aware of the role air plays in perishability. "We learned that if we package like potato chips are packaged (with space for air) then we solve a problem. The nitrogen from those bags keeps oxygen out of the bags and rancidity doesn't start as quickly. It changes the whole shelf life." The team went on to make improvements with the weight of the bag, their sealing process, and maintaining temperature control.
2.    Invest in printed promotional materials
Buchanan launched her business through connections she made at the farmers market. Having printed promotional materials was a key component. "By having quality product and information available, we're prepared when retailers and people interested in corporate events approach us at the market."
3.    Seek out expert counsel when possible
Suzi has learned an enormous amount about product development and retail-geared production from classes she's taken at Oregon State University's Food Innovation Center. This has provided her with game-changing advice for her business and has inspired new endeavors for her company. The classes also connected her to other business owners.
4.    Research existing resources upfront
When determining the logistics of your new business, research economic environments and resources available. There was no one in the Pacific Northwest region that grew the specific type of corn that Humdinger needed – so they ended up having to invest in their own production to ensure the product was high quality.
5.    Establish yourself in a supportive environment
Buchanan believes that small business success can hinge on how supportive the surrounding community is of small businesses and advises other small businesses to research the local environment and resources.
6.    Plan for the future
It's crucial to stay mindful of cultural shifts and tastes of consumers and seek new ways to meet those changing tastes. The company now offers 17 flavors but will limit their retail offering to 3 flavors.
Visit the FedEx Packaging Help Hub for information on successfully packaging all specialty items.