Dropshipping: the pros and cons for online business
Dropshipping: the pros and cons for online business
Looking for a low risk, inexpensive way to start shipping online?

Looking for a low risk, inexpensive way to start shipping online?

What is dropshipping and do I need it?


You might think that in order to have an online business you have to have a warehouse of your own products to sell. Think again. Welcome to dropshipping.
Dropshipping is a retail fulfilment method where you market products through your website that are shipped directly from the supplier. So you can take your online business idea into reality faster and with less work. In fact - until you have an actual order from a customer you don't order or pay for the item. It has some great benefits for small businesses.
But this isn't the right choice for everyone. There are a few tradeoffs that need to be considered before committing to dropshipping over traditional delivery services.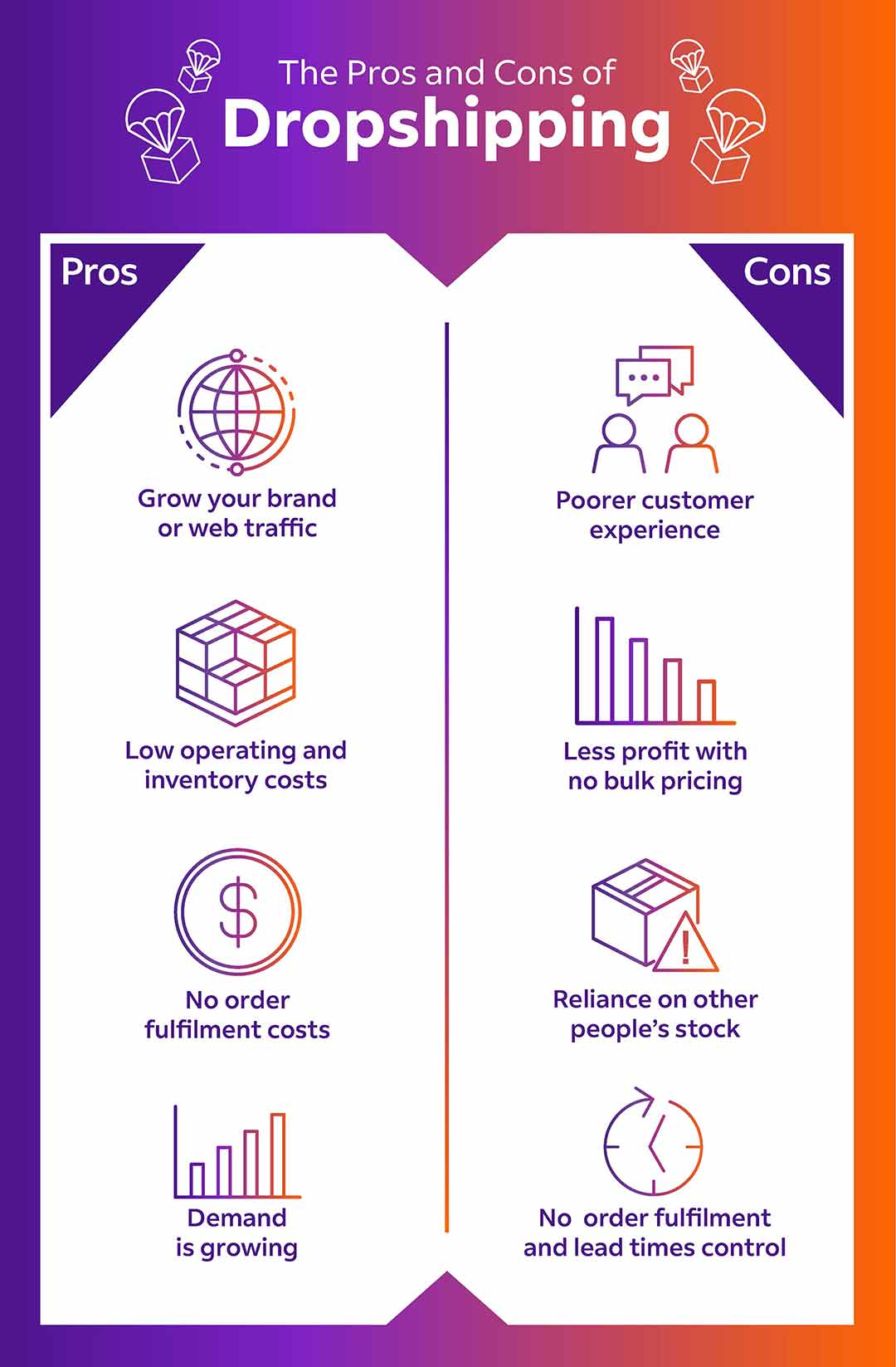 Grow your brand and attract more web traffic

Done right, dropshipping can give you a competitive edge when it comes to brand-building. Every dollar of investment saved on inventory and warehousing is one that can instead be spent promoting and improving your online presence.

A strong brand position and identity will help increase the value of your company and make you memorable for your customers.


Save on operating and inventory costs

Because you don't have to fork out for inventory or pay to warehouse it, your costs of doing business are substantially reduced. By avoiding getting stuck with any unsold inventory or warehousing costs, you can avoid upfront capital investment.


No order fulfillment costs

If a product sells, you just let your supplier know and it's done. No shipping, no logistics worries, just a simple notification and your product is on its way to your customer.


Online shopping continues to become more popular, and dropshipping positions your online business to take advantage of that growing demand.

You can pass on savings to your customers and still maintain a healthy profit margin. You don't need to hike your prices to cover supplier delivery costs and inventory storage expenses. You can offer a wider product selection and address new markets without having to worry about the logistics of shipping.  


Consider your customer's needs

While this method can help you save some resources, always keep in mind the end customer experience.  Dropshipping does not provide the same level of support and care as other fulfilment services.

Customers who expect greater delivery flexibility or need delivery support may not receive the assistance you would ideally like them to receive. This is when it is smart to use an express carrier with a customer support capability to handle any issues that may arise.


Less profit due to hidden costs

It isn't common for dropshippers to order in bulk, and therefore one of the hidden costs is the lack of bulk pricing. That means less profit per order.


Reliance on other people's stock

Inventory control is another challenge for businesses that dropship. As you don't control your supplier's inventory, your supplier may run out of stock, which means you run out of stock which can result in longer lead times and unhappy customers.


No order fulfillment control = shipping risks

While dropshipping streamlines the order fulfillment process, it also makes means you have less control and visibility if something goes wrong.

It's important to make sure your shipping and delivery arrangements meet the expectations of your customers. The best way to do this is to make sure you work with high-quality partners that can ensure consistency when it comes to the processing, delivery and refund processes.


What works for your online business?

Dropshipping is just one of the ways to get started with your online business. Discover more budget-friendly shipping options with FedEx today.


---
More from Small Business Center