Save energy and improve performance
New energy management system at FedEx Office® saved 22 million kilowatt hours of energy in first year
---
"Did I remember to adjust the air conditioning before I left?"
Most of us have asked ourselves this question at some point. But at more than 1,500 FedEx Office stores, it's a thing of the past. A centralized energy management system sets temperature controls to adjust for occupied and vacant building times, monitor HVAC equipment function, diagnose performance issues, and pinpoint energy-saving opportunities. In 2019, the system saved more than 22 million kWh of electricity and avoided 16,200 metric tons of CO2e, the equivalent of taking nearly 3,500 cars off the road for one year. Savings in 2020 are expected to be even higher, and as new stores open, they will use the energy management system as well.
According to Ari Spitzer, Vice President of Real Estate at FedEx Office, the system also provides another key benefit in addition to energy efficiency. "When it comes to managing a vast network of heating and air conditioning equipment, being able to monitor function is a big advantage. From a central location and in real time, we can view and control HVAC performance at our stores, detect any problems, and quickly deal with those issues to keep our stores comfortable and our systems operating efficiently."

Keeping an eye on things
Using the state-of-the-art energy management system, FedEx Office maintenance specialists can keep an eye on thousands of HVAC units across the company and take a more proactive approach to maintenance. Fred LaChance, Manager of Maintenance and Energy at FedEx Office, explains some of the other benefits: "By being able to centrally control the units, we can implement universal changes such as backing off the units for holidays. And through analytics, we can make educated decisions about what units need repair or replacing."
The analytics also provide operational data that's helpful to landlords when older or inefficient HVAC units need to be replaced proactively. Such data might include a unit's power usage, its ability to achieve the desired temperature, and its run time compared to other units in the area. These proactive replacements save energy, time, and money, while ensuring store comfort. Finally, when repair or replacement work is underway, our team members can use the management system to remotely verify it's being completed by service providers, whether they are working at a FedEx Office store nearby or thousands of miles away.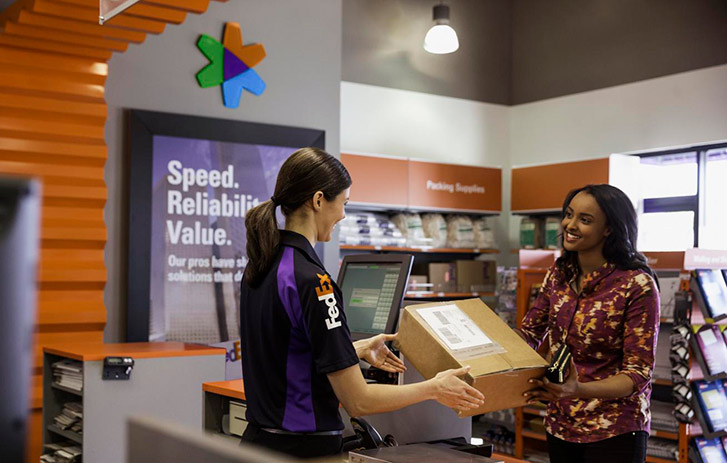 Comfort and control
Should an HVAC unit fail suddenly, the space could get uncomfortable quickly for customers and team members alike. But with the energy management system continuously monitoring our HVAC units for performance issues, critical system failures are reduced, and store comfort is improved. In fact, between 2019 and 2020, the number of HVAC issues identified as emergencies dropped by 25%. This means issues were identified and addressed before store employees became uncomfortable and reported a problem. And because poorly performing units sometimes consume more power as they struggle to operate, avoiding critical failures can save energy.
Aimee DiCicco, Senior Vice President of Sales at FedEx Office, sums it up. "The system's significant energy and emissions reductions reflect our broader commitment to sustainability—an important value we share with our customers. We know they already appreciate our certified sustainable paper options, print online services, and secure paper recycling. Saving energy in our stores is one more way we're taking action on our sustainability commitment, for the benefit of our customers, our team members, and the communities we serve."