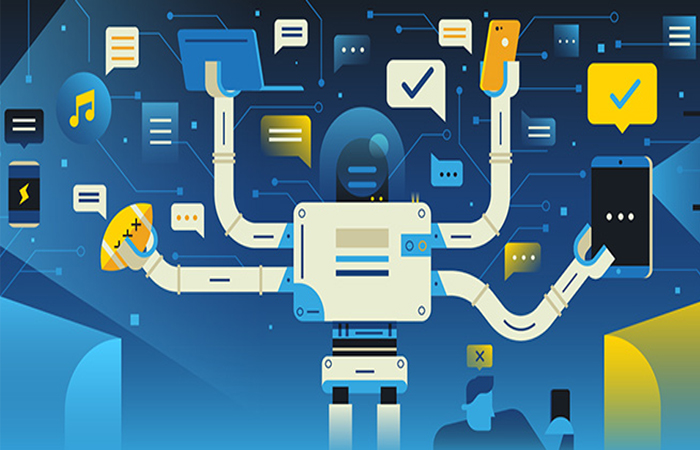 Getting Real: How Social Media Is Revolutionizing the Way Businesses Connect
Facial recognition, virtual reality and chatbots are slipping into our social channels — and taking marketing to more personal, tangible levels.


The latest ideas for connecting with customers on social media have one thing in common: They're all about realness. New facial-recognition technology is primed to start letting brands know how consumers really feel. Virtual environments incorporate so-real-you-could-pick-them-up branded objects. Highly relevant event content gets pushed out in nearly real time. And today's chatbots mimic real, live humans to spark warm feelings about brands. Here's a look at what's working today and what's on the way.


Face Facts
Remember when facial-recognition technology seemed impossibly futuristic, à la Minority Report? Now, we're immersed in it daily: Facebook uses a facial-recognition algorithm to suggest friends to tag in your photos, and you can use a scan of your face to unlock your new iPhone X. The photo-sharing social network Polygram, launched in 2017, makes the leap from recognizing faces to recognizing emotions. When you post a photo, it shows you how viewers react. The app uses a convolutional neural network to scan the viewer's face, detect how it moves — smile, frown, raised eyebrows, eye roll — and map the reaction onto the appropriate emoji. The app reports back to you how many people looked at your post, how they reacted and how long they spent viewing it. It's a consumer-only app for now, but before long brands will be able to harness this next-level artificial intelligence to gather and monitor unfiltered customer reactions on the spot.


Object Lessons
Virtual reality (VR) and augmented reality (AR) are social media's next big things, with platforms such as Snapchat pioneering the use of 3D lenses and virtual avatars. Now Facebook Spaces is getting into the action, with a beta experience using its own Oculus Rift headset. To incorporate pop-up advertising seamlessly into the immersive experience, a software platform called Trivver can place advertisers' branded objects into VR and AR environments so users can interact with them. A Facebook user hanging out with friends in Facebook Spaces might spot a virtual energy drink sitting on a virtual table. Trivver's "smart tab" can pop up information about the drink and let the user share his or her find with friends, receive coupons and more. Trivver not only places objects in appropriate environments, it also targets the right viewers and keeps track of what they've already seen so they don't get brand fatigue. The company envisions opportunities for placing branded objects in VR and AR versions of sporting events, video games, concerts, movies and TV shows.


#ShoesAndNews
You know Adidas as a company that makes athletic shoes, apparel and accessories — but to cement its relationship with customers, it's also in the news business.
To keep conversation about Adidas going on social media 24/7, teams in the company's 12 digital newsrooms across the globe monitor trending topics and generate up-to-the-second content specifically for platforms such as Twitter, Facebook, YouTube, Instagram and Snapchat, as well as the company's own digital properties. At the company's U.S. headquarters in Portland, Oregon, newsroom team members from public relations, social strategy, moderation, crisis and risk management, and analytics are housed together so they can "listen, react, analyze, repeat," in the words of managing editor Chris Murphy — and can purchase digital ads on the spot thanks to an on-site media buyer.
During the UEFA EURO 2016 soccer tournament, newsroom content earned Adidas more than 1.1 million social media shares. That's more than twice the number of shares posted by Nike, even though Nike's social media followership was almost double that of Adidas.


Beauty and the Bot
Millennials are notorious for hating phone calls, but they're big fans of chatbots: 70 percent of consumers ages 18–34 who have used a chatbot to engage with a brand had a positive experience with it, reports a 2017 survey by mobile shopping company Retale. To reach young consumers where they live, many chatbots are moving off company websites and onto social media.
One of the first branded chatbots on the Kik instant messaging app was launched this year by beauty retailer Sephora. Kik's 300 million users are mostly teens — a prime audience for the bot's beauty tips, makeup demos and product recommendations, which users can purchase without ever leaving Kik. (Facebook Messenger, which reaches more than 700 million users, offers a similar function.)
Sephora has also experimented with bot-promoted contests, including Kik's first-ever sweepstakes and an auction for beauty samples, in which bidders used Kik's digital rewards points, normally used for in-app purchases such as stickers. Both massively exceeded expectations for engagement levels, according to Bindu Shah, Sephora vice president of digital marketing and media, who reported to Women's Wear Daily that Sephora was "amazed at the level of engagement, which was significantly higher than standard contest metrics on social platforms." "We were also thrilled that the sweepstakes enabled us to collect actionable insight from our users, all while giving them a fun and rewarding experience," she said.
 
For more like this, visit fedex.com/news