When digital meets physical in fashion retail
When digital meets physical in fashion retail
Volatile consumer trends can mean triumph or tragedy for brands in the fashion world. Building online sales business has helped KLASSE14 compete and grow its customer base.


In only six short years, KLASSE14 shot from a start-up small business to a fashion brand now available in over 200 countries and territories. The brand launched its range of watch designs in 2015. By 2017, 400 shopfronts in Japan were selling KLASSE14 pieces and stockists had expanded to include Korean department stores. Duty-free juggernaut DFS also picked up KLASSE14 and its e-commerce marketplace debut in China took TMall and JD by storm.
How did they do it?


Scaling innovation for digital retail
KLASSE14's innovative digital presence and focus on authentic human experiences has resulted in a fan base in many locations. Headquartered in Hong Kong, KLASSE14 launched its first brick-and-mortar stores in Hong Kong and Japan, and further expanded its digital reach and online sales potential into seven markets across Asia Pacific and the US.
For most KLASSE14 customers, their experience with the brand starts online. KLASSE14 is constantly analyzing digital data to better understand the needs, wants and preferences of its audience and responding with inventive, personalized campaigns.
"Our target customers are digital native millennials. Social media is an ideal platform to connect with these tech-savvy individuals. We have invested a lot in e-commerce so that we can reach everyone in every part of the world."
With digital brand engagement and shopping experiences in place to support online sales, KLASSE14 needed a logistics partner to help the online business find cost efficiency and growth in more markets. "E-commerce is all about trust. Shipping-related problems can deeply affect your firm's credibility."


Essential services for e-commerce expansion
For online sales businesses, connections between e-commerce platforms are easy to use, with minimal training downtime.
Shipping and delivery services need to be fast, reliable, secure and offer efficiency and convenience to buyers.
For fast-growth brands, delivery needs to cover locations beyond metropolitan and suburban centers to cater to buyers in rural locations. International logistics and delivery solutions should be capable of scaling as brands expand into new countries and regional territories.
The ideal shipping and international logistics partner can also handle product returns with equal speed and efficiency.
"We decided to rely on FedEx and were extremely pleased to finally find a reliable partner to support our global distribution expansion."


Taking fashion forward with FedEx
"Maximizing efficiency is crucial to maintaining a profit. Shipping can get extremely expensive especially if the logistics partner is not optimized according to both your business model and the scale of your business. This can eventually reflect on higher-than-average shipping costs."
Before using FedEx, KLASSE14 encountered high delivery costs, frequent delays and issues with products getting to customers in rural locations.
FedEx worked with the team at KLASSE14 to meet their need for expedited delivery from orders placed in their e-commerce platform.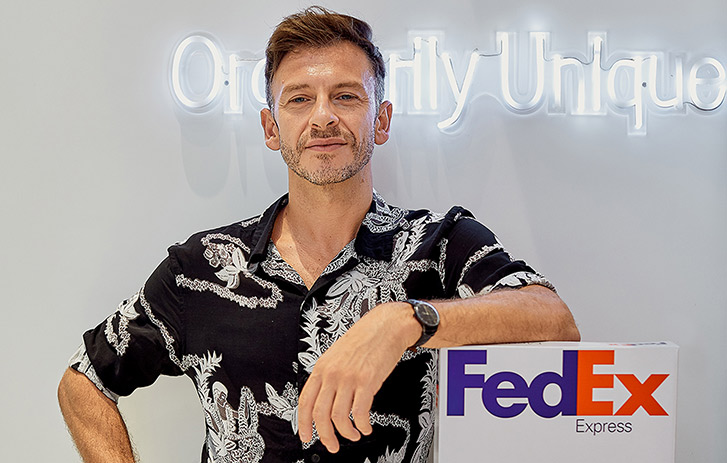 The benefits of using FedEx include time-definite and reliable delivery service for intra-Asia and international shipments and FedEx's handling of KLASSE14 return shipments.
"We chose FedEx because they offer a wide range of customer support, they can ensure delivery to more than 200 countries and territories, and they offer a reliable tracking system which allows customers to instantly check the location of their orders. This is definitely a plus when it comes to the online shopping experience."
The result is faster delivery to more places, fewer complaints, lower costs and a better experience for KLASSE14 and their fans.
"FedEx has definitely guaranteed the proper flexibility to serve diverse types of clients worldwide. We are now able to deliver our products to our customers faster than ever before and with a solid decrease in delivery expenses. During the current challenging scenario of the COVID-19 pandemic, thanks to the reliability of FedEx service, we were able to deliver our products internationally without receiving any complaints from either our B2B or B2C customers."
As an online business built on its admiring fan base, KLASSE14 knows a thing or two about the value of loyalty. As a FedEx customer, KLASSE14 can participate in the My FedEx Rewards program to earn points from shipments. Points can be redeemed against shipping vouchers to offset transportation charges or exchanged for physical rewards for the KLASSE14 team.
The program also makes it easy for frequent shippers to identify and activate pricing reductions. Every additional tier of pricing benefit earned can help online business brands like KLASSE14 to pass savings on to their customers.


Where Next for KLASSE14?
An e-commerce, digital-led approach is only the beginning for the KLASSE14 brand.
"The pandemic is challenging retail businesses. But then, we're a team of passionate people with a lot of energy, so we're able to find ways to breakthrough new markets and connect with new exciting customers everywhere in the world. The UK, in fact, will be our next strategic market and, thanks to FedEx, our expansion in the region will be exponential as we reach fresh customers."
KLASSE14 can continue to innovate and find new opportunities across digital channels because they have found the right fit to successful expansion: a reliable, trusted delivery partner who can help them meet their customers wherever they are.


Explore options and get shipping help for your e-commerce business? Let us help.


---
More from Small Business Center