Fishing for success in a race against time
Fishing for success in a race against time
Shipping live fish is going swimmingly for this small business
Shipping live fish is going swimmingly for this small business
For Aquazone Indonesia, exporting each package to its destination quickly, safely and on time is literally a matter of life or death.
A little fish in a big pond


Hartono Kintadjaja loves his fish. Like many amateur aquarists, Hartono collected and cared for ornamental fish in a few aquariums at his home. He particularly liked cichlids, which are ornamental freshwater fish from Africa, and began breeding them.
By 2006, Hartono was exporting his farmed cichlids to other fish lovers. What started as a hobby, rapidly became a thriving business.
Today, Aquazone Indonesia manages more than 2,500 aquariums in dedicated facilities, breeding and exporting 500+ varieties of ornamental freshwater fish to over 40 countries around the world.
However, shipping live fish isn't without challenges.
For Hartono and his business, fast and reliable delivery isn't just ideal or convenient; it's essential.
America, Asia and Europe are all key markets for Aquazone, meaning the fish often have to travel long distances.
However, fish will typically survive for only 48 hours of delivery time.
Preparing fish for export requires thorough preparation and quality control. The water is treated, and the fish are given medicine to help them withstand the deteriorating conditions for as long as possible.
"We need to make sure that, when they reach the customer, the fish are healthy and in good condition, thus making our customer happy," says Theresia Sutedja, Aquazone's Marketing Director.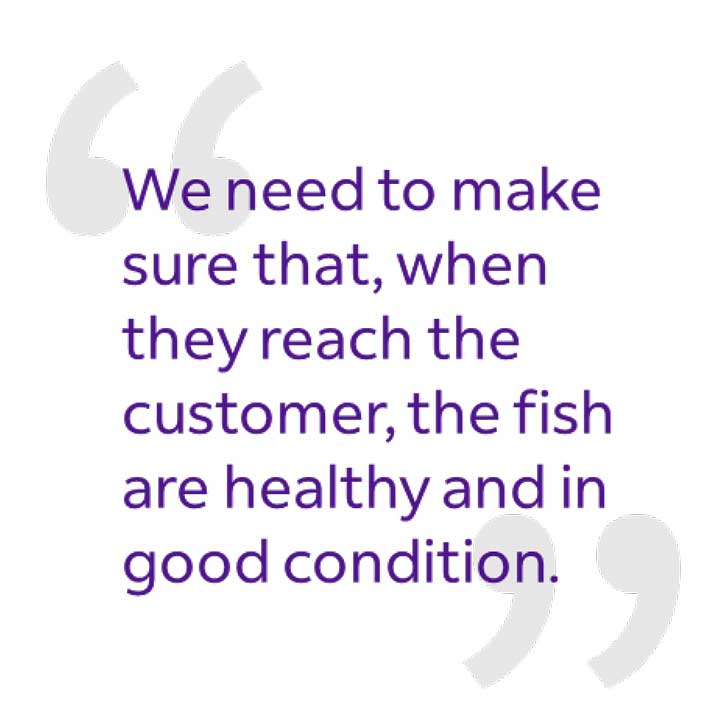 The fish don't just need water either. They also consume oxygen from the water, which needs to be replenished through diffusion to prevent the fish suffocating. Therefore, less than half of the volume inside the water-tight packaging might be taken up with water, with the remaining space filled with oxygen.
Once the fish are prepared and packed for their journey, they need to be collected promptly by the shipping provider to avoid wasting crucial hours.
Which is why Hartono needs a reliable and professional export provider that can respond promptly to pick-up requests and deliver the fish to each customer quickly and safely.
Fast delivery from tank to tank
Aquazone chose FedEx because it's a highly responsive and trusted global brand.
And with customer service on hand even outside business hours, any problems or delays are smoothed out quickly to keep the fish moving to their destinations.
Even handling customs clearances has become smoother with FedEx. "The Electronic Trade Documents (ETD) facility makes it very easy for us to export, because we don't need to print documents manually anymore," says Theresia. "Even our customers can view the form in the FedEx system."
For Hartono and Aquazone, partnering with FedEx means happy customers right around the world.
More importantly for Hartono, it also means happy and healthy fish. "Our goal is to preserve nature for the next generation," he says. Fin-tastic!
Explore our guide to shipping fragile or unusual items.
---
More from Small Business Center