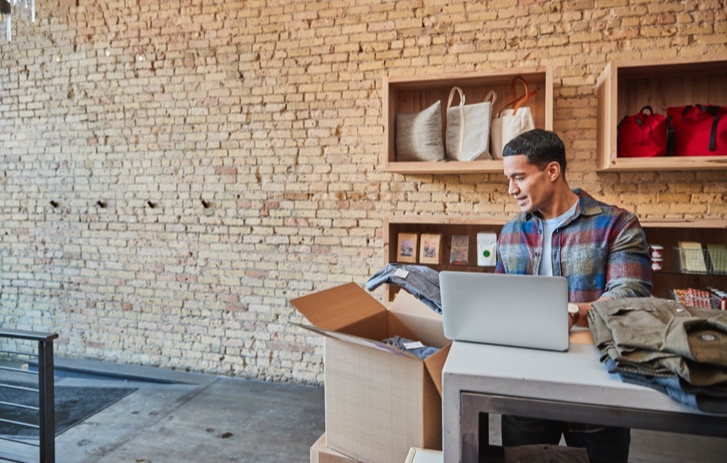 Integrate, ship and manage global logistics with ease
Integrate, ship and manage global logistics with ease
When it comes to using a tool to speed up your shipping processes, you may find yourself faced with a 'make' or 'buy' decision: choosing between building your own standalone solution, or using that of a trusted provider and integrating it into your existing software.
At FedEx we can support both. Our FedEx Web Services and FedEx Ship Manager Server solutions enable you to integrate FedEx services into your existing IT systems and shipping processes yourself. Or you can also choose a certified third-party solution that offers pre-built shipping integration, along with additional business functionality, by using our FedEx® Compatible solutions.
We believe that shipping integration can bring all kinds of business benefits. Here, we look at what those are and show how you can enjoy faster, more cost-effective e-commerce shipping.

1. Faster, simpler processes
A key benefit to using integrated solutions is that you and your team can manage all your e-commerce shipping from one tool. This saves you time when preparing orders by eliminating the need to work across multiple carrier platforms.
You can also use them to prepare shipping labels and documents. By reducing the dependency on different shipping tools per carrier, you can minimise errors and improve accuracy across all your shipping.
Shipping through a single platform is something we can provide with FedEx Compatible solutions. Integrating one of these tools into your processes can speed up a range of everyday tasks, from managing warehouse operations and transportation to planning workflows. As well as intelligent tracking, certain solutions can give you access to time-saving features such as dashboards to manage carrier services and tools to manage your inventory levels. 
Whether you are just starting out, an established SME or a high-volume shipper, there are many FedEx Compatible solution providers that could fit your needs. They also enable you to simplify processes for your recipients by giving them access to FedEx Delivery Manager, providing them with best-in-class services such as rerouting to a different address or retail location for pickup.
Worldwide spending on enterprise software totals more than $326bn every year.1
2. Access to powerful shipping services
When you choose a solution that integrates shipping capabilities into your software, you can access the services you need in just a few clicks. This will help you get your e-commerce deliveries out quickly, and meet the increasing demand for online goods across the world.
All FedEx Compatible solutions come with built-in global FedEx shipping capabilities, connecting you to a wide range of services that can help you deliver to your online customers with speed.
You can also benefit from our extensive coverage to over 220 countries and territories. We deliver to most U.S. post codes by 10.30 a.m. the next day, and to Asia, the Middle East and India in just 2 days.*

Global e-commerce sales are set to reach $4.2trn in 2020, creating a need to ship online orders faster and further.2
3. Reduced costs
Another key benefit to integrating your software is being able to take better control over your costs, which can help you to make savings in the long term. Depending on the tool you use, you may be able to access your carriers' shipping options in one place, and even analyse your expenses to see where you can make reductions.
Running multiple systems can be expensive, which is where FedEx Compatible solutions can help. As well as providing you with greater visibility of all your business' outgoings, these tools can give you confidence that your shipping rates and labels are correct.

4. Enhanced functionality and scalability
Software integration is a fast way to access a whole suite of shipping functions and features that drive efficiency. For example, setting automatic rules for packages, viewing your entire shipment history, and accessing online multi-vendor marketplaces.
By processing orders faster, you may then be able to scale up your business to meet demand in other markets. With FedEx Compatible solutions, tools can be customised to suit your individual business needs and size and there are no minimum volume requirements, giving you scope to realise your growth ambitions.
You can also integrate FedEx functionality into your existing site or application using FedEx Web Services. These include developer guides, sample codes, certification, production keys and information on how to offer your customers a smoother shipping experience.
In addition, our FedEx Ship Manager Server solution can be integrated into your hosted system, enabling you to optimize your shipping processes and streamline your supply chain.
28% of businesses say that having a seamless experience is one of the biggest challenges in cross-border e-commerce.3
5. Greater security and reliability
As the solutions provided through FedEx Compatible are regularly adapted to the latest business capabilities, you can rest assured you're getting the very best out of the software. Having the newest versions means that the security features will be up to date, offering greater protection. 
You can also have peace of mind knowing that the solutions have been certified by FedEx. We work closely with all providers to ensure the solutions offer the reliability you expect, and we test all the tools to make sure they're working properly, and that you have access to the correct rates and labels. 
Do you want to connect to the latest e-commerce software and shipping capabilities? 
Improve your processes with the range of solutions available through FedEx Compatible and discover exciting new possibilities for your business.
*Availability of services and transit times may vary depending on shipment type, origin and destination. Terms and conditions apply – visit fedex.com for full details of our services. Check service availability with our Customer Service team.