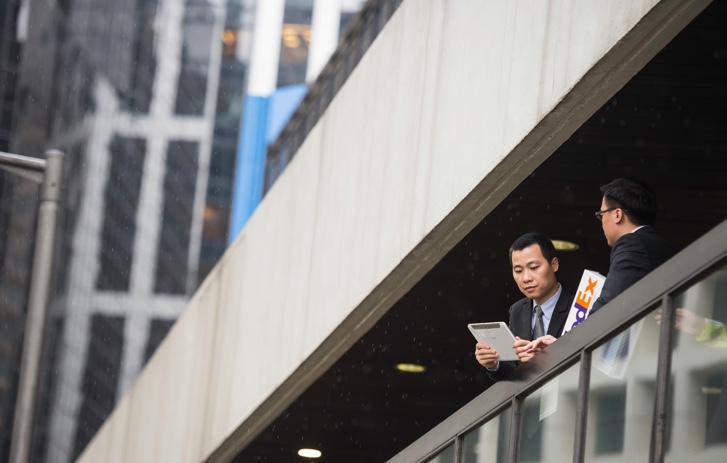 Spotlight on...
China
Spotlight on...
China
Note: The information provided in this website does not constitute legal, tax, finance, accounting or trade advice, but is designed to provide general information relating to business and commerce. This content, information, and these services are not a substitute for obtaining the advice of a competent professional, for example a licensed attorney, law firm, accountant, or financial adviser.
It has more e-commerce activity than anywhere else in the world, and its consumers spend more online then the UK and U.S. combined.1 Here, we look at the huge opportunities you could discover for your e-commerce business when shipping to China.
---
Why China?
Not only is China's e-commerce market the largest in Asia, it's also the biggest globally2, and growing at a rapid rate.
64% – e-commerce's expected share of China's total retail sales in 20233
560m – the number of digital buyers in China in 2018, with this set to rise to 634m in 20202
50% – the share of global e-commerce transactions coming from China2
$1.9trn – the amount Chinese consumers were predicted to spend on e-commerce in 2019, 3 times more than U.S. consumers3
---

Getting to know China's online consumers
With so much competition in China's e-commerce market, learning the habits and preferences of online consumers can help you to stand out. Here's what you need to know before you ship to China.
They love mobile shopping…
55% of Chinese consumers use their mobile for daily or weekly online shopping, compared to the global average of 24%.4
Brand engagement with international retailers is high…
80% of Chinese online consumers said they engage with international brands.5
A social media presence is important…
71% of Chinese consumers spend more with brands they have positive social media interactions with.5
What does this mean for your business?
Given how many Chinese consumers shop on their phones, make sure your website is optimised for mobile. Having active social channels could also encourage more site visits, while responding quickly to customer queries on social platforms can encourage shoppers to view your brand positively.
Delivering a positive shopping experience
Give customers in China the online shopping and delivery experience they expect. We discovered the following about the nation's online shoppers:
Product pricing is the main purchase driver for 71% of Chinese buyers, while 31% cite delivery time and updates as the top influencing factor6
 
Chinese consumers have high expectations for speed, with 36% expecting next-day delivery7
 
eWallets (online services that allow consumers to make digital and mobile payments) are the preferred payment option among Chinese online shoppers – 71% make payments in this way8
What does this mean for your business?
Include fast worldwide deliveries to Asia in your shipping options, and add digital wallets to your payment options. When shipping to China, you may also want to give customers the chance to receive notifications on the status of their deliveries, which you can send via SMS and email through our FedEx® Delivery Manager solution.
---
Taking your business to China – need-to-know
Once you start receiving orders from Chinese consumers, there are several things to consider to ensure your parcels to China are delivered smoothly and on time.
China's new e-commerce law
On January 1, 2019, a new law came into effect to better regulate the China e-commerce industry, with a particular focus on tackling counterfeit goods and tax evasion. The law also covers e-payments, data protection, and cross-border commerce.9
Following the new law, online sellers – both within China and internationally – may be required to purchase licences and pay taxes. More information on this is available here.
Customs procedures and requirements
China has strict customs regulations, and a number of shipping documents must be completed – including a commercial invoice and air waybill. Certain regulated products also require a China Compulsory Certification mark, which is China's safety and quality label.10 You can find out more about China's customs processes here.
In 2017, the Chinese government launched the Customs Clearance Integration Regime, designed to standardise customs law and improve customs efficiency across the country. It also gives businesses more control over their shipments with the chance to choose their customs clearance port.11
With our range of customs tools, you can quickly prepare essential documents for all parcels to China, look up important regulatory information, and estimate your duties and taxes.
We are also the first operator to provide a dedicated B2C Inbound Clearance Solution. This streamlines customs clearance into China, with some shipments even released on the same day, giving you and your customers a quicker, more efficient customs experience. It can also give you more control of your costs and eliminate any hidden charges.
Restricted and prohibited items
Certain goods are not allowed into China – so make sure you're familiar with these regulations before selling to customers there. Strictly regulated goods include: cosmetics; medical devices; wine; toys; battery-powered products; and machinery.
You can find out all of China's regulations on items prohibited for import and export here, and get more information on shipping to China with FedEx here.
Getting an ICP license
Businesses hosting an e-commerce website on China's national server need an ICP (Internet Content Provider) license, issued by the Chinese government.12 There are two types of license: the ICP Filing License, and the ICP Commercial license. E-commerce businesses require the second type.
While you can still sell products in China and host your website in your home country, an ICP license opens up more opportunities. For instance, faster website response times and greater visibility in search.
Essential China e-commerce trading dates
There are several key dates where e-commerce activity in China spikes. For example, Singles' Day, which takes place every November. In 2019, this event saw online sales reach a record $38 billion.13 Other dates include:
Chinese New Year, February
 
Women's Day, March
 
Children's Day, June
 
Qixi Festival (the Chinese version of Valentine's Day)
 
Golden Week, October (which includes China National Day, another major e-commerce date)
On these dates, preparing your business for a higher volume of sales and offering discounts can be essential to driving sales.14 However, experts suggest that for smaller businesses with less cash reserves, modest discounts make the most sense, coupled with free gifts.
Shipping to China with the customs experts
At FedEx, we have decades of experience helping businesses to get their shipments through customs in Asia. What's more, thanks to our fast, reliable network, you can ship to China in as little as 2 days, and import in 1-2 days with our FedEx International Priority® express parcel delivery services. For less time-sensitive shipments, choose our FedEx International Economy® services.*

Website localisation: Do things such as getting your website content professionally translated, updating imagery and implementing QR codes (50% of Chinese consumers scan these weekly)15
Social media: As well as Facebook and Instagram, interact with consumers on WeChat, China's largest messaging app with 1.1 billion monthly active users and integrated e-commerce capabilities16
Online marketplaces: Shipping to China through platforms such as Alibaba and JD.com can be simpler than launching your own site – and traffic may end up higher.
Shipping rules: As the nation continues to introduce new regulations for the e-commerce market, make sure you stay on top of any updates that may affect any of your parcels to China.
Now that you've discovered the basics for taking your business to China, we hope you find success in this thriving market. Don't forget to check out our e-commerce services and solutions, designed to help you grow your e-commerce business in Asia with ease.
* Transit times and services may vary depending on shipment type, exact origin and destination location. Transit times are expressed in working days. Terms and conditions apply – visit fedex.com for full details of our services. Check service availability with our Customer Service.